For the past few years, the use of blockchain technology for financial transactions has increased and there are examples of it being used across many industries— from lending, to insurance, to processing payments. To date there are an estimated 4,000 financial assets and processes operating on blockchain technology, and it's more than just the buying and selling of bitcoin. Most recently, we have seen blockchain integrate with the mortgage lending market, be used in securing title insurance, and in the same-day settlement of US equities.
The US mortgage system is primed for rapid process and technology change, driven by shifting demographics, rising consumer expectations, technological innovations, and outdated legacy infrastructure. Collectively, these factors could enable homebuyers, governments, and real estate and mortgage-related companies to reimagine US housing finance and homeownership. In response to these trends, consumer-centric, digital mortgage, and housing finance solutions are forming across the US at unprecedented speed and scale.
Blockchain technology can dramatically improve the efficiency and security of financial transactions, but as the regulatory obligations of financial institutions continue to grow, we believe that regulatory scrutiny in this space will likely follow.

Guidehouse has spent considerable time and effort to understand how blockchain is being used in the mortgage industry, and where it may provide additional unforeseen benefits.
Actions to Consider
The use of blockchain technology is becoming more common in the mortgage industry, and there are several areas ripe for disruption through this technology. Blockchain, distributed ledger, and smart contract capabilities will rapidly transform the property ownership and mortgage finance ecosystem. For that reason, it may be time to assess how your organization will be impacted by these technologies and how to develop a plan to exploit emerging solutions to benefit your company, stakeholders, employees, and customers.
As you prepare to navigate this new and complex landscape, it will be important to consider the following actions: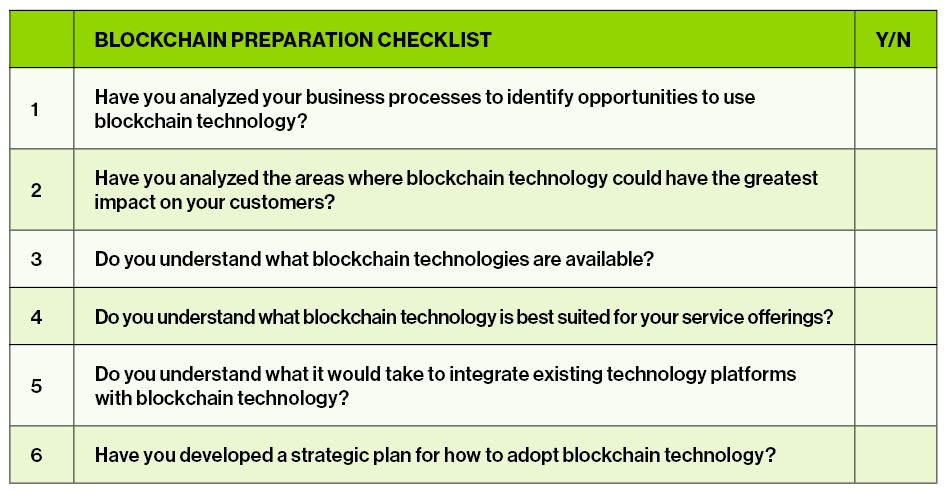 Special thanks to Eleanor Gass for contributing to this article.