As Americans adjust to the constraints of work and social life brought on by the public health emergency (PHE) resulting from COVID-19, healthcare delivery must continue. State emergency orders requiring social distancing guidelines have pushed healthcare providers and payers to adopt innovative solutions to deliver timely and effective care. Providers, payers, and patients/consumers of healthcare have acted quickly to adjust to the changing landscape, increasingly relying on telehealth.
State Medicaid agencies continue to face significant challenges in delivering high-quality care to their populations. Prior to the PHE, many states hesitated to broadly deploy telehealth to combat challenges, such as inadequate provider networks and barriers to access in rural areas. The new healthcare environment has, necessarily, suspended that hesitation — now states are faced with the opportunity to be deliberate and build upon experiences gained during this PHE.
Under normal circumstances, telehealth could be an option for states to, for example, allow a patient to access a specialist remotely or maintain a relationship with a trusted provider, regardless of distance. The PHE underscored the importance of an option for telehealth for many Medicaid beneficiaries, as most states instructed their residents "I think the genie's out of the bottle on this one. I think it's fair to say that the advent of telehealth has been just completely accelerated, that it's taken this crisis to push us to a new frontier, but there's absolutely no going back." – Seema Verma, CMS Administrator (April 26, 2020)
— both patients and providers — to stay at home. The Centers for Medicare & Medicaid Services (CMS) notes in its State Medicaid & CHIP Telehealth Toolkit that "the recent PHE resulting from COVID-19 has accelerated the interest in service delivery through telehealth," reflecting dynamic telehealth policies in emergency declarations by governors and new (though often temporary) regulations from Medicaid agencies.
An increasing number of Medicaid dollars are now being steered toward reimbursement for services provided through telehealth. As states begin to allocate additional funds to cover telehealth services, they must consider not only the implications of expanding these services, but also the fiscal and policy impacts telehealth expansion will have on state operations and oversight.
Trends in State Actions in Response to COVID-19
State actions to leverage telehealth have attempted to accommodate social distancing and stay-at-home guidance from public health officials, while recognizing that current telehealth guidance may not support the virtual provision of crucial services. We have conducted an environmental scan of states' policies regarding telehealth during the PHE and determined that states have made four primary changes to their telehealth policies:
Loosened restrictions on allowable originating and distant sites, or the sites at which the Medicaid beneficiary and Medicaid provider are located, respectively.
Reduced the requirements for eligible technologies or modalities through which telehealth services may be delivered, including by allowing telephonic-only communication.
Allowed the establishment of a patient-provider relationship through telehealth.
Expanded the types of services delivered through telehealth.
Many of the telehealth policies enacted during the COVID-19 crisis are effective only through the duration of the PHE. Additionally, states are continually adjusting their policies around healthcare delivery to reflect new federal recommendations regarding COVID-19, often releasing multiple emergency orders dictating new regulations or requirements regarding health services. Figure 1 below provides a point-in-time snapshot of the key telehealth trends employed by states during the PHE.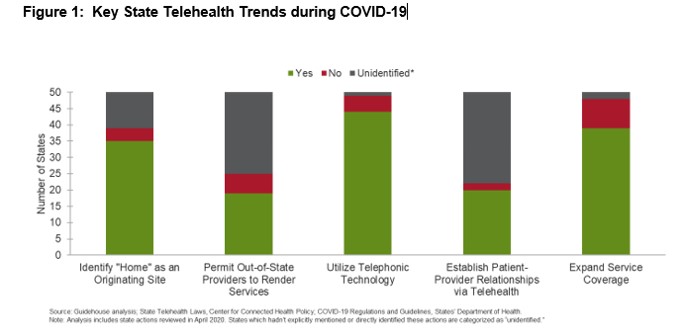 1. States have loosened restrictions on allowable originating and distant sites

Social distancing guidelines have dictated that, to the extent possible, individuals should avoid gathering in nonpublic spaces — including facilities at which Medicaid beneficiaries might typically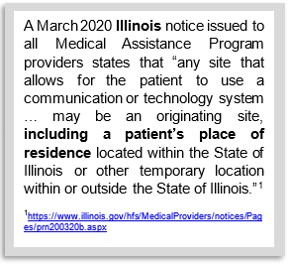 receive healthcare services. Many states have temporarily redefined the "originating site" for telehealth services (i.e., the location of the patient to whom services are delivered through telehealth) to include the Medicaid beneficiary's home or private residence. Prior to COVID-19, common allowable originating sites included physician or practitioners' offices, inpatient and outpatient hospitals, critical access hospitals, rural health clinics, federally qualified health centers, community mental health centers, and similar facilities. Most states have explicitly allowed the home to serve as an originating site during the PHE, compared to only a handful of states that included the home as an acceptable site prior to any COVID-related guidance. This coincides with some states waiving requirements for a provider to be present with the patient while they receive services from the home.

States have also curtailed restrictions on the "distant site" (i.e., the location of the provider who is delivering services through telehealth). Previously, states accepted most provider offices or facilities to serve as the distant site — typically, any site from which a provider might deliver service in-person. During the PHE, some states have extended the opportunity to deliver services from the provider's home, as well, or from a different state altogether. About a third of the states explicitly allow out-of-state providers to deliver services through telehealth during the PHE, although sometimes with stipulations that the provider be enrolled with the reimbursing state's Medicaid agency or only deliver services in an emergency. Many states, however, are less clear in defining allowable distant sites than originating sites.

2. States have reduced the requirements for eligible technologies or modalities through which telehealth services may be delivered

Prior to the COVID-19 crisis, states often required real-time, two-way interactive communication with audiovisual capabilities between providers and recipients to render Medicaid services,. But during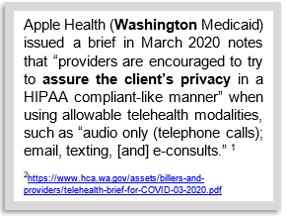 the PHE, the majority of states reported audio-only telephonic technologies as an additional eligible modality for providing services. Some states have also allowed the temporary use of alternative technologies in addition to the generally permissible platforms. A few states have specified the use of portal messaging, secure instant messaging, electronic mail, facsimile transmissions, and video calling applications, provided that the services rendered via these technologies meet required standards of care and service code definitions for allowable telehealth visits. These policy changes reflect emergency guidance from the Office for Civil Rights (OCR) at the Department of Health and Human Services, signaling that OCR will not penalize providers for noncompliance with certain Health Insurance Portability and Accountability Act (HIPAA) and Health Information Technology for Economic and Clinical Health Act (HITECH) privacy and security rules relating to the "good faith provision of telehealth during the COVID-19 nationwide" PHE.
Figure 2: Telehealth Modalities to Deliver Eligible Services
To maintain expectations of privacy and security, multiple states issued additional guidance for their providers to enable all available encryption and privacy modes when using third-party applications that do not meet generally enforced HIPAA rules. This temporary change in policy by the states ensures that a patient can receive necessary services even without access to sophisticated technologies or due to unforeseen physical restrictions.

3. States have allowed the establishment of a patient-provider relationship through telehealth

As highlighted in Figure 1, more than a third of the states reported that telehealth may be used to connect new patients with providers, without the need for an initial physical encounter during the PHE. Previously, many states did not allow providers to deliver services to new patients via telehealth, due to potential barriers in developing a patient-provider relationship from a distance. However, these practices conflict with the new state mandates requiring social distancing. As a result, we have seen more states allow providers the flexibility to deliver care to any eligible Medicaid beneficiary using telehealth, regardless of patient status in their panels.

Among the states which reported this policy, more than half of them provided flexibility only for specific services. These service categories included home and community-based services like case management, hospice agency care, behavioral health treatment, and specialty services like pediatrics, teledentistry, and telepsychiatry. Prior to the PHE, direct contact services were typically assessed in person before they could be rendered via electronic methods. But a temporary waiver of the requirement for direct contact during the PHE ensures that inaccessible historical medical records or physical distance do not preclude the establishment of new patient-provider relationships.

4. States have expanded the types of supported telehealth services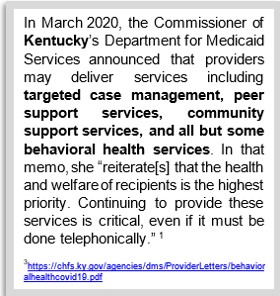 Prior to COVID-19, many states limited the types of services that were reimbursed by Medicaid using telehealth. However, social distancing guidelines, as well as reductions in the delivery of nonessential face-to-face services, have compelled Medicaid agencies to allow providers to deliver additional services to individuals through telehealth.

The types of services allowable under new telehealth rules due to COVID-19 vary by state. While some states have expanded services to specific disciplines, such as behavioral health and long-term care services, other states have agreed to cover any medically necessary service until the state deems that latitude unnecessary. States' coverage of telehealth services has always varied, even prior to the new requirements resulting from COVID-19.
These trends illustrate actions taken by states to address crisis circumstances — namely, to encourage adherence by patients and providers to social distancing guidelines, while allowing patients to access the services most crucial to their health and welfare. A few states, like California, Indiana, Massachusetts, New Jersey, New York, Texas, and Vermont, have adopted all trends outlined above as policies. But as states begin to consider transitioning back to original guidelines on covered services and service delivery requirements, they will need to assess the appropriateness and impact of their expanded set of telehealth services.
Preparing for Medicaid Telehealth Policy Following COVID-19
The onset of the COVID-19 crisis has resulted in a seismic shift in the delivery of healthcare services across the United States. While the expansion of telehealth service delivery options through executive orders and policy changes may eventually expire, state Medicaid agencies will be faced with shaping what a "new normal" will look like, and what that will cost. Federal agencies have made grant funding available to help cover some of the costs of telehealth. This period of service expansion may also substantiate that some services will remain most effectively offered through in-person service delivery. To that end, Medicaid agencies should:
Review their current policies related to telehealth and consider how they will make decisions about telehealth reimbursement and service delivery options beyond the PHE.
Assess lessons learned during the PHE to better evaluate the types of services that can be effectively delivered through telehealth.
Identify operational and oversight needs resulting from states choosing to adopt new guidelines related to telehealth.
Study the cost of telehealth expansion and explore federal funding opportunities to support this expansion.

Experts:
Nancy Kim, Associate Director
Gregory Abdouch, Managing Consultant
Benjamin Pollack, Senior Consultant
Poorna Suresh, Senior Consultant