I. Regulation Expands in the Art Market
In January 2020, the British Parliament brought into force regulations implementing the European Union's Fifth Anti-Money Laundering Directive ("5AMLD"), with wide-reaching implications for participants in the fine art trade. 5AMLD goes beyond the major auction houses, rendering dealers, galleries, freeports, and other intermediaries as obliged entities with financial crime compliance recordkeeping, reporting and registration requirements. State-mandated induction into the world of financial crime prevention represents a significant change for much of the industry, disrupting the way the art market has historically functioned, and adding regulatory and administrative requirements for obliged entities involved in transactions meeting or exceeding €10,000 (or series of linked transactions meeting or exceeding €10,000). All European Union member states are required to bring 5AMLD into force. Although most have started, there are varying degrees of success in implementing the new regime across the EU.
While fine art and other high value goods have long been used to launder money and facilitate corruption, the European Union's enaction of 5AMLD in May 2018 recognized an explosion in fine art sales and the significant risk that such sales pose. Sales in the global art market reached $67.4 billion in 2018, up nine percent over ten years, through nearly 40 million recorded transactions. Despite this growth, the art market has remained largely unregulated, susceptible to the laundering of illicit proceeds of crime and the financing of terrorism. Fine art sales may involve large monetary transactions, anonymous buyers and sellers, the use of shell companies, fuzzy and sometimes non-existent records, and speculative pricing. Such characteristics can make art an ideal vehicle for money laundering. 5AMLD looks to impart a measure of control on some of these opaque characteristics through its extension of the obliged entity definition to more art market participants.
II.
Practical Steps for Art Market Participants

As a first step, obliged entities in the art trade should assess the controls they have in place to comply with regulatory requirements and apply a risk-based approach to identify any gaps in existing controls against these requirements. Specifically, obliged entities should take special care around Customer Due Diligence (CDD), suspicious activity reporting requirements, and compliance program governance, training, and documentation, all of which are foundational concepts to financial crime prevention in the financial services sector. Additionally, while the art market places significant value on client confidentiality, 5AMLD and similar international directives in the future may require a reframing of this confidentiality with respect to significant transactions. Obliged entities can respect client confidentiality in a manner similar to financial services providers, while still meeting the requirements of 5AMLD by using the same compliance framework.
A.
Risk-Based Approach

A risk-based approach is central to any obliged entity's effective prevention of financial crime, and its allocation of limited resources to this end. Key inputs to the risk-based approach include the assessment of customers, products and services, geographic locations, and distribution channels. Considering these inputs, arts professionals should develop an AML framework that begins to answer the below questions: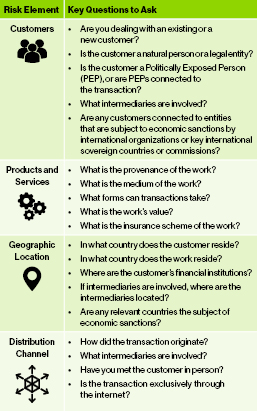 B.
Customer Due Diligence

As an obliged entity, performing CDD means understanding counterparties to arts transactions through documentary evidence. The CDD process includes identifying key biographical information such as name and date of birth for natural persons, or legal entity name and date of registration for legal entities, beneficial ownership information, nature of relationship to the obliged entity and status as a Politically Exposed Person (PEP) or as a sanctioned entity. For economic sanctions in particular, avoiding prohibited transactions generally requires screening the names of customers and beneficial owners against published, frequently updated lists. Where CDD identifies information that presents heightened financial crime risk, obliged entities should conduct Enhanced Due Diligence (EDD) to further understand customers' funding sources and sources of wealth. Given the breadth of CDD and EDD requirements, arts professionals should ensure these requirements are addressed at the outset of a new client relationship, and at defined, risk-based intervals for existing client relationships.
C.
Suspicious Activity Reporting

In addition to the continuous screening of names against published economic sanctions lists, obliged entities are also required to report suspicious transactions or activity to regulatory authorities. Controls must be in place to ensure that such reporting happens in a timely manner, typically within 30 days of the determination that a transaction or activity is suspicious. Given the significant change to business operations represented by 5AMLD, training is particularly important to ensure suspicious activity can be dispassionately identified through the appropriate lens, one which does not assume that the familiar is unsuspicious by default. Indeed, art transactions may present many familiar characteristics which also are those that led to the statutory inclusion of art market participants in the fight against financial crime.
D.
Governance and Training

The obliged entity's board of directors should designate one or more directors or managerial resources with appropriate experience to oversee AML compliance efforts, including one to act as Money Laundering Reporting Officer (MLRO) to relevant regulators. Such individuals will hold responsibility for implementing and managing the AML compliance program, including the oversight and execution of the risk-based approach, CDD and ongoing monitoring and reporting. Given the importance of the role, the MLRO should receive regular training on financial crime typologies and methods, which evolve frequently. The MLRO can then in turn provide or arrange for appropriate, ongoing training for the staff of the obliged entity, tailored to the responsibilities of employees being trained, and with special attention paid to employees in client-facing roles. Following 5AMLD, such employees will have additional responsibilities, including collecting CDD information or raising concerns about client activity to the MLRO.
E.
Documentation

As in all regulated environments, documentation and evidence are important elements to demonstrate compliance and good faith efforts toward financial crime prevention by art market participants. An obliged entity must have a program of internal policies, procedures and controls designed to limit and control financial crime risk. This program should ensure proper documentation of the above elements.
III. Onward and Upward
While the risk management practices outlined above have their origin in banking, their basic premise has extended into nearly all segments of the financial services industry and beyond, to include jewelry and precious metals, real estate, international trade and transport, and most recently cryptocurrency and digital assets. It seems clear that some long-standing art world practices will need to change in response to 5AMLD. Indeed, when considering options in responding to the directive and its regulations, arts professionals should mind the significant financial penalties and reputational damage associated with recent failures related to any of the above elements in the financial services industry. Application of well-known financial crime risk management practices will enable art market participants to demonstrate good faith efforts towards appropriate levels of transparency and compliance, maintain an important commitment to client confidentiality, and allow the arts profession to achieve the transparency necessary to prevent the use of beautiful works of art for criminal purposes.
Contributing author: Marnie Kingsley.