For corporate firms worldwide, recent events viewed through the lens of COVID-19 chart an uncertain course forward when considering the gradual return of workers to the workplace and businesses to the market economy.
The pandemic has forced businesses to rapidly and radically change the way they operate and, although the en masse adoption of remote working went reasonably well in a short period of time, businesses around the world are likely to shape a different corporate culture as governments move toward lifting lockdown measures and businesses continue, or restart, operations.
Businesses will face new critical questions during this period, such as:
How does a post-lockdown workplace operate?
How can we create a safer work environment whilst building trust amongst our employees?
How resilient is the business if restrictions are reimposed?
What technologies are available and/or required to be deployed?
It is a complex landscape that businesses need to traverse, based on their needs, risk assessment, workforce, type of business and location. This article provides guidance on formulating a clear back-to-the-workplace strategy as well as practical steps to consider when conducting a risk assessment and implementing appropriate controls during this time.
Back-to-the-Workplace Strategy
To be successful in minimising the impact of changes to the way in which businesses operate in the medium to long term, a structured approach is needed. If a back-to-the-workplace strategy is well formulated, supported by strong leadership and clear guidelines, the organisation will have the best chance of getting the post-crisis recovery right, leveraging the experience and pain points of working through the pandemic.
Business leaders must first define a strategic imperative that will guide the workplace reintegration programme. If the strategic imperative is to reduce office space and optimise commuting, or introduce more flexibility into the corporate culture, these principles will assist in determining the prioritisation of efforts you undertake.
To supplement the strategic imperative, businesses should put together a comprehensive inventory of questions that serves as the roadmap for helping them make key strategic and regulatory decisions in a focused and step-by-step approach. This can be achieved through a risk assessment, which, in turn, can help meet the requirements set out by the UK and other governments.
Businesses would, for example, need to determine an approach to their workplace layout, travel arrangements, permitted interaction with delivery services and visitors, shift work, cleaning services, and employee testing, to name a few. This may also require an assessment of multiple buildings and/or locations of operations with differing regulatory requirements and operational challenges.
The strategic plan should cover the following five steps to prepare businesses to return to the workplace: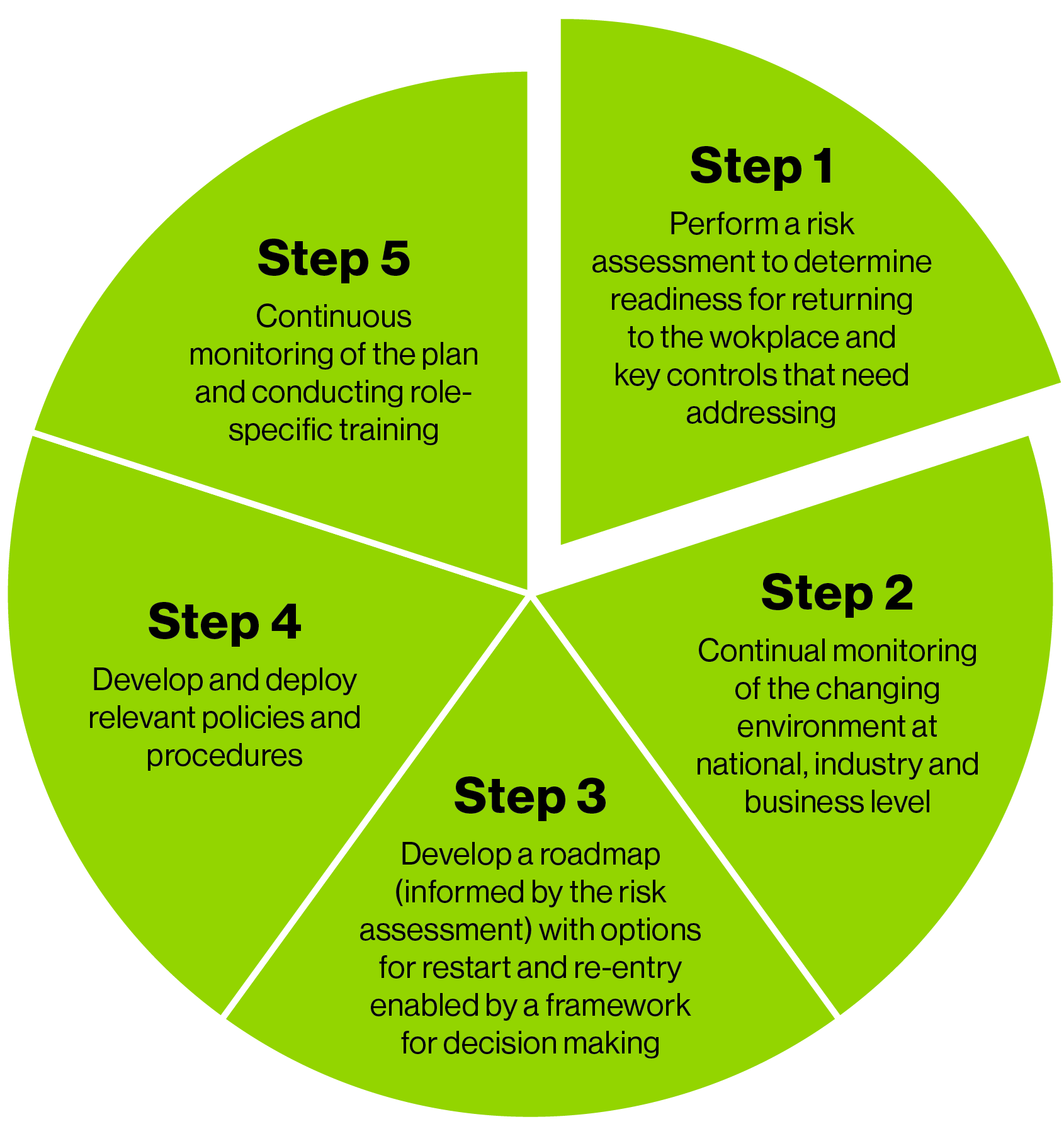 Government Guidance for Returning to the Workplace
On 24 April 2020, the European Agency for Safety and Health at Work published EU guidance entitled, "COVID-19: Back to the workplace". The guidance confirms that employers are obliged to revise their risk assessment when there is a change to the work process. It further encourages employers, once the risk assessment is updated, to create an action plan with appropriate measures to address the risks.
On 11 May 2020, the UK government released "COVID-19 secure" guidelines for employers to help them get their businesses back up and running and to ensure that workplaces operate safely. The guidance covers eight workplace settings that are allowed to be open, from outdoor environments and construction sites, to factories and offices.
One of the five key points noted in the guidance is that businesses must carry out a risk assessment, in consultation with workers or trade unions, and, for businesses with over 50 employees in the UK, publish those risk assessments on their websites .
Recognising that the risks associated with COVID-19 cannot be completely eliminated, the guidance states that each business will need to translate the content into the specific actions it needs to take based on its unique profile. The guidance should be applied taking into account employees, agency workers, contractors and others.
Risk Assessments
Although the UK's "COVID-19 secure" guidelines calling for the completion and publishing of risk assessments do not supersede any legal obligations relating to health and safety, the obligations in section 2 of the Health and Safety at Work etc Act 1974, requires employers to take reasonably practicable steps to ensure the health, safety and welfare of workers and anyone else impacted by their operations and Regulation 3 of the Management of Health and Safety at Work Regulations 1999 requires employers to make "suitable and sufficient" risk assessments of the health and safety risks.

This necessitates keeping up to date with the work-related risks posed by COVID-19, as well as planning and implementing all reasonably practicable risk reduction measures when employees are set to reintegrate to work. It follows that employers must align their risk assessments to government guidance in relation to specific sectors before mobilising back to the workplace plans.
Workers' confidence in workplace safety will depend on the completion of comprehensive risk assessments, which should bolster workers' confidence provided safe working systems are introduced as a result of those assessments. There are potentially serious consequences of failure to ensure a safe workplace for employees to return to, at least from a legal and reputational perspective.
Each employer should consider their own unique circumstances, but businesses will need to assess risks using a framework to consider various aspects of their readiness for reintegration, such as: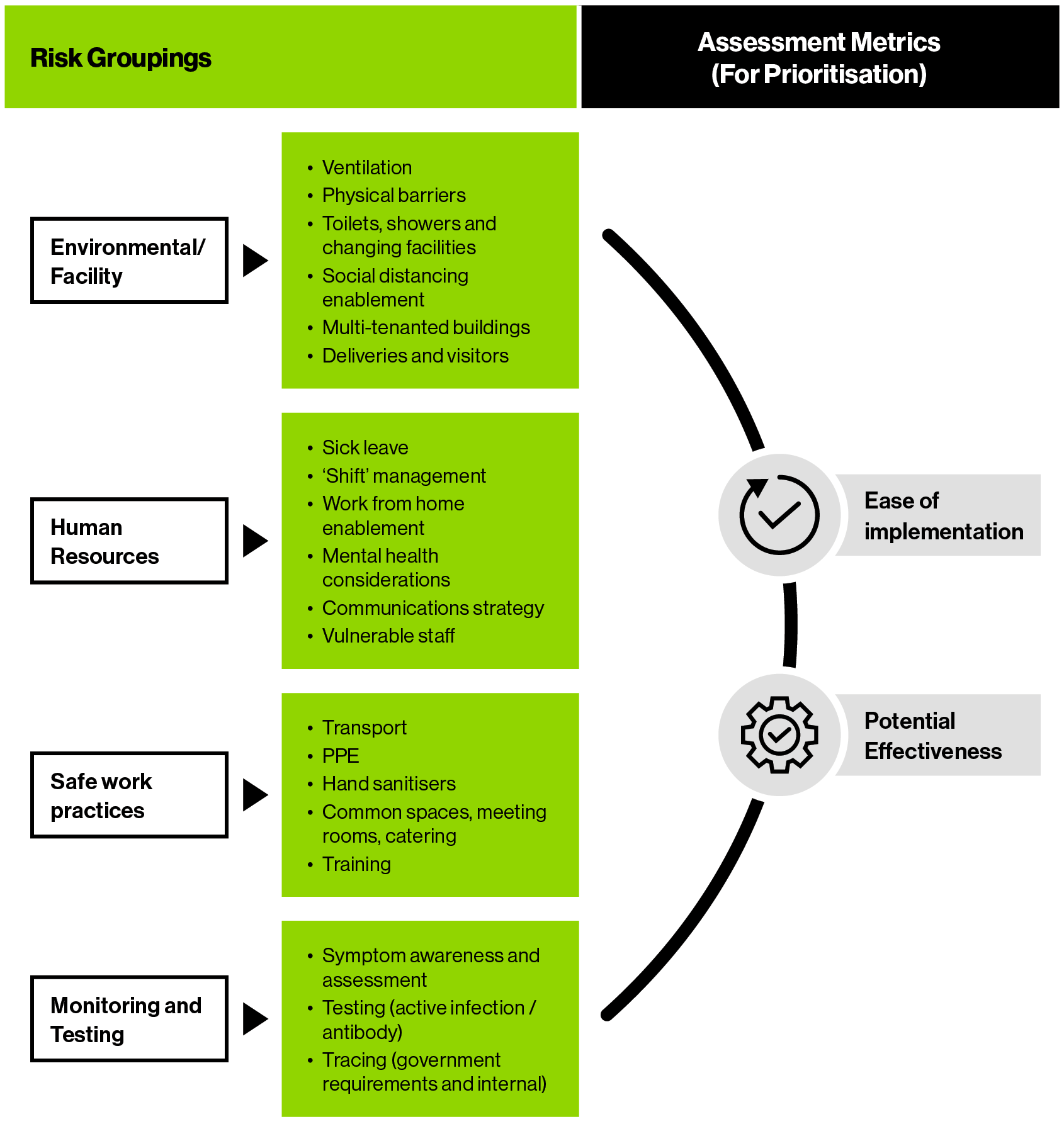 A comprehensive risk assessment will enable you to focus on business practices that maintain critical operations and ultimately create a safer workplace for employees. It will also enable you to have an informed conversation with business partners and customers about your response plan.
Related Guidehouse Products and Services
We can assist you in arriving at your desired outcome by supporting the following four distinct phases of work:



For businesses that have already started some of the phases above, such as creating policies and procedures, or perhaps even have concluded aspects of the reintegration plan, we can pressure-test the plan, policies and procedures, and quickly identify any blind spots and can help to add depth as needed.
Case Study
The Guidehouse Life Sciences practice is assisting a major global client to define an approach for the rapid establishment of certified clinical testing laboratories. The primary focus of these labs will be to test employees (currently more than 500,000) for COVID-19. The first lab will serve as a template for future labs. This may also be useful for managing similar healthcare issues in the future.
More specifically, Guidehouse is facilitating testing-site approvals, staffing of the site (including finding a laboratory director) and creating standard operating procedures regarding operation of the sites and reporting results.
It can take up to 6-8 months for a company to be ready to file for certification. With Guidehouse's help, the client was able to file for certification within four weeks.