Ask a crypto-enthusiast what they think about the evolving digital landscape and they might use words like: new, exciting, and dynamic.
For others who believe cryptocurrency is growing at a velocity that our economic infrastructures can't support—the crypto-landscape is more reminiscent of the lawlessness and roughness of "the Wild West." They might describe the crypto industry as untested, unpredictable, unsupported.
On August 3rd, 2021 Gary Gensler, chairman of the US Securities and Exchange Commission (SEC), declared, "…We just don't have enough investor protection in crypto. Frankly, at this time, it's more like the Wild West. This asset class is rife with fraud, scams, and abuse in certain applications… I worry a lot of people will be hurt."
While the SEC is explicit—that there is a new sheriff in town and Gensler intends to bring law and order to this evolving digital frontier—it is worth noting that significant cryptocurrency proponents are not anti-regulation.
Comments such as these by the SEC are less about conflict over whether to place regulations on cryptocurrency, and more of a sign of the expected increase in the sense of public safety once these regulations are in place.
As the world saw during the advent of the internet, the adoption of a major innovation such as cryptocurrency comes with growing pains experienced by both large and small institutions. Regulations on new and unfamiliar products and services bring a sense of security to investors and consumers. Remember, many financial regulations were written when people carried cash or wrote checks, and even sent money by telegraph.
Increased regulatory attention will most likely serve to help the cryptocurrency industry. As institutions continue to adapt and develop within the crypto landscape, the industry will find that new regulations will bring greater rates of adoption and the creation of new products and services. Regulation can change the perception of cryptocurrency from unpredictable to reliable for many investors.
In Guidehouse's third edition of the Two Worlds Colliding Series, we delve into the energetic crypto environment and discuss the impacts of recent consumer, industry, and regulatory activity on the adoption of cryptocurrency in the financial services market.
The Regulators Are Watching: Regulatory Attention on Cryptocurrency Companies, Products, and Services
It seems that when the SEC's Gensler warned that crypto platforms would not last very long outside the US regulatory framework – he meant it. Within the SEC and other entities, there has been an increase in regulatory attention on cryptocurrency:
Creating Strategic Partnership Through M&A Activity
Cryptocurrency mergers and acquisitions (M&A) continue to showcase examples of financial institutions and crypto firms joining forces to foster strategic partnerships, enhance products and services, and ultimately try not to lag behind competitors.
Crypto's Global National Adoption Continues to Spread as Governments Evaluate
Recently, the crypto industry reached a major milestone with El Salvador's official implementation of Bitcoin as legal tender. The adoption may serve as a use case for other governments as they determine the possibility of incorporating cryptocurrencies into their own environments.
New Products & Services
As M&A heats up and there is increased expectation of crypto adoption, we see the release of new products and services that combine digital assets and financial services capabilities.
Consumer Adoption
Findings from recent surveys show increasing consumer adoption of cryptocurrency:
Results from the 2021 Chainanalysis Global Crypto Adoption Index released August 18 show that worldwide crypto adoption is "skyrocketing," with peer-to-peer (P2P) platforms driving crypto-usage in emerging markets. The increase in P2P usage does not hold for the US and China, which may be due to the increasing institutionalization of crypto trading the US and government mandates on crypto trading in China.


Bakkt Holdings, LLC, a digital asset platform that enables institutions and consumers to manage digital assets, conducted its US Consumer Crypto Survey and reported 48% of US consumers have invested money in cryptocurrency during the first half of 2021. The survey found that major hurdles to consumer adoption have been crypto-literacy and risk aversion toward the known volatility in the market.
Crypto's Contentious Reputation
While regulatory skepticism around crypto remains, new use cases and acquisitions signal a strong demand for cryptocurrency in new products. If crypto is to shake the perception that the asset class is rife with fraud, scams, and unpredictability, regulators and enthusiasts will likely need to join forces. We are undoubtedly in an exciting period with cryptocurrency, regulatory oversight will likely increase adoption and help tame the "Wild West."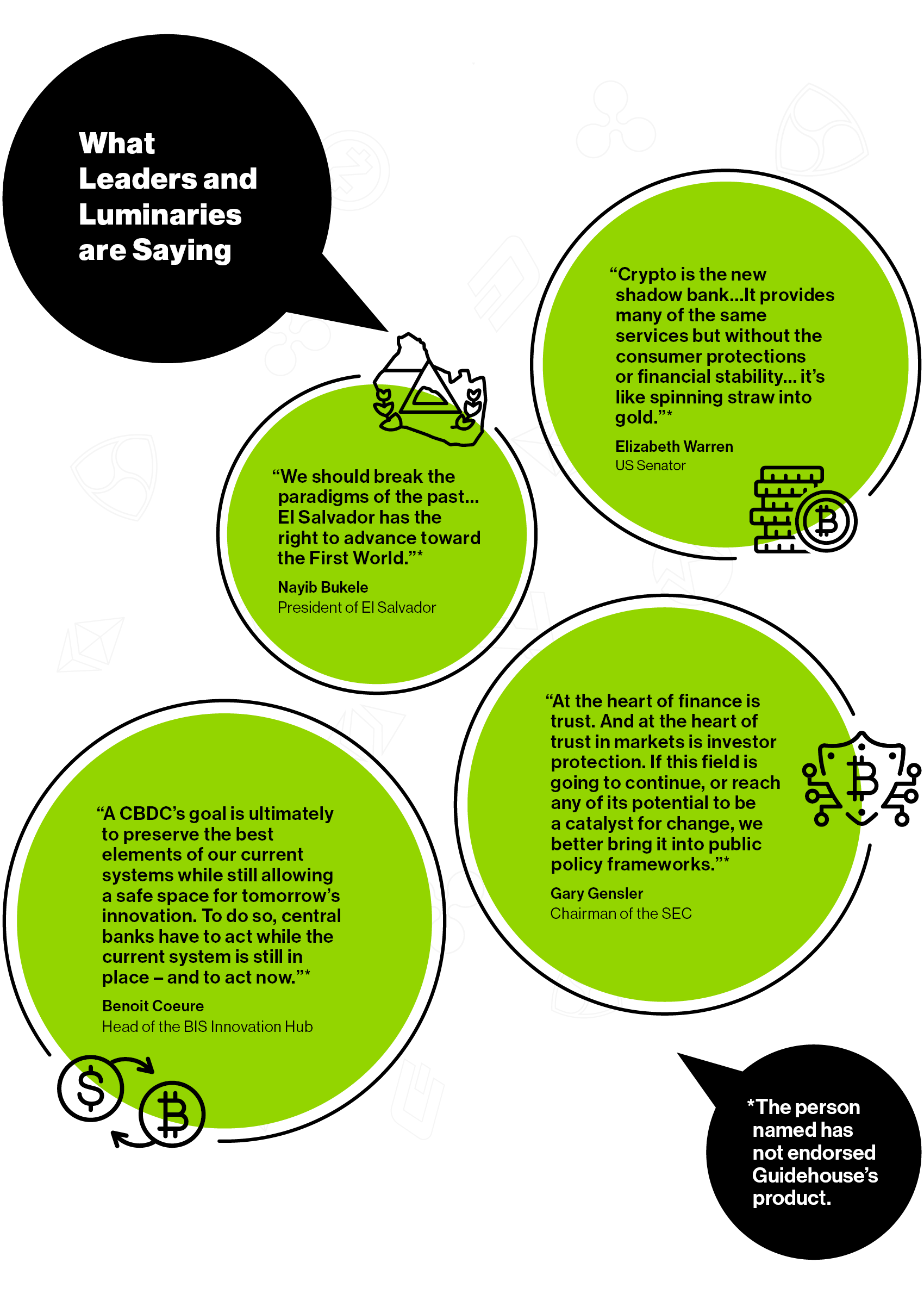 It will be interesting to see whether strong and tailored regulation could impel cryptocurrency further and faster as a key component of the global financial system. We will continue to watch it. After all, something happens every day.
How Guidehouse Can Help
Our Cryptocurrency and Digital Asset Services team can assist companies with the strategic planning and risk management program design needed to execute and optimize. As regulations and policies evolve, our Bank Secrecy Act/Anti-Money Laundering team has the expertise to guide your organization through the regulatory and compliance environment and address the mounting complexities.
Our Business Transformation and M&A experts provide diligence, strategy, integration management office, and execution support. We focus on digital enablement, operational improvement, and margin improvement, as well as accelerating the integration of firms through rapid due diligence and agile and practical M&A integration advisory and execution.