Just over 11 years ago, on May 22, 2010, two pizzas were purchased for 10,000 BTC (approximately $373 million as of May 22, 2021) in what would become known as the first use of bitcoin in a commercial transaction. This milestone was recently celebrated by Sam "Snackman" Weinrott and the Rare Pizzas team by giving away a million free slices of pizza on May 22, 2021.
While this story highlights how far cryptocurrency has come in the past 11 years, cryptocurrency's flight is just beginning. In Guidehouse's second edition of the Two Worlds Colliding Series, we delve into the current crypto market environment and the impact of recent happenings on the future of cryptocurrency.
Specifically, we discuss the following topics:
Cryptocurrency Global Regulatory Outlook
New Products and Services
Trends in Consumer Adoption of Cryptocurrency
Recent M&A Activity
Environmental, social, and governance highlights
Notable Quotes
1.
Crypto Global Adoption: Who's In, Who's Out? Regulatory Outlook Provides Insight

Government responses to crypto adoption still vary broadly, ranging from embracing it as legal tender (El Salvador, Japan) to hostile enforcement (China). Below are some of the most recent regulatory headlines across the globe.
Countries and organizations working to accelerate cryptocurrency adoption:
2.
Crypto Banking Services Go Mainstream

Financial services firms have made progress toward developing cryptocurrency-based products and services for customers. Examples of these developments include:
3. Trends in Cryptocurrency Consumer Adoption
The May 2021 Cryptocurrency report by PYMNTS confirmed that crypto is now widely adopted, with regulators encouraging its proliferation with guardrails. The report showed that consumers increasingly own cryptocurrency and are looking for places to use it, incentivizing merchants to provide options for consumers to pay with crypto.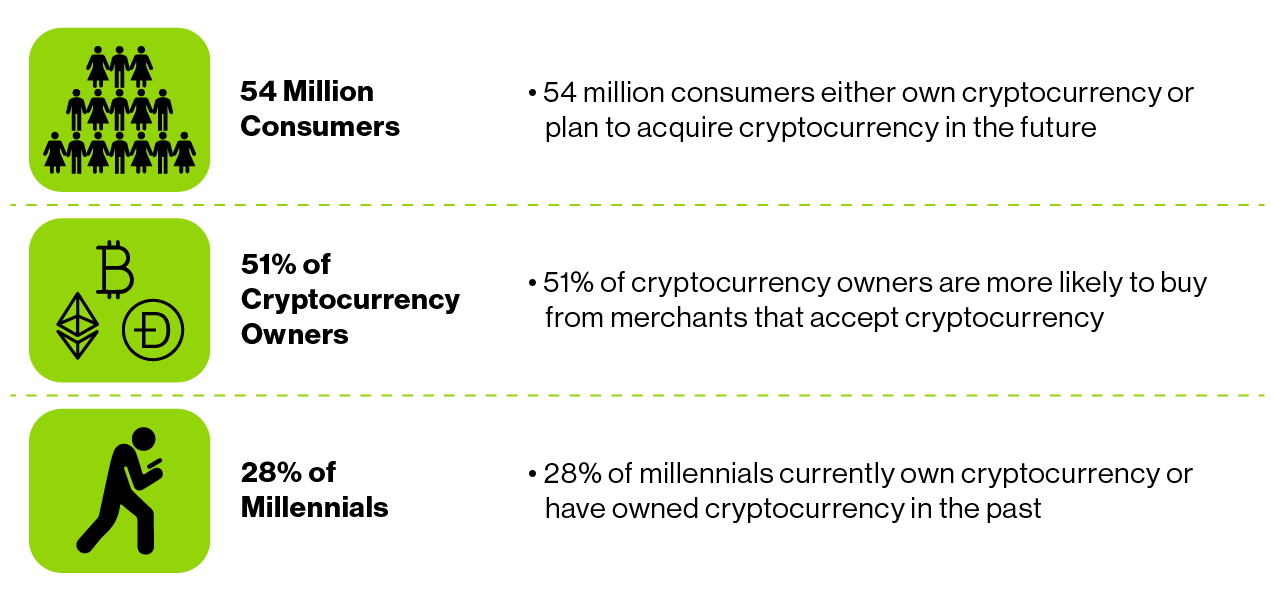 4.
Crypto M&A Market is Heating Up

Cryptocurrency mergers and acquisitions (M&A) has started to pick up the pace. Cryptocurrency firms are looking to expand the breadth of their services and established institutions are looking to gain a foothold in this increasingly important space.
Huobi Group's $100M investment in decentralized finance and M&A: Huobi Group's wholly owned subsidiary, Huobi Ventures, plans to use the funds for supporting blockchain projects, and investing in strategic acquisitions to grow the company's product offerings.


Galaxy Digital acquires BitGo for $1.2B: Galaxy Digital, led by Michael Novogratz, has acquired U.S.-regulated crypto custody specialist BitGo to assist in its mission of institutionalizing digital asset ecosystems and blockchain technology with an intention to become a prime broker.


PayPal to acquire Curv for as much as $500M: PayPal has agreed to purchase Curv, a company striving to be the institutional standard for digital asset security.
5.
Crypto Won't Be Burned by ESG—Addressing Climate Concerns:

Even cryptocurrency isn't immune to environmental, social, and governance (ESG) demands. As cryptocurrencies increase the amount of energy they demand annually, climate concerns have been put front and center.
Cryptocurrency's energy consumption has come into the spotlight recently, with Tesla's Elon Musk walking back his prior statements regarding Tesla accepting Bitcoin as payment due to environmental concerns.


Studies show that bitcoin mining uses 0.63% of the electricity consumed across the globe, which is equivalent to the amount of energy Sweden uses in a year.


Michael Saylor, Elon Musk, and North American Bitcoin mining companies came together to create the Bitcoin Mining Council, which plans to focus on promoting the adoption of sustainable cryptocurrency mining initiatives.
6.
Don't Take Our Word—Recent Quotes from Industry Influencers:

Industry leaders have been active in voicing their opinions. See below for some key quotes showcasing some of the happenings in recent months.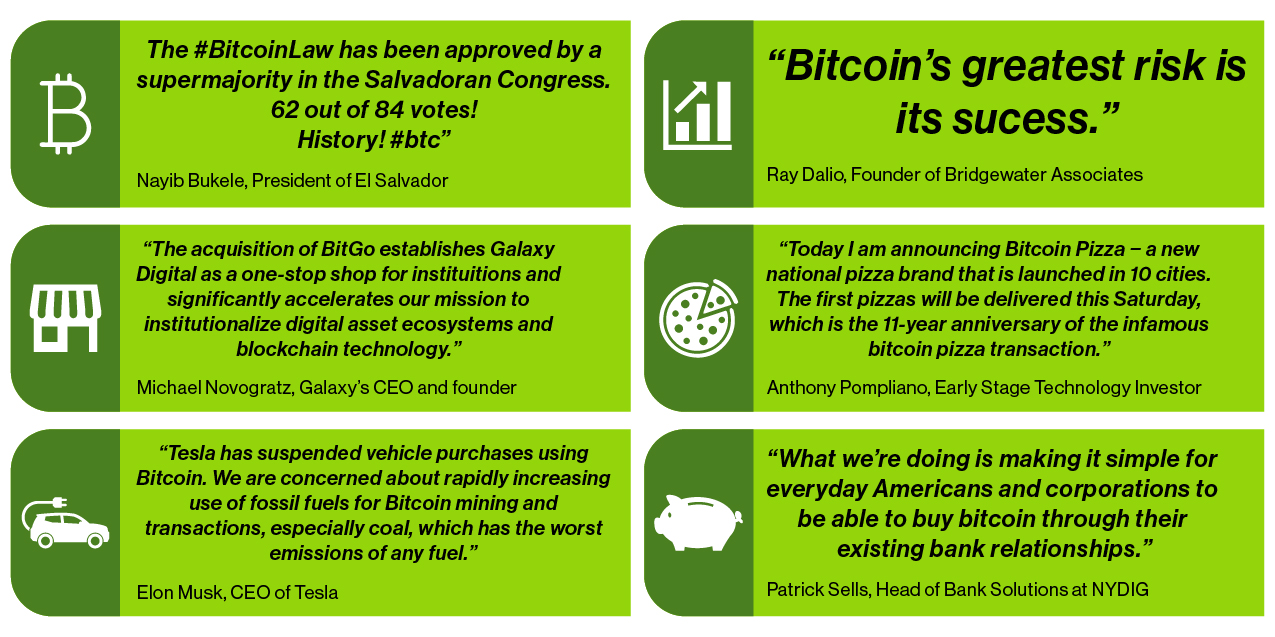 How Guidehouse Can Help
Our Cryptocurrency and Digital Asset Services team can assist companies with the strategic planning and risk management program design needed to enter this arena. As regulations and policies are created and amended, our Bank Secrecy Act/Anti-Money Laundering team has the expertise to guide your organization through the regulatory and compliance environment and address the mounting complexities as cryptocurrencies are integrated into the finance mainstream.
Our Business Transformation and M&A experts provide diligence, strategy, integration management office, subject matter expertise, and execution support. We focus on digital enablement, operational improvement, and margin improvement, as well as accelerating the integration of firms through rapid due diligence and agile and practical M&A integration advisory and execution.