Ongoing market acceptance of cryptoassets has changed the way financial institutions compete in a digital world. The rapid advancement of digital currency technology and the institutionalisation of cryptoassets continues to accelerate, even within a turbulent economic environment.

With companies like Tesla, Inc. and Square, Inc. incorporating Bitcoin into their balance sheets, the slow and steady broader market endorsement of cryptoassets is becoming a reality.

Mainstream adoption of cryptoassets seems to hinge on and scale based on the following drivers:
Increased regulatory guidance and certainty
Increased interest among investors
Increased acceptance of stablecoins and central bank digital currencies
In this article, we will consider key aspects of the Financial Conduct Authority's (FCA) approach to supervision of UK cryptoasset businesses and the recent extension of the deadline for registration.
The FCA and cryptoasset businesses
The FCA is the anti-money laundering and counter-terrorist financing (AML/CTF) supervisor of UK cryptoasset businesses under the Money Laundering, Terrorist Financing and Transfer of Funds (Information on the Payer) Regulations 2017 (MLRs), as amended.

Individuals and businesses have to register with the FCA for anti-money laundering and counter-terrorist financing purposes, if they are carrying on cryptoasset activities within scope of the MLRs, and if this activity is in the course of business carried on in the UK.
Overview of the Temporary Registrations Regime
The FCA established a Temporary Registrations Regime (TRR) in December 2020, with an initial deadline for registration of 10 January 2021. Existing businesses (operating before 10 January 2020) carrying on cryptoasset activity in the UK have needed to be compliant with the MLRs and needed to register with the FCA or appear on the FCA's list of firms with temporary registration if they wanted to continue operating in the UK.

The TRR assisted existing digital businesses to continue operating as they went through the registration process and gave the regulator time to evaluate each application. New businesses (who began operating after 9 January 2020), must register with the FCA before they begin conducting business.

Businesses that are already registered or authorised with the FCA for other activities (e.g., e-money institutions, payment services and Financial Services and Markets Authority firms) will also have to register with the FCA if they are carrying on relevant cryptoasset activities.

To date, based on the information available on the FCA website, six firms have been admitted to the FCA's formal register since 10 January 2020 with several companies still awaiting approval. The FCA indicated that a "significantly high" number of businesses are not meeting the required standards under the MLRs, which has resulted in an "unprecedented" number of businesses withdrawing their applications.

A UK Treasury official recently stated that more than 90% of firms assessed to date have withdrawn their application following FCA intervention, and many crypto firms have "failed to implement appropriately robust AML control frameworks, and to employ fit and proper personnel."

Firms that have withdrawn from the registration process can re-apply, but they must cease operations in the meantime. Firms that continue operating without registering could be subject to fines and face other punitive measures, including legal action.
Extension of TRR deadline
The FCA has extended the registration deadline for existing crypto businesses. The new registration deadline is 31 March 2022. This is the second extension the FCA has had to make because many applications are still pending review. Those firms with the conditional registration under the TRR can continue to operate provisionally until 31 March 2022.
High-level registration requirements
In addition to various corporate information requests, such as a programme of operations and a business plan, the FCA requires cryptoasset businesses to provide the following AML/CTF related information at registration: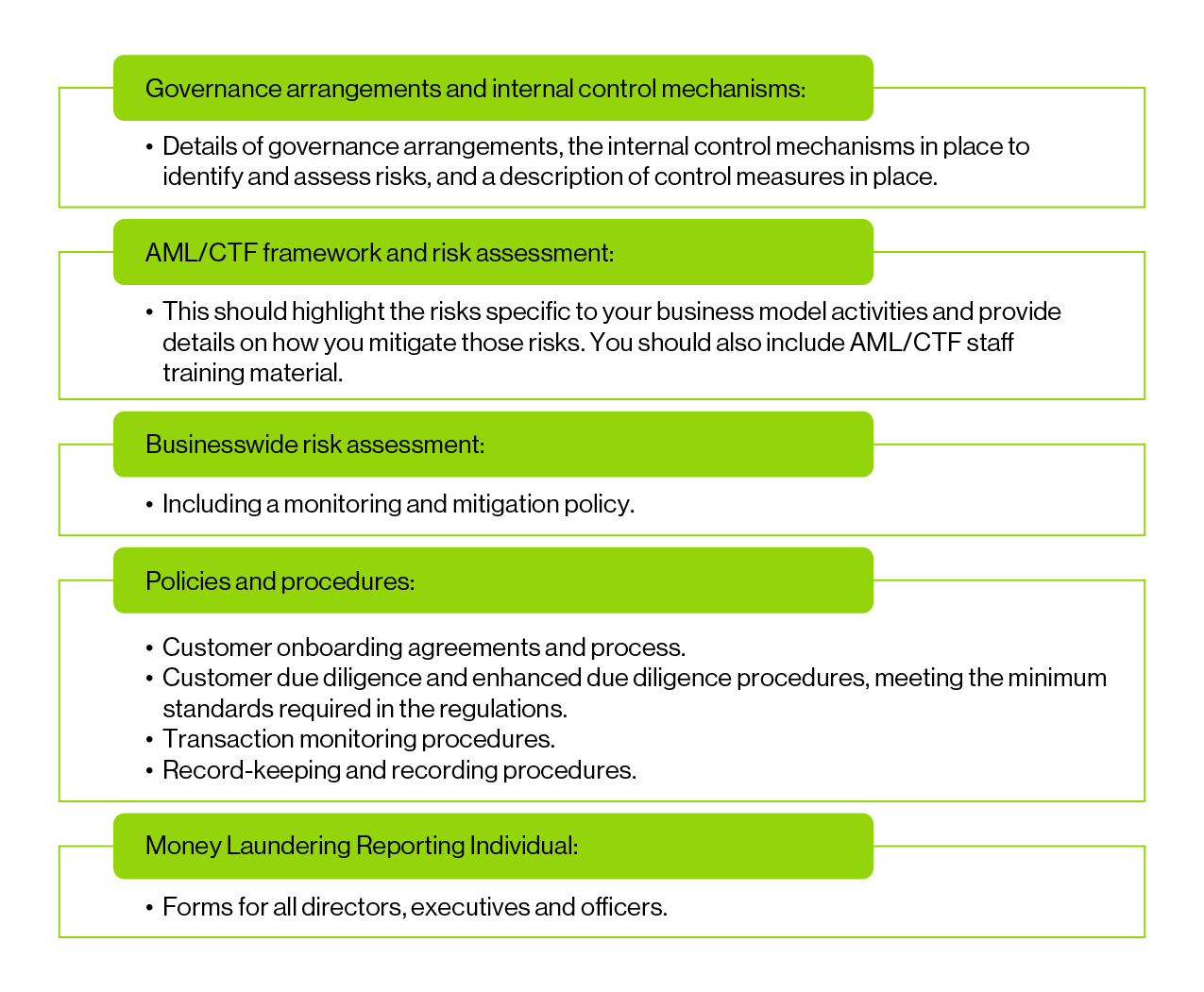 The FCA Board has agreed that the registration charges will be £2,000 for businesses with UK cryptoasset income up to £250,000 and £10,000 for businesses with UK cryptoasset income greater than £250,000 per reporting year.

The registration process is facilitated online:



What should firms consider?
Cryptoasset businesses falling within scope of the MLRs and pursuing registration with the FCA will need to consider their compliance with the regulatory requirements by making sure they:
Identify and assess the risks of money laundering and terrorist financing that their business is exposed to.
Have policies, systems, and controls to mitigate the risk of the business being used for the purposes of money laundering or terrorist financing.
Appoint an individual who is a member of the board or senior management to be responsible for compliance with the MLRs.
Undertake customer due diligence when entering into a business relationship or occasional transactions.
Apply enhanced due diligence when dealing with customers who may present a higher money laundering/terrorist finance risk. This includes customers who meet the definition of a politically exposed person.
Undertake ongoing monitoring of all customers to ensure that transactions are consistent with the business's knowledge of the customer and the customer's business and risk profile.
The slow and steady pace of FCA approvals and the relatively high number of withdrawals to date underscores the FCA's commitment to get this right and their focus on ensuring the various aspects of the application process are adhered to.

How Guidehouse can help
Persistent AML/CTF deficiencies, coupled with failure to hire staff with a clear understanding of the cryptoasset regulatory landscape to implement anti-money laundering processes, are likely to blame in the majority of cases for failure to meet the FCA's standards for registration.

Guidehouse professionals who collectively combine industry and consulting experience, specifically in relation to cryptoassets, can help your organisation to:
Determine how the MLRs apply to your cryptoasset businesses.
Perform a gap assessment of your existing financial crime framework.
Prepare and manage your FCA application.
Develop and implement the systems, controls, policies, and procedures required of a regulated business.
Assist with vendor selection for know-your-customer, transaction monitoring, and token-tracing tools.
Deliver targeted training to senior management and staff so that all stakeholders understand the relevant regulations and their responsibilities, including Approved Person responsibilities where relevant.
We have extensive experience in relation to digital assets and digital payments. We help clients address their toughest challenges with a focus on markets and clients facing transformational change, technology-driven innovation, and significant regulatory pressure. Specifically, we have been engaged by initial coin issuers and administrators, trading platforms, virtual commodity associations, digital asset exchanges, and money service agents for in-depth reviews of their financial crime programmes.