As we move into 2021, one M&A trend for financial institutions is becoming clear—technology will remain a key driver of M&A activity. This technology does not come cheap and acquisitive companies are willing to pay a premium for it, particularly in the banking industry. The largest banks are outspending regional banks by billions of dollars annually. The top banks (JP Morgan Chase, Bank of America, Wells Fargo, Citigroup) combined are spending on average $9.6 billion while regional banks (US Bank, Truist, PNC, KeyBank) combined are spending on average $1.8 billion on technology advancement every year.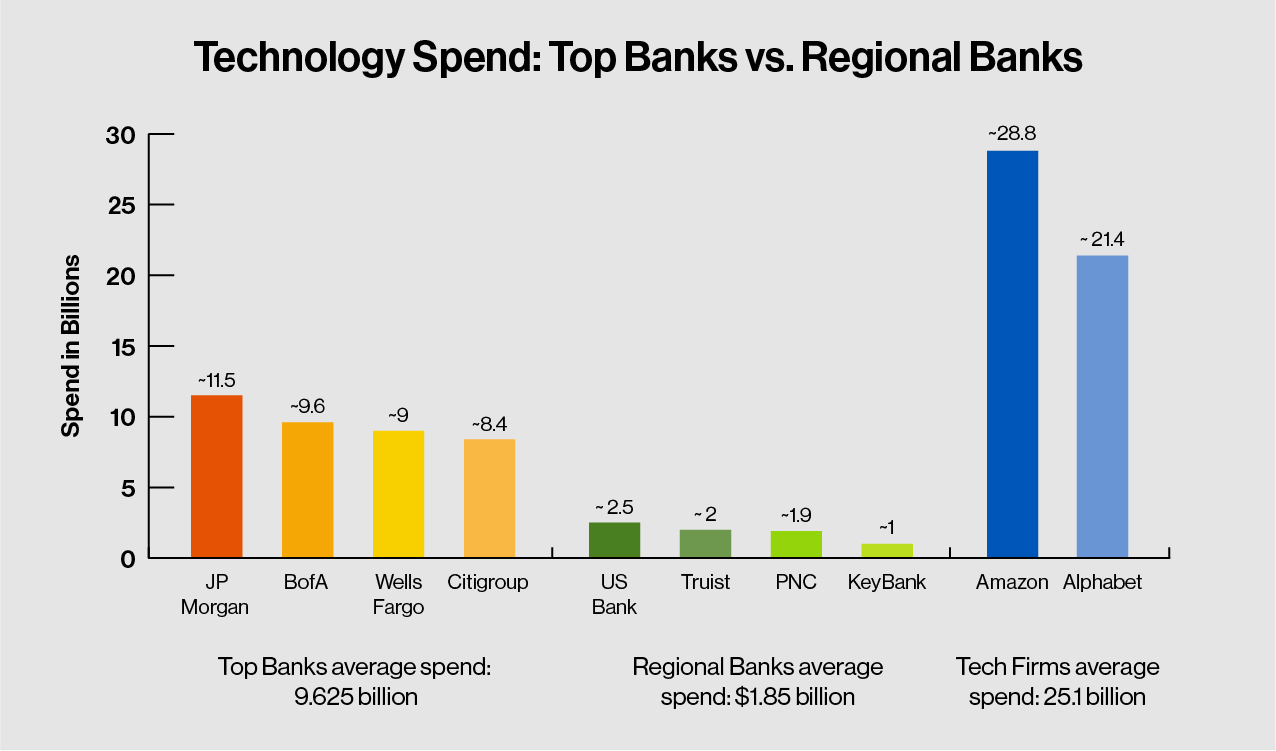 In the two largest bank mergers (1. Truist Merger and 2. PNC acquiring BBVA USA) since the US financial crisis in 2008, both CEOs spoke to technology advancement being a main driver for their deals. In two other recent transactions (1. First Citizens acquiring CIT and 2. Huntington Bank acquiring TCF Bank) their CEOs also spoke to the acquisition being an opportunity to enhance their technology capabilities.
Banking has always traditionally been a local business, but with digital adoption accelerating, regional banks can't solely rely on their local presence as the differentiator. Competition is eroding the regional competitive advantage through digital channels, and massive technology investments, which have become a requirement to compete.
This trend will put incredible pressure on regional banks, as the banks that have invested and can successfully leverage these new digital capabilities will separate themselves from the pack. We expect this will lead to significant consolidation among regional banks in order to remain relevant during this digital era.
The good news for regional banks is that there is still some time to accelerate their investment in digital capabilities. As of now the financial services industry is only generating ~27% of their revenue through externally delivered technology, which is becoming a key revenue driver for financial institutions to capitalize on as consumer adoption reaches its peak.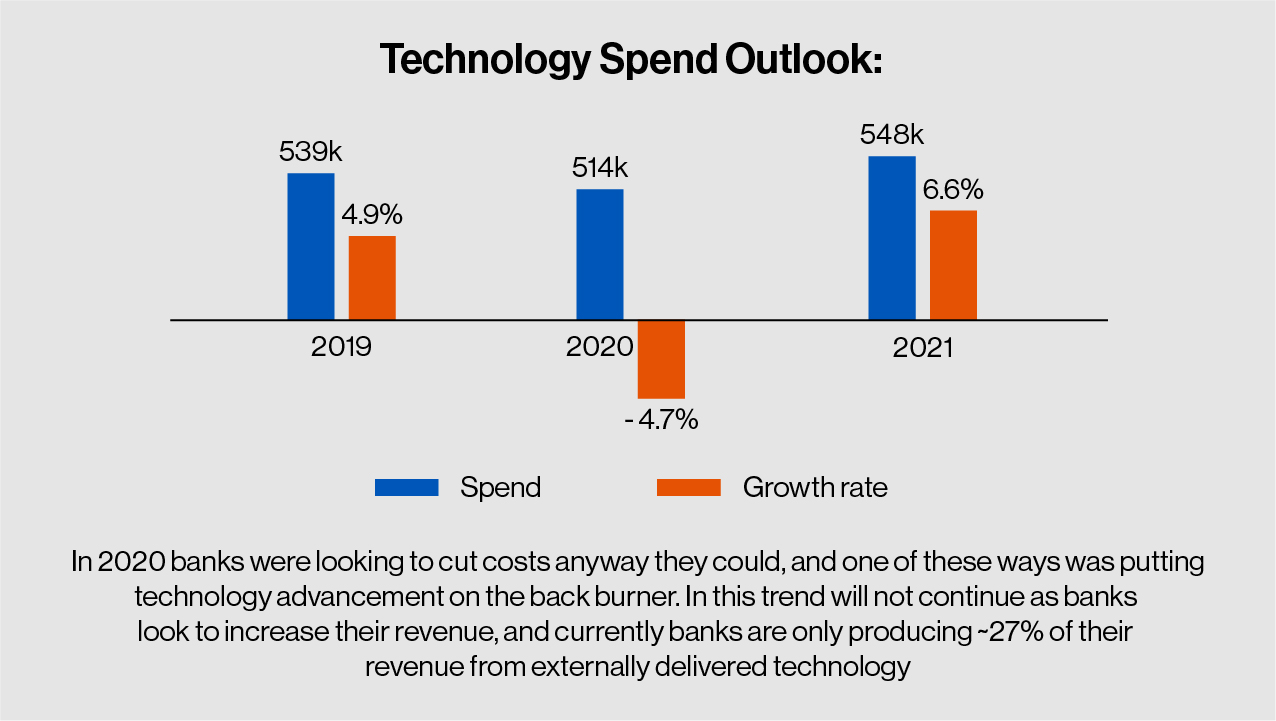 With decades of M&A and technology integration experience, Guidehouse believes there are two key principles to implement when deriving value from technology investments across organizations:
Disciplined investment in technology as a solution to a challenge: It should scale, reduce expense, expand customer reach, improve the customer experience, or differentiate your competitive profile. Ideally the capability checks more than one box.
Transformation is expensive and difficult but will likely help reduce costs in the long run: Institutions will implement technology architectures that allow them to increase their Change the Bank spend ration vs. the Run the Bank costs. Blockbuster Video is the perfect case study of a large player that resisted transformation at its peril.
If you have any merger-related question, please reach out to our Guidehouse M&A Service offering.
Our M&A experts provide diligence, strategy, integration management office, subject matter expertise, and execution support. We focus on accelerating the integration of firms through two key capabilities:
Rapid due diligence across Finance and Accounting, Human Resources, Operations, Technology, and Governance, Risk, and Compliance functions to identify, confirm, and protect value
Agile and practical M&A integration advisory and execution from deal announcement through post-close integration.
Our clients benefit from our extensive experience and capabilities in this area, including:
M&A Playbooks:

Comprehensive

M&A playbooks, tools, and best practices from dozens of engagements.
Breakout workstream checklists and methodologies: Specialized methodologies in regulatory management and remediation, cost reduction, technology, corporate functions, compliance issues, and more.
Tools: Flexible tools to provide M&A life cycle management, automated synergy tracking and reporting, workflow, and reporting.
Experience: Guidehouse and our practitioners have supported hundreds of engagements from M&A transactions. We know the business well from over 20 years of engagements on highly scrutinized investor, regulatory, and board initiatives.
Special thanks to contributing author Andrew Hobensack.