COVID-19 pandemic-related stressors have led to widespread increases in behavioral health issues. In late June, 40% of adults reported struggling with mental health or substance use, according to the U.S. Centers for Disease Control and Prevention—with 11% reporting they had seriously considered suicide.

Calls to the Substance Abuse and Mental Health Services disaster distress help line increased by 891% in March 2020 vs. March 2019, and the number of antidepressant prescriptions had risen by 21% by mid-March.

Most recently, a phenomenon known as "pandemic depression" is being examined.

Job loss and extended isolation will continue to have far-reaching impacts on the behavioral health of Americans.

In fact, many people who had preexisting behavioral health issues are experiencing an exacerbation of those conditions, due in part to widespread disruption of the behavioral health delivery system, in which the typical pathways to receive in-person treatment have been altered.

Unlike other traumatic events, such as hurricanes and terrorist attacks, the pandemic is not limited by geography and there is no defined "event."

Rather, the COVID-19 reality has created a barrage of persistent stressors, including:
Lack of foresight into how severely an individual may be impacted by contracting COVID-19 and who around a person may have the virus.
Economic uncertainty coupled with widespread job loss.
Grief over the loss of life due to COVID-19 or other reasons during a period where traditional mourning practices cannot be observed.
Now is the time for state agencies to address the demand for greater behavioral health services.
As COVID-19 spikes across the country and future surges are expected, so will the demand for behavioral health services. It's essential for state agencies to collaborate with providers, politicians, and advocates to assess their behavioral health delivery systems now to create long-term policy changes that can weather future crises.

If the increased demand for greater behavioral health services is not appropriately addressed, access, costs, and quality may all be negatively impacted, presenting further challenges to states and their communities.

State agencies are well-positioned to collaborate with both each other and providers to address gaps in the behavioral health delivery system.

As regulators and policymakers, state agencies should band together with each other and providers to develop new approaches and strategies to address gaps in the behavioral health delivery system—gaps that have been amplified as a result of the COVID-19 pandemic.

For example, Medicaid agencies play a prominent role as they are responsible for the payment and delivery of behavioral health services for low-income populations.

Medicaid, behavioral health, and other human services agencies have an opportunity to respond to near-term needs and a post-pandemic surge by addressing access, cost, and quality—known as the Triple Aim.
Triple AIM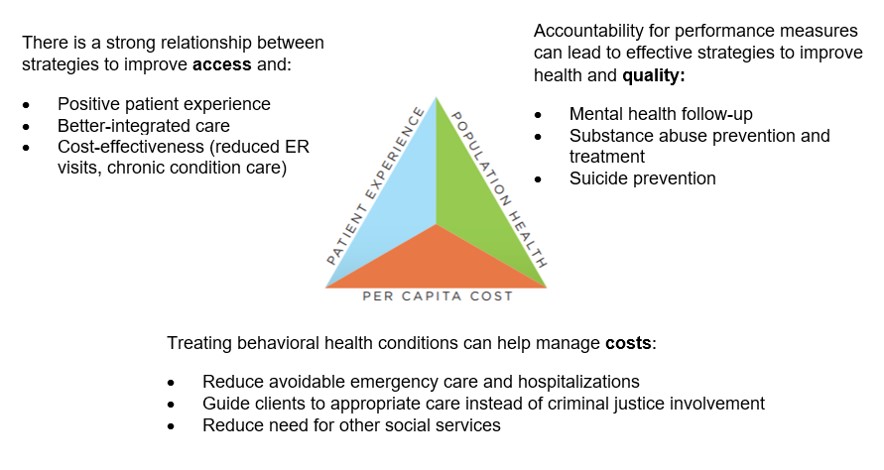 Five ways states can improve their behavioral health delivery systems to increase access, support cost-effectiveness, and improve quality:
Establish an environment that can meet increasing demand by addressing gaps in the behavioral health workforce and associated continuum of services.


Strengthen primary care and behavioral health integration and care coordination, in both managed care and fee-for-service environments.


Update Medicaid reimbursement methodologies to correlate with changes in service delivery and encourage the long-term use of telehealth.


Invest in appropriate access to long-term behavioral health treatment and community engagement activities to reduce criminal activity, child abuse, and housing insecurity issues.


Identify the most meaningful behavioral health-related performance measures and make necessary updates to track, report, and analyze ongoing behavioral health quality improvement activities.
A recent study in Health Services Research suggests that higher levels of unmet social needs are associated with poorer access to care and lower care quality among low‐income adults. State agencies have an important role in improving our behavioral health delivery system in the long term to avoid detrimental effects on our communities.
You may also be interested in: