Ongoing lack of access to healthcare is a serious issue for the nearly 20% of the US population living in rural America. A range of factors, including more hospital closures and provider shortages than those in urban areas, have contributed to increased rates of mortality and chronic disease, outmigration for care, loss of jobs, and reductions in per capita income in rural communities across the nation.
Rural healthcare challenges accelerated with the COVID-19 pandemic and continue to intensify. Federal, state, and local agencies, academic medical centers, and other philanthropic groups have invested in improving care access, quality, and costs in rural communities. But many efforts have been individually aimed at specific populations and regions, rather than the larger rural health ecosystem.
Overall, evolving healthcare trends have rendered the rural healthcare delivery model obsolete. Rural hospitals, many of which were built as a result of the 1946 Hill-Burton Act, struggle to meet today's focus on outpatient care, prevention, wellness, and digital engagement. Concurrently, with broadband not being universally available, the digital divide is pronounced in lower income populations and cannot fully and reliably address rural healthcare needs.
The gap between urban and rural health outcomes is increasing.
Shrinking populations, increased competition with urban and suburban amenities, academic affiliations, and shifts in payer mix have also negatively impacted many rural public and private care providers. These communities often have higher rates of uninsured, Medicaid, and Medicare patients, leading to more uncompensated care and additional challenges in provider recruitment and retention.
Widening the gap to local economies, rural populations are employed in riskier jobs, including agriculture, mining, and manufacturing. The burden of low access has vast economic impacts, as communities lose jobs and employers, and employers struggle to insure for increased liabilities and injury rates.
The way forward is to bring rural communities better value with a new, aligned model.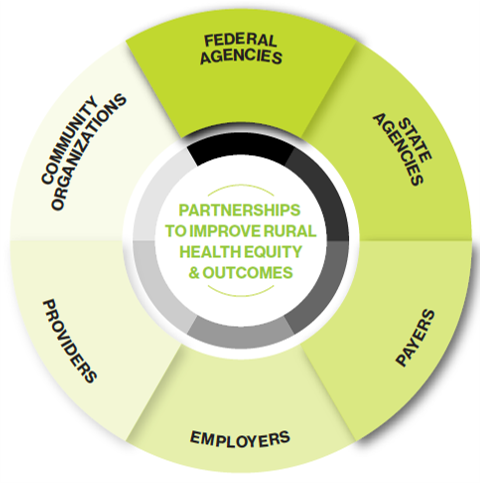 As stakeholders and lawmakers look for answers to improve health equity and outcomes, a more collaborative approach can bring better value to at-risk populations.
Joint allocation of dollars to a new, comprehensive model that addresses emergency care, digital enablement, and wellness and prevention can improve overall access and rural health outcomes.
This requires federal, state, and commercial entities to align resources and partner across the public and private sectors to close gaps in access to rural healthcare.
Case in point: In 2018, Tennessee passed the Rural Hospital Transformation Act, tasking its Department of Economic and Community Development to create a committee of public and private stakeholders to support the sustainability of rural healthcare. Guidehouse worked with the committee of stakeholders to help establish a new program and advise on transformation plans and implementation. Two years after the program's inception, rural and critical access hospitals implementing their transformation plans identified more than $5 million in revenue-generating and cost-saving activities. Additionally, program hospitals reported stronger financial performance even during the COVID-19 pandemic.

While some state efforts have proven fruitful, there are many challenges on the path to alignment, as all rural markets are not the same. Lawmakers must act and collaborate on the incentives and infrastructure needed to coordinate care and meet better health outcome objectives.

The fate of rural communities cannot rest on the shoulders of any one agency, department, provider, or payer.

The true solution to improving rural health outcomes is a collective effort aligning the already present resources of disparate entities. By braiding interagency resources to create sustainable supply that meets demand, we can improve rural health and wellness while strengthening the fabric of American healthcare.
For more, click here to read: Closing the Urban | Rural Divide