Healthcare informatics has tremendous power to transform care delivery and response in a crisis, from sophisticated data analyses that pinpoint populations most at risk, to technological support for outbreak management.
Considering how to use advancements in healthcare information systems and science to drive healthcare transformation is critical. That means making real people-focused connections at the point where interoperability, clinical intelligence, and electronic health record (EHR) utilization meet to advance patient care and outcomes.
Advancements in care through EHR technology are a primary goal of healthcare transformation.
A fundamental goal of healthcare transformation is to enhance patient and provider experience by allowing a flexible bidirectional healthcare exchange. Success lies in an organization's ability to create health interactions that place patients and providers top of mind. To understand these needs, organizations must invest in transformation that prioritizes patient and provider satisfaction while acquiring data, interactions, and analytics to deliver actionable insights.
The gold standard of technology implementation is Stage 7 of Healthcare Information and Management Systems and Society's (HIMSS) Electronic Medical Record Adoption Model (EMRAM). At this stage, hospitals no longer use paper charts to deliver and manage care. Instead, all stakeholders in care have electronic access to clinical information. Data warehousing analyzes patterns in clinical data to continuously improve care quality, efficiency, and patient safety, and rates of adoption for physician documentation and computerized practitioner order entry total 90% or higher.
But today, fewer than 7% of healthcare organizations have reached Stage 7 EMRAM Maturity Status.
It's an especially challenging task for public agencies, which have been slower to undertake EHR modernization. However, the benefits of data-driven advancements in care are clear: organizations that achieve Stage 7 Status report higher levels of physician satisfaction, deeper adoption of EHR personalization functionality, and better teamwork between clinicians and health IT teams, according to a survey by KLAS and HIMSS Analytics.
To reach this state, healthcare organizations must connect people, processes, and technology.
In working with hundreds of commercial healthcare clients and numerous EHR systems, including Allscripts, athenahealth, Epic, Meditech, McKesson, and Cerner, Guidehouse has found that these three elements are critical to the success of any healthcare informatics initiative, regardless of size or type.
But aligning people, processes, and technology toward a unified outcome requires a deep understanding of the critical stakeholders involved in an initiative, the processes they will use, and the technology they will leverage to advance health outcomes. The single most crucial denominator is clinical integration.
Clinical transformation and related change management support should reside outside the technology vendor. The technology vendor's core competency is configuring and deploying a technology that meets the functional (end-user) requirements, technical/security requirements, and functions as intended. While technology is essential to the modernization effort, true and lasting transformation will not occur without thorough clinical integration of the new system supported by a robust human-centered design based on the people, process, and technology connection.
Ultimately, a healthcare organization's success in connecting these elements will be key to its ability to achieve healthcare transformation.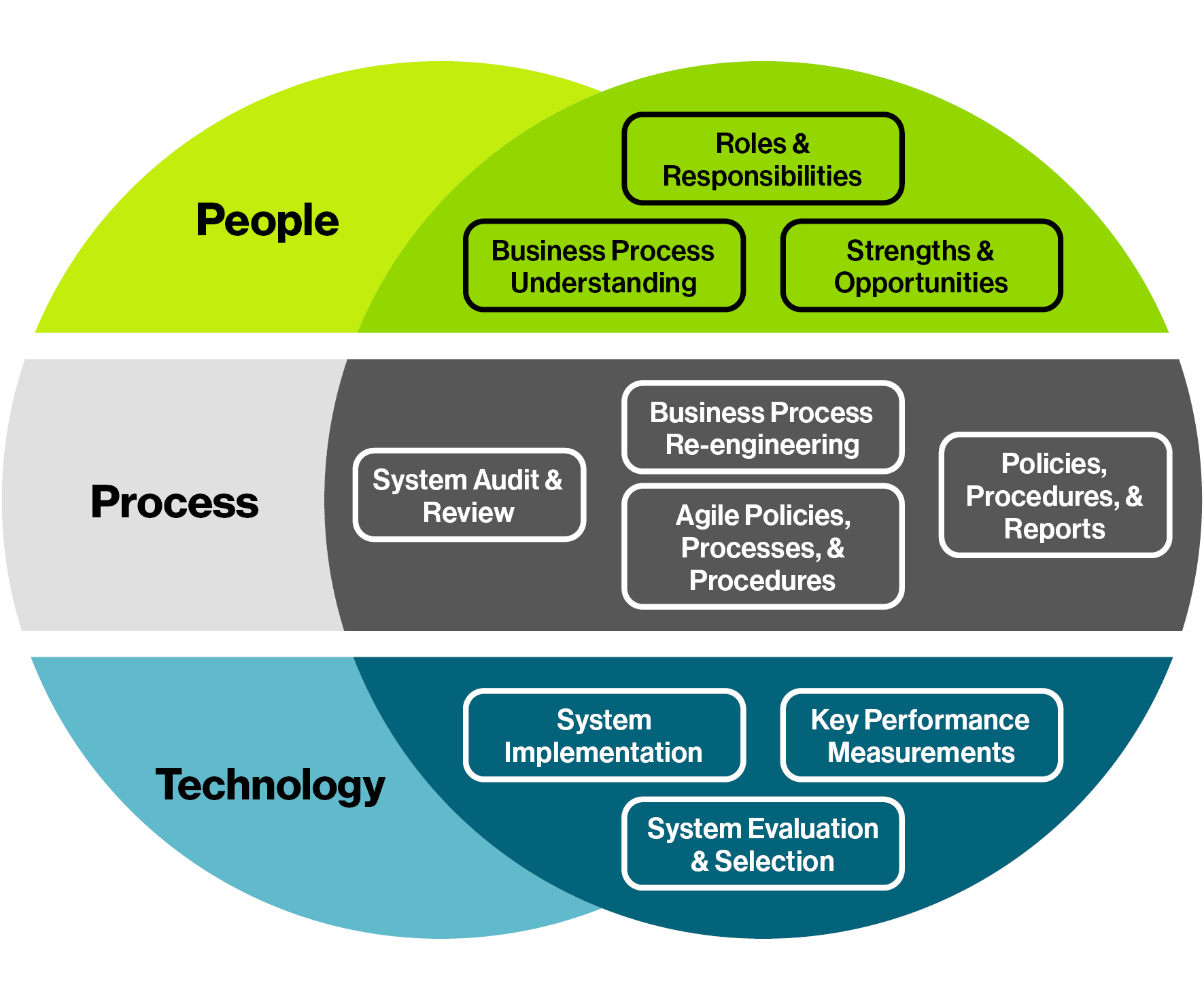 How can healthcare leaders set a solid people-focused foundation for value using healthcare informatics?
Start with people.
Identify the key players, their needs, and what they bring to the table. Then, establish a cultural framework for transformation using human-factor design.
One of the biggest challenges in undertaking any healthcare informatics initiative, including EHR modernization, is that people are wedded to processes, many of which they have been using for years. This is especially true when the technology they rely on is very clinician-friendly, as though it were custom-built for physicians. When leaders introduce new technologies to replace legacy processes and systems, they often are met with resistance: "Why do I have to document all these things? I only had to click one button in the past."
The key to engaging clinicians in making this shift is to highlight the outcome for the patient.
For example, will health outcomes be improved four months faster by following process A rather than process B? Will the use of predictive analytics—supported by a more modern EHR—strengthen population health management? Leaders also need to articulate the value that a technology or process will deliver to clinicians, which requires a deep understanding of how they use, manage, and exchange documents and data.
Just as important: Build a team with the people, skills, experience, and attitude that will drive transformation. Further, don't underestimate the importance of senior leader engagement. Lobby for their buy-in from the start.
Another tremendous challenge in any healthcare informatics initiative is facing provider burnout and, consequently, the provider's lack of interest in implementing a new technology. Healthcare's fast-paced environment, combined with long hours, red tape, and the emotional burden of caring for the sick, can wear down even the most committed providers. This can reduce the time providers spend delivering patient care and significantly impact organizational productivity, morale, costs, and quality of care provided.
Technology implemented with a people-first approach can be a crucial contributor to mitigating provider burnout.
The best solution will integrate with current workflows, enhance the patient-provider relationship, and seamlessly exchange data throughout the system, improving patient outcomes and decreasing providers' administrative tasks. In addition, providing patients with easy access to their records, appointments, and follow-up instructions to their care will reduce the chance of patients returning for additional care.
Once people are committed, consider the process.
A process is defined as a series of actions or steps taken to achieve a particular end: "What steps do we need to undertake to solve this business problem?" It's important that processes are solution-agnostic. This ensures that actions are designed around the provider promoting better patient outcomes.
A solid place to start is by identifying the steps needed to achieve a desired result. Then, drill deeper, focusing on process variations, exceptions, interdependencies, and supporting initiatives. Review the findings with key stakeholders, and work together to create revised processes, policies, and procedures that drive better patient care and outcomes.
Clinical stakeholders should help introduce new processes to the rest of the care team. This ensures that team members know what is expected of them. It also provides a vital opportunity to identify potential gaps and issues prior to go-live.
Then, select the technology.
Selecting technologies before knowing where the people and processes fit is a recipe for disaster. Technology should enable the strategy. With the right people in place, define technology solutions based on the processes agreed upon by the clinical team.
To select the best technology platform for your organization, gather input on the needs for the solution from those who will use it. Next, prioritize these requirements, separating them into "must-haves" and "nice-to-haves," as no system will fully meet an organization's requirements.
Establish a governance system for approving the desired list of features and appoint the appropriate people to choose the technology and lead its implementation. Taking the time to develop the right governance approach is critical: Nearly 80% of IT initiatives that fail are the result of lack of governance.
Healthcare governance is defined as organizational leaders working in concert with frontline clinical and operational staff to ensure that policies and procedures solve real-world problems, all while keeping a uniform and human-centered, enterprisewide approach. Immediate benefits of good governance are exemplary patient and provider experiences.
Preparation is key to optimization.
Technology in and of itself cannot solve organizational problems and inefficiencies. Instead, it's the way technology is deployed that has the most beneficial impact on provider productivity and patient care.
Superior technologies can become stagnant without the appropriate focus on the people and processes to implement them. By taking the time to secure buy-in, design the right strategies, and rely on methods to guide technology selection, leaders will be better positioned to leverage healthcare informatics to drive sustainable transformation.