For 75 years, medical schools and academic health systems have been partnering with the US Department of Veterans Affairs (VA) to meet the needs of Veterans and the nation. In fact, "education for VA and the nation" remains one of VA's foundational missions.
Sharing in the tripartite mission of education, research, and clinical care excellence, these academic affiliations with VA have resulted in significant advancements by researchers, including the first implantable cardiac pacemaker, the first successful liver transplant, and the development of the nicotine patch. The relationship offers academic medical centers (AMCs) a vital opportunity for medical students, residents, and fellows to gain experience in treating Veterans with distinct care needs and challenges while also expanding their research portfolio.
Today, 70% of VA staff clinicians also have an appointment at an affiliated AMC. From the viewpoint of VA, this symbiotic relationship is vital to maintaining their mission of providing high quality, accessible care to Veterans and their dependents through staffing of VA medical centers and related outpatient sites throughout the community. Likewise, for AMCs, this relationship provides unique opportunities across their shared mission pillars. The value and impact of academic affiliations for VA cannot be understated, both in staffing and in supporting Veteran needs.
The two entities have a rich history of adapting to changing Veteran demographics. However, several opportunities exist to evolve these partnership models and improve access to care for Veterans, as well as advance training, research, and financial stability at AMCs.
How the AMC-VA Partnership Nurtures a Shared Mission
Education
Funding: Billions of dollars in graduate medical education (GME) funding has been provided by VA. In 2017 alone, VA spent $1.78 billion to fund 11,000 full-time equivalent (FTE) resident slots so that approximately 43,000 physician residents could spend part of their training in a VA facility).
GME Training and Funding: Through 2,000 accredited ACGME residency program partnerships with teaching hospitals, the VA shares the costs of faculty funding and resident training at the VA facility.
Expanded Training Platform: During the time that residents are at a VA facility, they are not counted for the purposes of the Medicare GME cap at the affiliated AMC and are not paid using Medicare physician training funds. This permits AMCs to train additional residents above their Medicare FTE cap while they are paid by VA.
Partnerships: 97% of the nation's medical schools are affiliated with the VA, including 149 accredited allopathic schools and the 37 accredited osteopathic medical schools.
Training: Approximately 70% of US physicians have received training in VA medical facilities, as VA's health professions training programs and academic partnerships offer training to more than 120,000 health professions trainees a year. Additionally, 91% of trainees are satisfied with the VA training experience.
Research
Funding: $800 million in medical research is funded annually by VA. These funds translate into substantial benefits to academic affiliates, including shared research and training resources and platforms, grant-funding opportunities for faculty, and the ability to recruit top researchers, educators, and clinicians.
Partnerships: VA provides an attractive environment for translational and clinical research due to its large, diverse Veteran population, access to resources and experienced investigators across the country, integrated healthcare delivery network, and extensive electronic health record data.
Clinical
Funding: In FY 2021, VA spent a significant portion of its community care funding for referrals sent to AMCs. This amount ranged from $150 million-$200 million and was primarily spent for high-acuity and surgical specialty care.
While AMCs and teaching institutions have benefited from their partnership with VA, these affiliations are symbiotic. However, as VA seeks to balance the need to modernize its healthcare infrastructure while providing efficient, coordinated, and accessible care to a vulnerable population, the future state of the AMC-VA relationship will ultimately impact the future of VA's clinical care, training, and research platforms.
It is time for AMC leaders to rethink their VA care and service delivery models to maximize mutual value in a rapidly evolving environment.
A Rich History of Collaboration
Following World War II, General Omar Bradley, VA administrator, sought to transform the quality and availability of medical services for Veterans. The VA's chief medical director at that time, Paul Magnuson, MD, led the development of an affiliation program with the nation's medical schools for research and training, and 60 medical schools were affiliated with VA hospitals by 1948.
The partnership has led to groundbreaking advances in medicine, nursing, medical research, and prosthetics, with discoveries that revolutionized care for chronic conditions such as diabetes, cancer, heart disease, and more while helping to diminish the spread of tuberculosis. In fact, many advancements in medicine began as trials in VA hospitals.
Initially, the partnership between AMCs and VA focused heavily on inpatient and institution-based care. As care models evolved, AMCs and VA worked together to shift more care to outpatient settings and reduce costs in the move toward value. The maturity levels of these partnerships vary, ranging from recruitment strategies to broader affiliation agreements.
As the needs of Veterans as well as the political climate have changed, care options have been redesigned for the times. Today, there are options for community-based care that lessen travel times under the MISSION Act, provide specialized rehabilitation programs for traumatic brain injury and polytrauma, deliver same-day care for behavioral health conditions, and more.
Some changes have been specifically beneficial for AMCs. Community care, for example, allows VA physicians to send more high-acuity cases to AMCs for treatment, while efforts to enhance specialty care for Veterans have led to destination-center relationships with AMCs such as Mayo and MD Anderson. Similar opportunities exist in expanding primary care networks, for instance.
Now more than ever, the changing epidemiological profile and aging of the Veteran population, a shift in demand by geographic area, as well as infrastructure challenges and resource constraints, suggest that AMCs must strengthen their relationship with VA if they are to continue to meet Veteran complex care needs.
The Veteran Population is Evolving—and So Should AMC-VA Partnerships
Across the country, the industry is witnessing a change in the demographics of the Veteran population. Veterans are presenting with more comorbidities than ever, from behavioral health conditions to complex cardiovascular disorders to challenges with back pain, kidney disease, and spinal arthritis. Moreover, the number of female Veterans seeking care has increased and continues to grow, suggesting that the ability to reach this population is essential, given that women drive most of the healthcare decisions in their family. Additionally, as the percentage of Vietnam Veterans continues to decline, Gulf War Veterans now make up the largest proportion of US Veterans.
Veteran populations are declining in some areas of the country and rising in others, such as rural communities. Nearly one in four Veterans live in rural areas. However, among the 4.7 million rural Veterans, just 58% (2.7 million) are enrolled in VA. While this proportion is higher than the percentage of urban Veterans who enroll in the VA (37%), rural enrollees are less likely to rely on AMCs for their care, due to travel times, the availability of telehealth on a wider scale, and the desire of some Veterans to seek care locally.
It is time for the AMC-VA partnership to evolve, but not just because the Veteran population is evolving. This evolution is happening at the same time as rapid healthcare industry disruption, increased competition, and decreased funding, adding more complexity to an already challenging environment.
AMCs must consider:
How VA will reallocate spending to support a more rural, high risk, and increasingly complex population whose preferences for healthcare are changing.

How to leverage increasing complexity of patients to maintain and grow VA funding—even amid a declining enrollee population and shifts in demand.

Ways to advance training and research innovation around the VA population, as access to clinical care for Veterans changes in some locations.

Their approach to training and research in adapting to changing Veteran dynamics and settings of care.
There are five steps AMCs can take to improve their VA partnerships and increase access to care while reducing costs.
Partner on opportunities to enhance access to specialty services at lower costs

.
For AMCs with well-functioning "super specialties" such as neurosurgery or cardiothoracic surgery, service line-specific affiliation agreements help optimize capital expenses while providing better care for Veterans at a lower cost. Examples include a program for brain injury rehabilitation at Atrium Health Wake Forest Baptist

and specialized services for Veteran women at the

VA Clinic in Birmingham, Alabama

. Another approach is to ensure that Veterans undergoing ongoing specialty treatment receive the right care in the right setting to decrease total care costs. For example, Veterans undergoing treatment for cancer could receive tertiary care at an AMC (e.g., proton therapy, complex surgery), but could receive less intensive, outpatient services such as infusion therapy at the VA medical center.




Align strategic priorities with VA research opportunities

.

An AMC that is interested in growing its spine care service line, for instance, should look for ways to conduct spine care research with VA funding. This type of research will attract a higher caliber of spine care practitioners and faculty to the AMC—a win-win, given the salary limitations VA faces and the cost of hiring specialists. It also will help establish the AMC as a destination center for spine care—both for Veterans and other vulnerable patient populations. Other strategic areas to explore include cardiovascular care, endocrinology, neurology, and oncology.


Build a sustainable AMC-VA infrastructure for Veteran care

.

VA faces challenges with aging healthcare capital. As a result, VA medical centers are increasingly focused on strategic opportunities to leverage the infrastructure of an AMC affiliate to meet their population's needs; optimize facility operations; right-size their inpatient footprint; and more. (See the exhibit below.) Now is the time for AMCs to initiate discussions with VA medical centers around win-win approaches to protecting long-term sustainability.



Increase transparency and interoperability

.

For both AMCs and VA medical centers, a lack of identifying symbiotic opportunities is a stumbling block to collaboration. For example, AMCs are often unclear on how to engage and do business with VA medical centers, and VA lacks the ability to do effective care coordination after a patient leaves an AMC. Both factors limit the ability to deliver high quality, cost-efficient services to Veterans. For AMCs and VA to each meet their mission, AMCs need stronger mechanisms for communication and data sharing that keep VA apprised of the care that Veterans receive, the needs that AMCs are seeing among Veterans locally, and the opportunities that exist for AMCs to provide better and more efficient quality care for high acuity patients.


Adjust AMC training curricula and support to meet evolving Veteran needs.
Assess the emerging healthcare needs of local Veterans. Then, develop a dynamic training platform that maximizes access to complex patients for residents, fellows, and other trainees through increased use of digital health, including digital care and tech-enabled training platforms. One critical area of focus: geriatric care. Organizations such as the Miami Geriatric Research Education and Clinical Center conduct geriatric research with VA funding and leverage telehealth, advanced training, and an interdisciplinary care delivery model to manage and coordinate Veteran care more effectively across settings.
The below table outlines mechanisms for AMCs to consider in enhancing relationships with VA medical centers, by level of effort.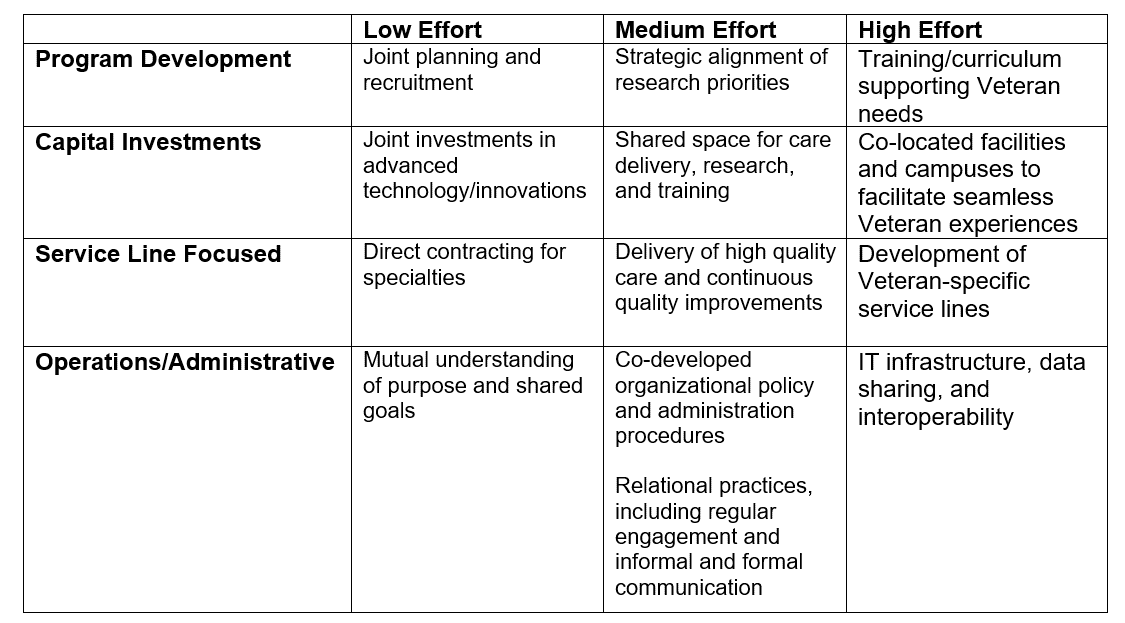 By reimagining their relationship with VA medical centers, AMCs can take innovative steps toward strengthening the quality of care they deliver to Veterans. This approach can bolster efforts to meet the healthcare needs of vulnerable populations, strengthen educational and research programs, and elevate the ability of AMCs and of VA to attract and retain key talent while protecting their bottom line, now and over the long term.