Challenge
There were 137 million emergency department (ED) visits in the U.S. in 2016, with an average length of stay (LOS) of 135 minutes for discharged patients and 96 minutes for admitted patients. In addition, it's common for ED waiting times to exceed several hours, presenting a serious problem for providers and patients. Reducing LOS allows for increased throughput in the ED, which can help reduce waiting times.

Main Line Health is a not-for-profit health system serving portions of Philadelphia and its western suburbs via four acute-care hospitals. With more than 10,000 employees, 2,000 physicians on staff, and 1,300 licensed beds, Main Line is one of the region's largest employers and healthcare providers.

In 2017, Main Line Health partnered with Guidehouse Inc. to improve labor productivity, efficiency, and LOS. Main Line's EDs were benchmarked against similar hospitals using the key performance indicator of worked hours per visit (HPV). HPV targets were customized to each hospital in the system and included direct and indirect time from nurses, technicians, unit secretaries, administrative coordinators, and nurse managers.

Clinical staff at Riddle Hospital, one of the system's smaller hospitals with 33,800 ED visits a year, leveraged Guidehouse's cyclical approach of staffing to demand and clinical redesign. The effort yielded productivity improvement from the first round of staffing efficiency and set the framework for re-evaluating staffing as clinical redesign projects impact LOS.
Solution
At the onset of the initiative, Riddle Hospital was struggling with HPV productivity. To identify appropriate HPV targets, benchmarks were adjusted to account for hospital specific workflows. Due to higher volumes of behavioral health patients in some facilities, targets were adjusted to account for the increased nurse hours needed within the ED. Construction activities requiring additional staffing for alternative entrances and additional patient transport were also built in to the targets for the duration of the project.

The total HPV was categorized into fixed and variable worked hours. Fixed staffing components included directors and managers where the number of staff needed was determined by span of control. As the system was simultaneously implementing a new electronic health record (EHR), unit secretaries and administrative coordinator roles were clarified to identify redundancies among the positions with the EHR. Variable worked hours included nursing and tech staff needs that flex with volume. To achieve the variable HPV targets, staffing to demand optimization was used to showcase the feasibility and propose potential future state schedules.

To improve staffing efficiency, demand data (patient arrivals and ED census) and current staffing were broken down by day of week and hour of day. Analyses of arrival patterns showed a varying range of 15 visits daily, indicating an opportunity to implement different schedules for different days of the week.

ED census, which captures the number of patients in the ED, was used to determine the workload in the department using a ratio of one nurse to four patients. The goal of the optimization modeling was to minimize potential overstaffing using different scenarios to identify a feasible schedule (Figure 1).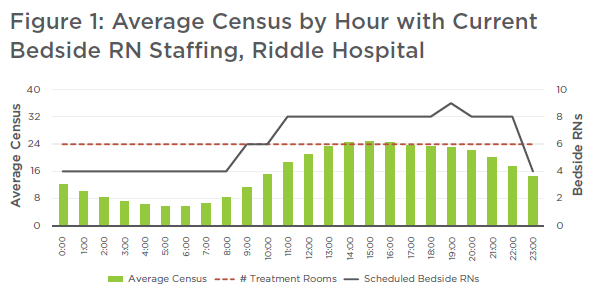 Vertical bars indicate average hourly census, and the number of bedside nurses working at each hour of the day is shown by the solid line. The gap between the solid staffing line and the census bars indicates potential overstaffing.
To accommodate the within-week variation, an optimal shift pattern was derived for each day of the week for nurses and technicians (Figure 2). Scenarios were modeled to identify the optimal staffing pattern using the existing shifts (Scenario A) or adding shift duration and start time flexibility (Scenario B).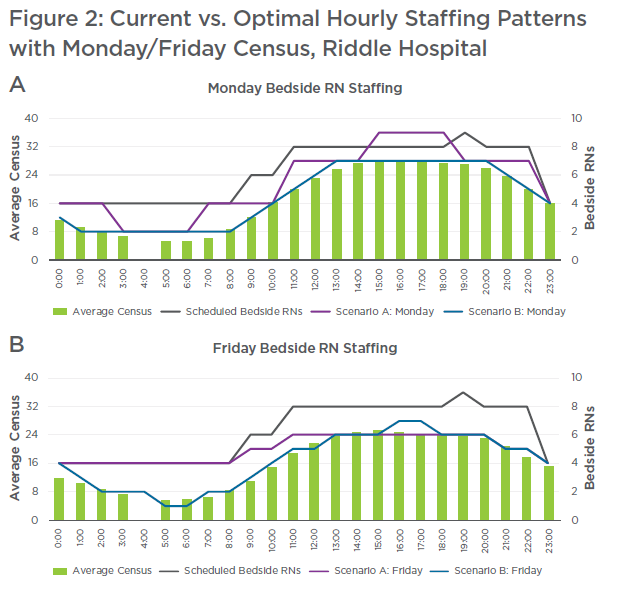 Original vs. optimal nurse hourly schedule. Green bars indicate hourly ED census. Gray line shows current nurse hourly schedule. Purple lines show Scenario A nurse hourly schedule, Blue lines show Scenario B nurse hourly schedule.
The scenarios generated an optimized staffing schedule for each day of the week, which combined outperformed the variable HPV target. However, scheduling differently every day is cumbersome and infeasible. To implement the staffing efficiencies identified, Guidehouse worked with Riddle Hospital's ED manager to group days of the week with similar volume, and identified three staffing algorithms: high volume, average volume, and low volume. Combined, these staffing algorithms provide a starting point for scheduling that reduced the need for flexing throughout the day and achieved the 50th percentile productivity HPV targets.

Beyond staffing to current demand, the organizations also identified what future staffing could look like if LOS decreased. Guidehouse worked with Main Line Health's process improvement team and ED management to identify barriers in patient throughput and establish admit and discharge LOS targets. To identify future HPV and scheduling targets, additional scenarios were modelled to align with reductions in ED census based on LOS improvements.
Impact
Since the implementation of the staffing algorithms, productivity has consistently outperformed baseline. Riddle Hospital's ED has achieved the 50th percentile target half of the time, often eclipsing the 33rd percentile target.

The identified potential impact on LOS was used to push forward projects on reducing low acuity LOS and reducing boarding time. So far, low acuity LOS has been reduced by 32 minutes. Since the implementation of the high/average/low staffing algorithms, the productivity has improved 6% from a baseline fiscal year to date, partially due to the improved LOS. This corresponds to an annualized savings of $267,000, or 8.24% of the total productive labor expense. Maintaining its current productivity at the 33rd percentile level, Riddle Hospital is projected to save $853,000 from baseline. Guidehouse's partnership with Main Line is also on track for higher impact savings across other system EDs with increased volume and opportunity.