Facing increasingly complex and varied cyber environments and the addition of IoT devices, organizations are struggling to manage cyber risks. Those responsible for organizational cybersecurity often lack the requisite knowledge or operational experience to oversee the entirety of their environment or to regulate Web 3.0 devices and their controller platforms.
Fortunately, next-generation IT asset management solutions can help your organization implement and integrate Zero Trust security frameworks across all platforms and environments.
Guidehouse Understands Web 3.0 Complexity
The cornerstone to managing information security is gaining visibility over your entire IT asset environment and establishing foundational information security controls. Traditional methods of visibility rely on manual point-in-time assessments that can be partially automated with a limited tool set. But asset management platforms that merely scan networks on a periodic basis do not give organizations comprehensive control over Web 3.0 devices.
Today, more and more devices are adopting Manufacturer Usage Description (MUD) as an embedded software standard defined by the Internet Engineering Task Force (IETF) that allows IoT device manufacturers to advertise device specifications, including the intended communication patterns for their devices when they connect to a network. This finger printing improves the management and inclusion of devices in a security architecture area within the network to properly manage and protect the device as well as the entire network segmentation.
Effective cybersecurity requires control over the network segmentation or security architecture that every device is allowed to access, as well as the ability to block a device entirely—capacities that many asset management programs simply do not possess. Guidehouse helps organizations find the next-generation IT asset management solutions that will keep your enterprise secure.
Guidehouse's Asset Management Solutions
Efficient and effective asset intelligence delivers four key components to cybersecurity systems, thereby enabling organizations to know what is on their network and ensure it is secure. The four areas of asset intelligence are:
Asset management: Including inventories, mapping, compliance, and asset quality management
Dynamic segmentation (delivering a network security architecture): Including vulnerable asset zones, guest access, and network access control and security architecture
Device compliance: Including policy automation, vulnerability management, risk quantification, and intelligent patching
Incident response: Including blocking, recovery, quarantining, and threat hunting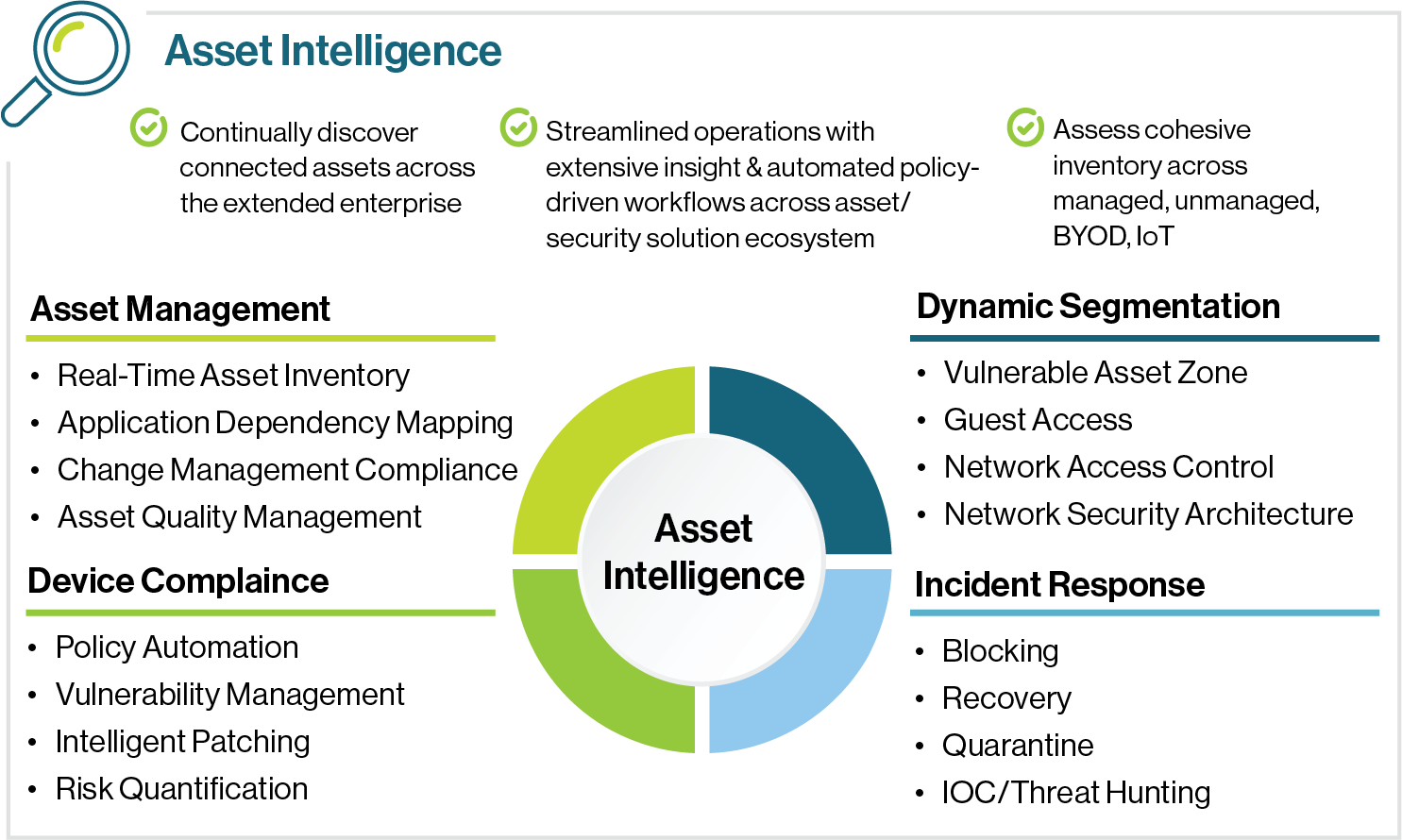 Effective Asset Intelligence Makes a Difference
With next-generation asset intelligence, organizations can build solutions to Web 3.0 risks onto existing cyber programs. You can quarantine assets until access and authorization can be determined, protect networks from malicious attachments through security segmentation and zoning, and evaluate access for vulnerabilities and patching. With Guidehouse's understanding of Zero Trust and asset intelligence, we can assist enterprises in enabling a security architecture and asset intelligence program that will accelerate Zero Trust programs in the Web 3.0 environment and increase those organizations' dynamic security.
For more information, visit: www.guidehouse.com/cybersecurity