On August 31, nearly 20 employees from the Healthcare practice came together to travel to Tegucigalpa, Honduras to volunteer through Guidehouse's second annual international service initiative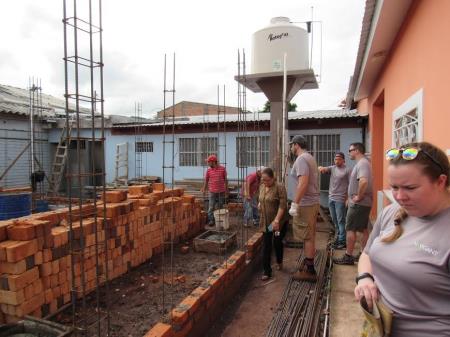 (ISI). The volunteers partnered with Virtù, Inc., a non-profit organization focused on improving educational opportunities for approximately 60 children ranging in age from one to 18-years-old. During the week-long trip, our colleagues spearheaded construction of a transition home for boys attending university and tackled other smaller projects for at-risk children.
The trip would not have been possible without an enormous fundraising effort and the support of friends, family, and Guidehouse colleagues. Fundraising efforts for ISI Honduras this year included raising more than $42,000; collecting more than 90 books to donate to the Virtù library; and collecting 150 tubes of toothpaste, 70+ dental floss packs, and more than 100 toothbrushes to deliver to the children. Plus, the team ran a clothing drive to gather new and gently used clothes.
Amidst the great work the volunteers will perform throughout the week, John Morris, associate director in Healthcare, believes the time spent with the children and working closely with his colleagues is an invaluable part of the experience. "I look forward to spending time with the children, making an impact in the world, and getting to know my Guidehouse colleagues much more deeply by working and traveling with them in a way we would never get to do in our work routines," said John.
John added that the group has applied some valuable lessons learned from last year's ISI to this year's project that has increased the number of projects they will be involved with during their time in Honduras.
Our biggest lesson learned was to apply our Guidehouse project management skills to the process," said John. "We, as consultants, move faster than lots of other volunteers so we worked with our partner organization more ahead of time to prepare them to deal with fast moving, strong-willed consultants and to have more projects ready for us.
John also credited the use of Inspire with helping to motivate the group's fundraising efforts.
Guidehouse's Inspire platform made a huge difference for us this year," said John. "We had a constant partner in all our fundraising efforts. The Guidehouse match helped us to reach our financial goals. Equally as important, it gave us the infrastructure to raise funds within the Guidehouse community much more easily than last year. Lastly, it let us ensure that all the funds raised go to our partner organizations as opposed to paying a fee to service providers