Energy Retailers Are Facing a New Normal in which Household Customers Play a Bigger Role
The coronavirus outbreak has led to changes in our daily lives, which in turn have had a major impact on energy consumption in Germany. While total energy consumption has decreased due to the lockdown, household electricity consumption has increased significantly. Across Europe, utilities are seeing that household demand patterns on weekdays tend to be typical weekend days—the demand is higher and the profile is flatter. Since March 15, 2020, average energy consumption during office hours for households in Germany has risen by 8% and the afternoon peak increased by 15%.
It is expected that the number of people working from home will remain permanently higher, even if the economy recovers quickly after the pandemic. This is likely to result in a permanent adjustment of the load curve of households. This change may have an impact on traditional business models of energy retailers—but it also offers new opportunities.
Load Curve of Private Households and Typical Feed-In Curve of Photovoltaic Systems in Spring in Germany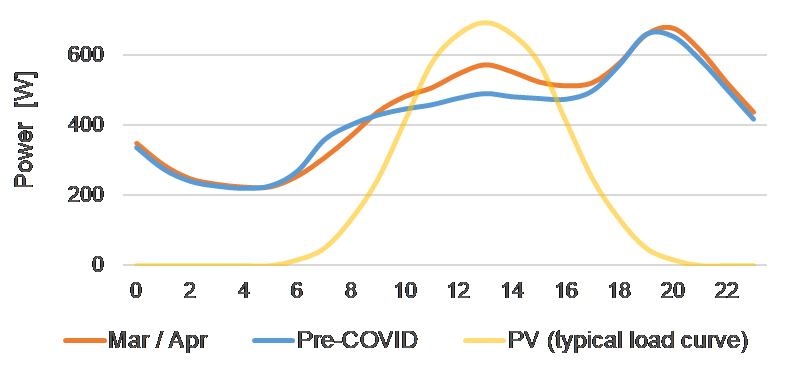 (Source: Tagesspiegel/Fresh Energy, Guidehouse)
The New Consumers Who Work from Home Are Aware of Their Energy Consumption and the Corresponding Additional Costs
Private energy costs are being scrutinized due to the increasing power consumption during the lockdown. The desire to reduce costs leads to more active customers who want to monitor and manage their energy consumption or even generate their own electricity. In addition, people with higher incomes have moved into the home office, the group that tends to invest more in energy-efficient, innovative, and renewable technologies.
Utilities can benefit from increased customer awareness by focusing more on the new customer needs and expanding their relationships beyond the provision of energy, for example, by offering sustainable heating and cooling systems or a better living experience through digital home and energy-saving products.
PV systems are also becoming more interesting, as the additional consumption at lunchtime in the case shown (see figure above) leads to an increase in self-consumption by about 10%, reducing the average investment payback for customers. This will encourage the growing segment of (climate-conscious) millennials and homeowners already active in the energy transition to invest in self-generation. In general, customers who stay at home are also more active online. Energy retailers should be well positioned to benefit from this growing sales market.
How to Succeed as a Customer-Centric Retailer
Although the new normal is a great opportunity to pursue a bigger role with residential customers, many retailers have failed to diversify their offerings and engage with customers in the past. An effective customer engagement strategy is essential, here are some of the key lessons learned:
Use customer data for enhanced customer profiling and behavior analysis. Using information on family, home status, EV ownership, or spending patterns helps develop customized products and better target marketing. Increasingly, suppliers are using AI to improve customer load forecasting, which helps them reduce hedging uncertainty and lower costs.
Create integrated solutions. Smart integration of complementary services can give a competitive edge over conventional sellers and yield synergies for customers. For instance, home control appliances, home services, or EV chargers could be bundled with time-of-use tariffs that incentivize demand optimization or enable roaming solutions.
Partner with best-in-class. New product development can be costly and challenging. Partnering with leading technology providers can reduce product risk in exchange for customer access. Strong partnerships can improve brand perception and boost revenue through cross-selling and enhanced customer loyalty.
Unlock sales by offering financing. Financing solutions such as saving-sharing schemes and leasing can help overcome the upfront investment hurdle for many customers. Financing can be scaled through community energy (physical projects and cloud-based solutions), while green mortgages are a way of reducing borrowing costs for energy-efficient properties.
After the first wave of COVID-19, a new normal is gradually emerging, to which utilities should quickly adapt in order to take advantage of opportunities that arise. If this happens too slowly or not at all, the established companies will have to expect the increased migration of their customers. Classic but agile competitors as well as new entrants—from technically savvy start-ups to the big oil and gas companies—are already kicking-off.