On 28 January 2022, the Financial Conduct Authority (FCA) published guidance regarding its expectations for competency and capability of heads of compliance and Money Laundering Reporting Officers (MLROs). The guidance forms part of a series of guidance notes related to "approved persons" under the Senior Managers and Certification Regime1 and encourages firms to ensure that "approved persons" are "suitably competent and capable" of effectively performing their roles.
With cryptocurrency exchanges now also under the remit of the FCA, and the current high turnover of senior compliance resources in the UK market, the FCA is faced with an increasing number of approval requests for MLROs and other approved person roles. Before putting an individual forward as head of compliance or MLRO, senior management should ensure they are confident about the person's competencies and skills. The new FCA guidance provides a helpful starting point for this assessment.
Head of Compliance and MLRO as "Approved Persons" for "Controlled Functions"
An "approved person" is an individual the regulator approves to perform one or more "controlled functions" under the Financial Services and Markets Act (FSMA) for an authorised firm. The senior management functions (SMFs), a sub-set of "controlled functions," are prescribed in the FCA Handbook and apply to UK-authorised firms and European Economic Area branches. The compliance oversight function and the money laundering reporting function (SMF16/17) are examples of FCA-required SMFs. Individuals fulfilling these functions must be approved by the regulator before taking up their role. The number of SMFs an organisation needs to be approved for depends on the activities the firm intends to carry out, the legal entity of your business and the permissions you require.
Criteria for Assessing Competency and Capability
The recent FCA guidance is structured across four key themes with indicative success criteria that firms can use to determine whether a specific candidate is likely to be considered "suitably competent and capable of effectively performing" his/her role as head of compliance or MLRO. The FCA will base its approval decision on the responses provided during the application process, but may also, if required, schedule an interview to test an individual's suitability for a role prior to making a decision.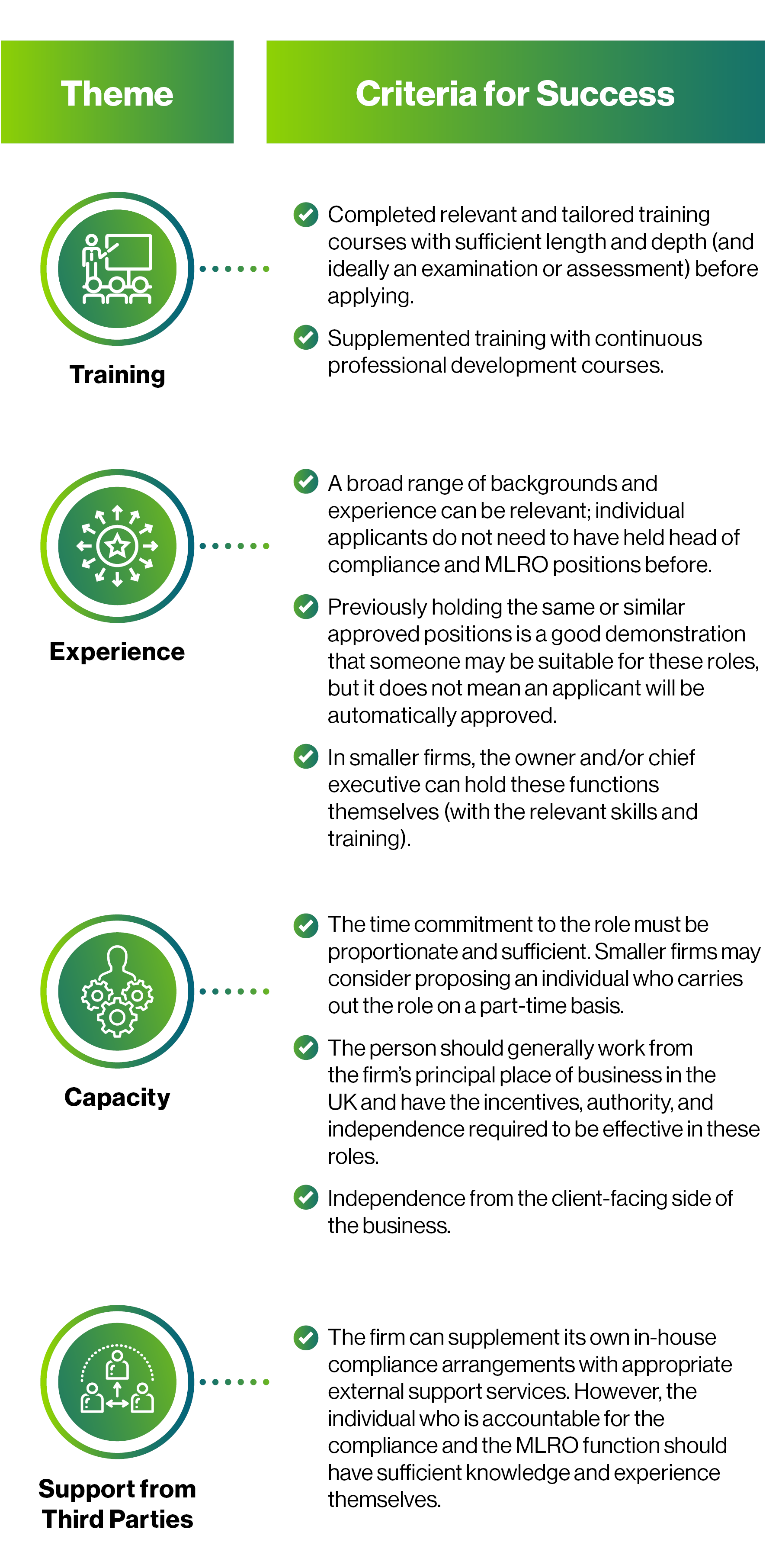 For existing regulated entities in the process of appointing a new head of compliance or MLRO to replace an existing nomination, the level of skills and knowledge of these approved persons obviously should be in line with the size and complexity of the firm. Failure to exercise due diligence in the discharge of SMFs may result in supervisory action and financial penalties for both the regulated entity and the individual. Incumbent or prospective MLROs and heads of compliance must therefore ensure that they stay on top of training imperatives, have sufficient capacity to provide a proportionate amount of their time to their SMF duties, and supplement in-house compliance arrangements with appropriate external support services where required.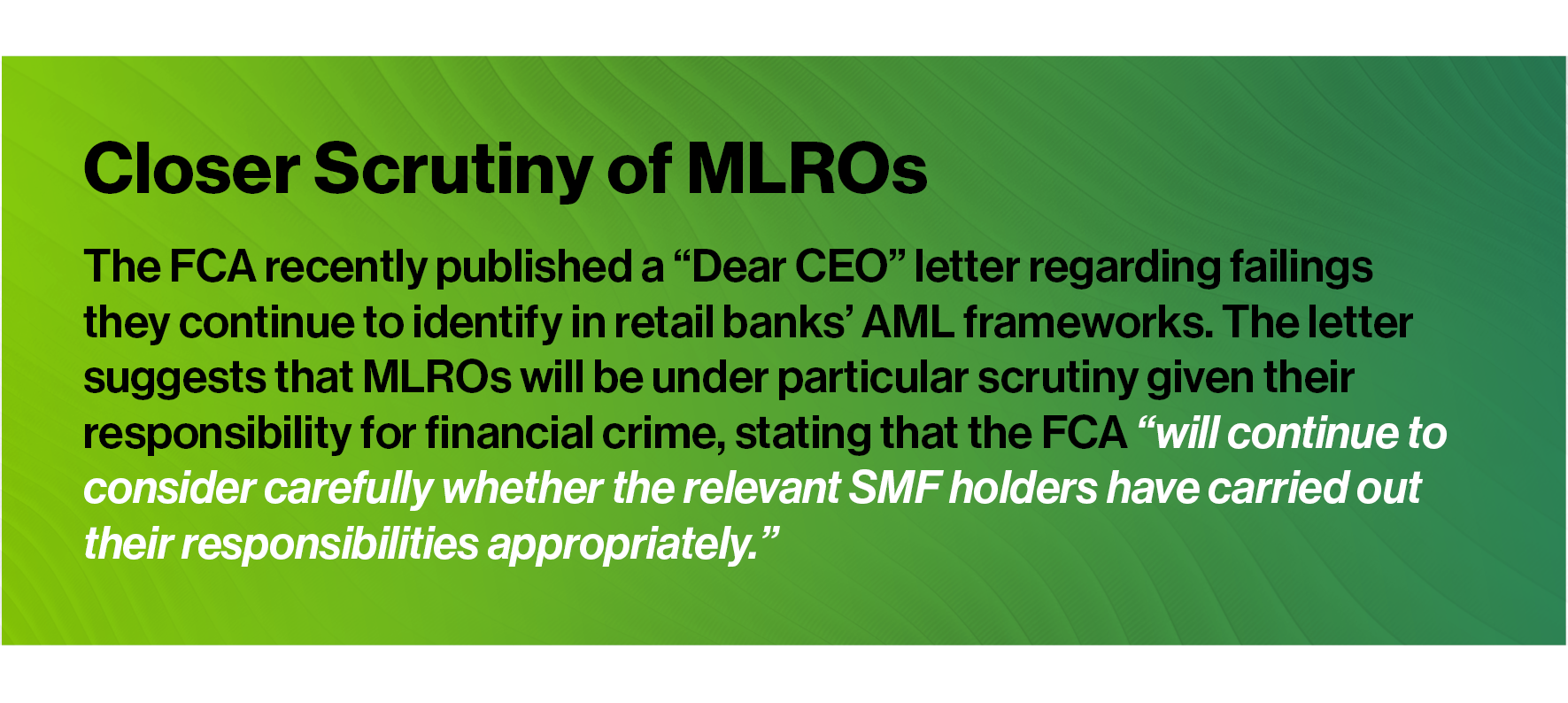 For new market entrants, especially technology-driven startups such as fintech disrupters, it may be tempting to prioritize technology and fintech knowledge as well as cultural fit in a startup environment over the "traditional" compliance and risk management skills and capabilities when recruiting for a MLRO. The recent FCA guidance clearly cautions against such an approach. In addition, the periodically published FCA key performance indicators signal that the FCA will not hesitate to reject a proposed person: The approval rates fell by more than 10% between 2019/2020 and 2020/2021.2
How Guidehouse Can Help
Guidehouse has in-depth knowledge of the regulatory environment, both in the UK and globally. Our team of ex-regulators, industry practitioners, and subject matter experts has experience dealing with many types of FCA requirements and standards and will be your trusted partner for these application processes and for the ongoing running of your compliance function.
We can support your firm in the identification of suitable candidates for MLRO roles and support your candidates with their preparation for the FCA interview as part of the approval process.
Our other relevant areas of expertise include:
Compliance Solutions.
Financial crime framework Risk Assessments and gap analyses.
Advising on the effectiveness and efficiency of compliance processes and systems.
Compliance system testing and system configuration.
Remediation of identified gaps, and weaknesses identified.
---
1 The Senior Managers and Certification Regime places a responsibility on all senior management to counter the risk that their firm might be used to further financial crime.
2 Previous data released by the FCA shows that the number of applications for "controlled functions" that met the statutory deadlines fell from 96.9% to 85.7% between 2019/20 and 2020/21