In April, the US Treasury's Office of Foreign Assets Control listed a Russian cryptocurrency miner and its 10 subsidiaries as a Specially Designated National—the first in what is expected to be a comprehensive move against Russia's crypto-mining industry. Why was the US driven to make this novel determination? The answer: The desire to ensure the effectiveness of imposed sanctions.
"By operating vast server farms that sell virtual currency mining capacity internationally, these companies help Russia monetize its natural resources," the U.S. Treasury explained in its announcement. The U.S. Treasury stressed its commitment to blocking Russia's ability to use such digital assets as a mechanism to offset the impact of sanctions.
This move—while it may be the first of its kind—is not entirely unexpected. As previously discussed in past editions of the Two Worlds Colliding series, cryptocurrency and digital assets are not simply ephemeral concepts that might await us in a distant future, but rather are already enmeshed into the fabric of global financial systems. The US Treasury's strategic decision underscores the influence digital assets have today in the hands of consumers, institutions, and governments.
In another example of cryptocurrency's influence on our financial and social well-being, in May investors witnessed the collapse of Luna and the UST stablecoin, which resulted in the loss of billions of dollars in crypto-wealth—shockingly quickly, for some. The crash in UST stablecoin and Luna was partially attributed to the design of the UST stablecoin, which was not backed by the US dollar or other liquid assets. This was by design—the UST stablecoin is an algorithmic stablecoin, meaning unlike an asset-backed stablecoin that maintains a reserve of currency as collateral to assure stablecoin value, the algorithmic stablecoin's value is maintained by controlling its supply through a computer algorithm. This results in algorithmic stablecoins such as UST stablecoin being susceptible to bank run events, such as when a large number of banking customers withdraw their money simultaneously. Despite this explained difference between UST stablecoin and other cryptocurrencies, the event caused some overarching investor concern on cryptocurrencies broadly—after all, both UST and Luna are part of the Terra blockchain, not dissimilar to Ethereum and Bitcoin.
It is in response to cryptocurrency's growing influence that we see agencies such as the International Monetary Fund call on global policymakers to develop cryptocurrency standards in consideration of current geopolitical affairs and associated risks to financial stability. Cryptocurrency continues to demonstrate that it is not a thought experiment, but a concrete way to enact real, dynamic, and potentially lasting impacts.
In the sixth edition of the Two Worlds Colliding series, we explore regulatory activity, crypto adoption domestically and globally, security concerns, interesting synergy creation within the financial services industry, and the potential future of digital finance.
Traditional Stock Market Decline Pales in Comparison to Recent Cryptocurrency Crash
As the influence of cryptocurrency grows, so too does the spotlight on its risks – namely its price volatility. According to recent data, bitcoin's one-year volatility, measured as the rate of fluctuation in a security's price, stands at 46.9% – significantly higher than the next most volatile assets and asset classes, including oil at 13.2%, US stocks at 5.87% and, US real estate at 6.60%. High volatility has its upsides (dramatic price increases) and downsides (dramatic prices crashes and corrections). So, while most asset classes have had a rough first half of 2022, cryptocurrency has had one of the worst. Since November 2021, the value of cryptocurrency has dropped from $3 trillion to $1 trillion, a 67% decrease. For comparison, the overall stock market has decreased by roughly 20%.

The collapse of Luna and the UST stablecoin are only part of the reason for the cryptocurrency crash. There have been countless other instances that have played a part in the crash. For example, Celsius Network, a leading cryptocurrency lender that was last valued at more than $3 billion, froze all withdrawals and transfers due to "extreme market conditions." Celsius is an interest-bearing cryptocurrency product – one of many that have grown popular in the past years. The issue with these cryptocurrency lending products is that they are not regulated like a bank. For example, according to Celsius's Terms of Use, "In the event that Celsius becomes bankrupt, enters liquidation, or is otherwise unable to repay its obligations, any Eligible Digital Assets used in the Earn Service or as collateral under the Borrow Service may not be recoverable…"

Some believe the fallout of failed cryptocurrency projects are a good thing for the sector overall — a stress test to wash out business model flaws – and that once global market conditions get better, cryptocurrencies will see a price increase.

Regulators, on the other hand, will continue to focus on protecting consumers from unregulated and highly volatile investment products. They have already started to crack down on interest-bearing cryptocurrency products. States such as New Jersey and Texas targeted Celsius last year, alleging that its interest-bearing accounts are equivalent to an unregistered securities offering.
Political and Regulatory Agencies Take Action on Crypto Matters
Conversations continue within the industry, politicians, and regulators on strategies to regulate digital assets for consumer and market safety, without stifling the innovative spirit of the industry.
DeFi on the Forefront of Cryptocurrency Security Concerns
The industry is noting that crypto-hackers are holding money looted from cryptocurrency platforms. Public digital ledgers make it difficult for crypto-hackers to spend or launder stolen funding without the use of mixers like Tornado Cash, a system in which individuals deposit cryptocurrency and "mix" the cryptocurrency with others. Regardless of these difficulties, illicit activity has continued to make the front pages of cryptocurrency news.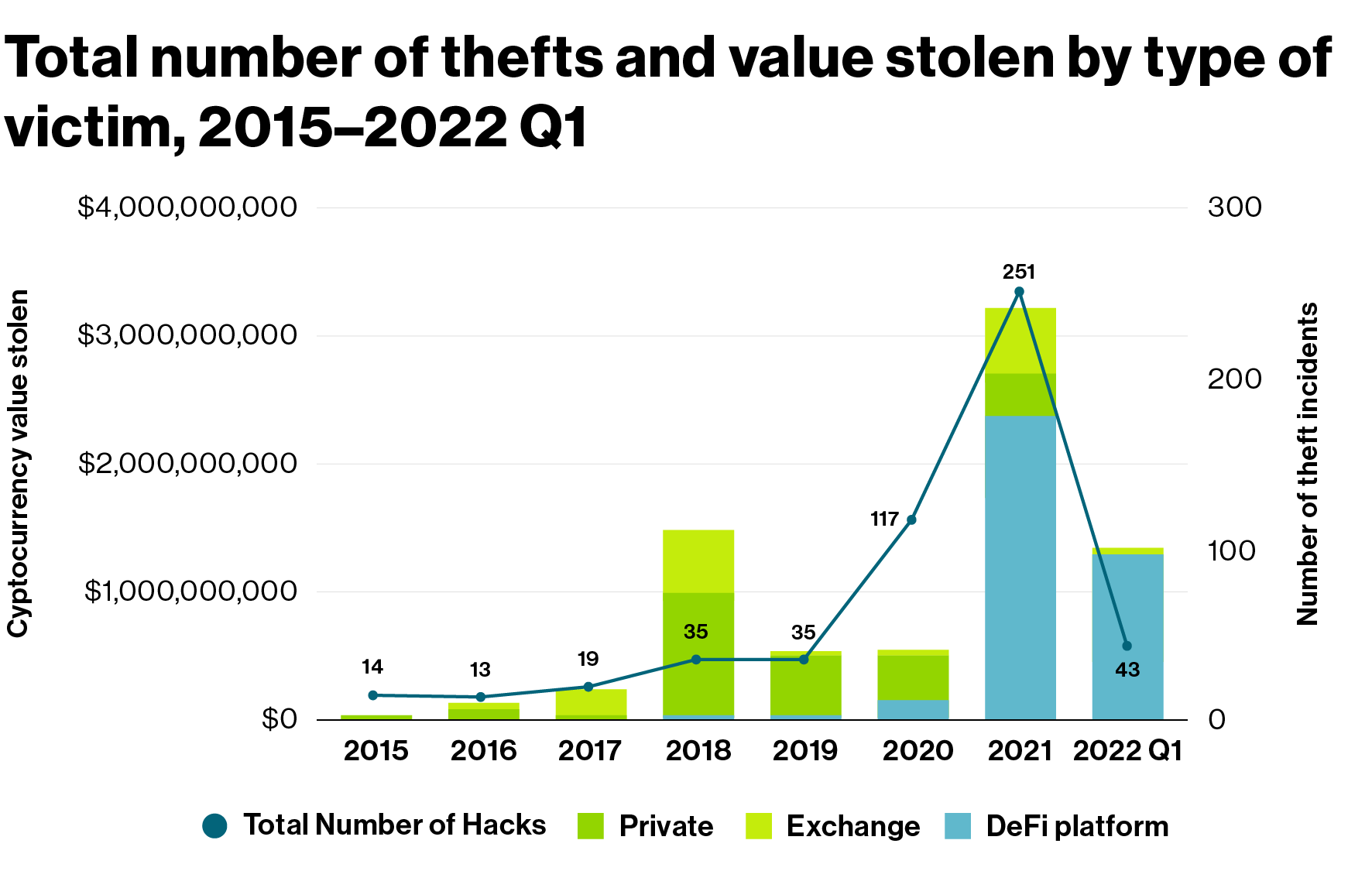 Digital Asset and Financial Institution Synergy Plan for the Future
Mergers and acquisitions and strategic partnership growth continued in 2022 Q2, including the largest non-Special Purpose Acquisition Company (SPAC) deal in cryptocurrency to date.
Cryptocurrency Products and Services Reach Out to Consumers
Both in response to and in hope of further consumer adoption, financial institutions aspire to make cryptocurrency products and services readily accessible to the everyday consumer.
US Adoption—While Rising—Lags Behind Other Countries
As of late April, the United States ranks 8th of 150+ countries in overall crypto adoption, a decrease from its previous 6th-place ranking.
International Cryptocurrency Considerations and Activity
Nations are continuing to fold cryptocurrency and digital asset standards and considerations into their domestic codifications.
The Spread of CBDC
What the Luminaries are Saying
"The proliferation of mainstream financial institution cryptocurrency products and services demonstrates consumer demand. Provided these platforms continue to build consumer trust and convenience, we can expect adoption acceleration to continue." — Reed Luhtanen Executive Director of U.S. Faster Payments Council
"Bitcoin is the only economic entity where supply isn't affected by demand."— Investor Bill Miller
"It's probably easier and cheaper to counterfeit hundred-dollar bills than it is to counterfeit Bitcoin."— Naval Ravikant, co-founder and former CEO of AngelList
"Bitcoin is absolutely the Wild West of finance, and thank goodness. It represents a whole legion of adventurers and entrepreneurs, of risk takers, inventors, and problem solvers. It is the frontier. Huge amounts of wealth will be created and destroyed as this new landscape is mapped out."— Erik Voorhees, founder and CEO of ShapeShift
"Bitcoin is a technological tour de force."— Bill Gates, founder of Microsoft
Related Press Coverage
Special thanks to Shantel Silva, Mark Leprine and Jared Sanderson for contributing to this article.