Guidehouse is pleased to release the Q2 2016 Financial Services Enforcement Actions Tracker. We have compiled publicly available data on recent industry enforcement actions to demonstrate the types of activities that bank and other consumer finance-focused regulators are currently monitoring. Our goal in gathering and analyzing this information is to provide our clients with increased awareness of the focus of regulator efforts so that they can be appropriately prepared to address the trends developing in the regulatory environment.
Our internal research team collected information about actions taken over the past five quarters by the following U.S. regulators including:
Office of the Comptroller of Currency ("OCC");
Federal Depository Insurance Commission ("FDIC");
Federal Reserve ("FRB");
Consumer Financial Protection Bureau ("CFPB"); and, others.
Regulatory issues include:
Unfair, Deceptive, or Abusive Acts and Practices ("UDAAP");
Real Estate Settlement Procedures Act ("RESPA");
Bank Secrecy Act/Anti Money Laundering ("BSA / AML");
Servicemembers Civil Relief Act ("SCRA");
Equal Credit Opportunity Act ("ECOA");
Truth in Lending Act ("TILA");
Fair Credit Reporting Act ("FCRA"); and, others.
Q2 2016 Highlights:
Frequency of regulatory enforcement action decreased from Q1 2016 to Q2 2016, as seen in Figure 1, and is lower than rates observed in other prior periods reviewed in this issue. In fact, there appears to be a trend in steadily reducing the number of actions each quarter from a high in Q3 2015. This is the first time, since Guidehouse has been compiling the quarterly tracker, that such a pronounced downward pattern has been observed.
Approximately half of the enforcement actions were issued by the four major agencies, with nine from the FDIC, eight from the OCC, five from the CFPB, and four from the FRB (See Figure 2). Some of the institutions who received the largest penalties in Q2 included Wells Fargo, Citigroup, Bank of America, Barclays, and Freedom Mortgage Corporation. The OCC's focus appeared to be primarily related to governance deficiencies resulting in unsafe or unsound banking practices, particularly those related to Bank Secrecy Act compliance, while the CFPB's actions centered around unfair, deceptive, or otherwise improper lending practices in violation of UDAAP and ECOA. The FDIC and the FED issued actions for violations of rules and regulations including BSA/AML, compliance with capital adequacy and allowance for loan and lease losses ("ALLL") requirements, and the National Flood Insurance Program. UDAAP-related violations accounted for the highest numbers of actions in Q2 2016, while focus on BSA/AML compliance remained consistent with other periods under review.
In April 2016, the CFPB released its fourth annual Fair Lending Report to Congress. The report highlights advances made by the CFPB and its Office of Fair Lending and Equal Opportunity in the past year in the areas of fair lending prioritization, supervision, enforcement, rulemaking, research, interagency coordination, outreached, and reporting. CFPB supervision and enforcement related to fair lending was focused in three key areas – mortgage lending, indirect auto lending, and credit cards – and was executed through enhancements to and targeted reviews related to the Home Mortgage Disclosure Act ("HMDA") and ECOA. From their supervisory actions, the CFPB identified several areas of regulatory risk, including failure to meet ECOA requirements to provide adverse action notices, violation of ECOA requirements for consideration of protected income, particularly related to Section 8 Housing Choice Voucher Homeownership Program, and discriminatory underwriting practices. A number of actions were issued over the last year related to fair lending violations as a result of investigation into potential violations of ECOA and HMDA, which resulted in approximately $108 million in restitution to customers.
Four mortgage and indirect auto lending actions were discussed in the CFPB Fair Lending Report, including those against Hudson City Savings Bank, Provident Funding Associates, Fifth Third Bank, and American Honda Finance Corporation. The CFPB and DOJ entered into a joint settlement in June of 2016 with BancorpSouth Bank for violations of ECOA and the Fair Housing Act by discriminating against African American and other minority consumers in the Memphis area. Specifically, the bank was cited for denying fair access to credit to residents by targeting marketing and opening branches outside of minority communities. In addition to over $3 million in civil money penalties and $2.7 million in restitution to African-American consumers who were denied loan or overcharged for loans, BancorpSouth is required to make changes to its policies to prevent future discriminatory practices, open a new branch and increase advertising in a high-minority area, and invest in community-based organizations.
In addition to April's Fair Lending Report, the CFPB also issued updated Mortgage Servicing Examination Procedures in June 2016. The CFPB's Mortgage Servicing Examination Procedures were originally published in January 2014 with the intent of assessing the quality of an institution's risk management systems, identifying acts or practices that increase the risk of violations of consumer law, gathering facts to determine if an institution is likely to violate consumer law, and to determine if a violation has occurred. Key updates to the revised guidelines include improvements to requirements for communication with and protections afforded to borrowers in Loss Mitigation situations, enhancements to protections provided to successors in interest, and introduction of the requirement for servicers to provide periodic statements to borrowers in bankruptcy in certain situations.
Additional commentary on Q2 2016 financial enforcement action, and related charts and graphs, can be found below.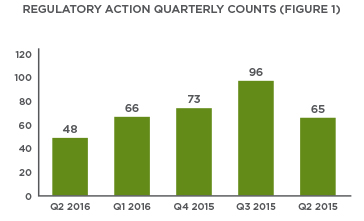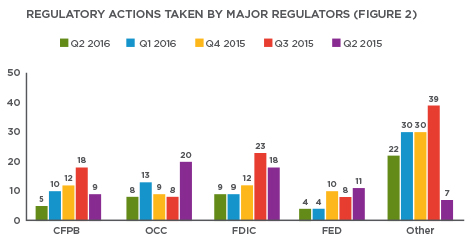 Highlights:
The total regulatory actions identified in Q2 2016 decreased by approximately 18% from the first quarter of 2016 to total 48.
The CFPB, OCC, FDIC, and FRB were the primary actors in the quarter, with the agencies' combined actions accounting for 54% of the total.
Since Q2 2015, the regulatory actions taken by the OCC, CFPB, and FDIC have accounted for 63% of all actions being tracked by major enforcement agencies.
Regulatory Trends by Action/Violation and Enforcement Occurrences (Figures 3-5) - Click on the charts to enlarge images

Highlights:
While the distribution of regulatory actions varies across each quarter, Settlement and Formal Agreement/Consent Order represented 76% of regulatory action types over the last five quarters.
Formal Agreement/Consent Order, Civil Money Penalty, and Cease & Desist ranked as the most frequent regulatory actions taken in Q2 2016. These top regulatory actions types accounted for 71% of the total actions observed in the current quarter.
Frequency of Cease & Desist orders and Other Fines increased, after no instances observed in Q1 2016, to account for 17% of all actions observed in the quarter.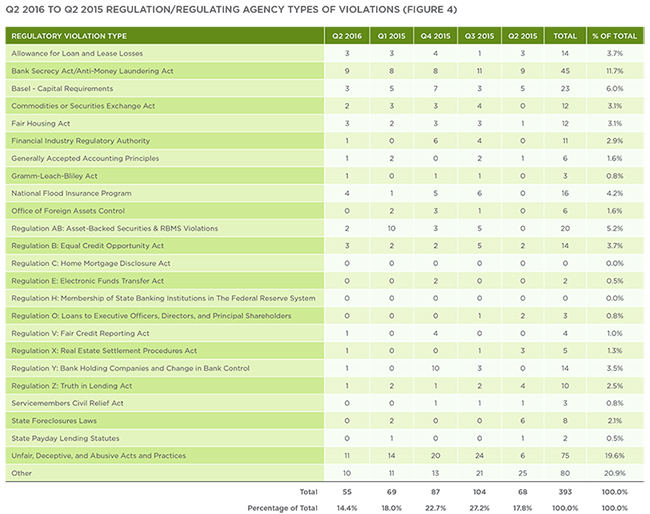 Note: Multiple violations types may be counted as part of one consent order or action taken by federal and state regulators.
Highlights:
The top areas of violations over the last five quarters were: issues around Unfair and Deceptive Practices (19.6%); Bank Secrecy Act/Anti-Money Laundering (11.7%); and Basel Capital Requirements (6.0%).
Violations involving Unfair, Deceptive and Abusive Acts and Practices maintained the highest instances of regulatory enforcement action, while instances of actions related to the National Flood Insurance Program increased to previously observed levels after the low frequency observed in Q1 2016.

Note: Multiple violations types may be counted as part of one consent order or action taken by federal and state regulators.
Highlights:
Improper mortgage loan practices accounted for the highest total related fines over the last five quarters; Securities, Commodities or Forex-related violations, which was previously the largest, accounts for the second most total dollars in fines and penalties.
Governance deficiencies (24%), improper mortgage loan practices (19%), BSA violations (17%), and securities, commodities, of forex violations (16%) were the largest enforcement occurrences over the last five quarters.
A topic of continued interest for federal regulators, unfair and deceptive practices-related actions have remained steadily high, but account for only 4% of fines related to enforcement actions over the last five quarters.
Appendix
Enforcement Tracker Violation Type Definitions
Bank Secrecy Act Violation: Failure of the financial institution to meet internal controls and monitoring requirements set forth by the Bank Secrecy Act or Anti Money Laundering Act.
Fraudulent Lending to Insiders: Extension of credit to an insider, as defined by Regulation O and Regulation W, that exceed limits set by Regulation O or Regulation W or provide the insider with any preferential treatment.
Governance Deficiencies: Failure of a financial institution and/or its Board to fulfill its fiduciary responsibilities in various areas of bank management such as compliance risk management, operational efficiency, or interest rate risk management. (This category includes Directors & Officers Actions; Compliance Risk Management; Management Replacement and Operations; Credit Risk and Interest Risk Management)
Improper Accounting Practices: Failure to follow GAAP (Generally Accepted Accounting Principles) through means such as fraudulent reporting, omission of assets or liabilities, etc.
Improper Auto Lending Practices: Violation of law or regulation in the origination or servicing of an auto loan.
Improper Foreign Transactions: Violation of any law or regulation governing interactions with foreign entities; commonly an OFAC violation.
Improper Mortgage Loan Practices: Violation of a law or regulation in the origination or servicing of a mortgage loan or mortgage-backed securities.
Improper Student Lending Practices: Violation of law or regulation in the origination or servicing of an education loan.
Improper Consumer Lending Practices: Violation of law or regulation in the origination or servicing of a consumer loan, other than mortgage, auto or student loans.
Insufficient Capital: Failure of a financial institution to meet minimum capital requirements set forth by Basel.
National Flood Insurance Program Violation: Violation of the National Flood Insurance Program requirements or related acts and regulations, such as the National Flood Insurance Act or Flood Disaster Protection Act (Regulation H).
Payday Loans Violation: Violation of any law or regulations in the issuance or servicing of payday loans.
Securities, Commodities of FX Violation: Violation of any law or regulation in the distribution, monitoring, or trading or securities, commodities, or forex./p>
Servicemember Civil Relief Act Violation: Violation of any law or regulation in the origination of servicing of a line of credit to an active duty member of the US Armed Forces.
Third Party Vendor Management: Failure by an institution to ensure that third party vendors are operation in compliance with pertinent laws and regulations.
Unfair and Deceptive Practices: Any unfair or deceptive statement, disclosure, or action which causes material harm to the consumer.