HIGHLIGHTS FROM Q3 2017:
52 total actions were levied against financial institutions by federal, state, and local regulators in the third quarter, which is a slight decrease from the comparable prior year quarter. 291 total actions have been issued over the last five quarters, the highest being the 72 actions issued in Q4 2016. To date, there has been no major falloff in regulatory enforcement actions stemming from the 2016 election, as the frequency of actions in Q4 2016 to Q3 2017 are generally on par with that of the same quarter in the prior year.
State and local regulators were involved in a total of 12 actions or 23 percent of all actions, surpassing the Consumer Financial Protection Bureau (CFPB) as the most frequent actors in the period. State regulators have posted a slight decrease in percentage of total actions from the 24 percent that were initiated in Q2 2017, but have more relative actions over the last five quarters than they have had historically.
Regulators most commonly used settlements and formal agreements/consent orders to enforce regulatory requirements, with a total of 37 actions for 71 percent of the total Q3 2017 actions. The next most commonly used method of enforcement was cease and desist, with six instances accounting for 12 percent of the quarter's actions. Lawsuits, which occurred four times in Q3 2017 for 8 percent of the total actions, have dropped to their lowest mark, both in number of actions and percentage of total actions, in the last five quarters.
Unfair, deceptive, or abusive acts or practices (UDAAP) violations accounted for the highest number of actions in the quarter, with 12 total actions, as has been the case in four prior quarters reviewed. There was also a resurgence of enforcement for violations of the Servicemembers Civil Relief Act (SCRA) in Q3 2017, after three consecutive quarters with no related action.
Over $26.7 billion in monetary fines, penalties, or borrower restitution was ordered for improper mortgage lending practices over the last five quarters, with $6.6 billion coming in Q3 2017. This is more than eight times the amount levied for the next most frequent infraction in Q3, which was securities, commodities, or FX violations for $790 million.
12 actions in the quarter were related to servicing or origination of closed-end mortgage loans, followed by four actions each related to student and auto loan products.
Q3 2017 SUMMARY
The number of regulatory enforcement actions increased 13 percent in Q3 2017 from Q2 2017, as seen in Figure 1, to a level comparable to the frequency observed in Q3 2016. 78 percent of enforcement actions were issued by the five major federal agencies, with 11 from the CFPB; eight each from the Federal Deposit Insurance Corporation (FDIC), Federal Reserve Bank (FRB), and Department of Justice (DOJ); and five from the Office of the Comptroller of Currency (OCC) (see Figure 2). Compared to Q2 2017, the CFPB, OCC, FRB, and DOJ all experienced a measurable uptick in actions. Yet despite this increased activity, state or local regulators were involved in a total of 12 actions, surpassing the CFPB (with 11 items) as the most frequent actor in the period.
The CFPB's actions centered around unfair, deceptive, or otherwise improper mortgage practices or other consumer lending practices in violation of the Real Estate Settlement Procedures Act (RESPA), Fair Credit Reporting Act (FCRA), and Equal Credit Opportunity Act (ECOA), while the FDIC, OCC, and FRB issued actions for violations of rules and regulations including the Bank Secrecy Act (BSA) and anti-money laundering (AML) programs, capital adequacy requirements, the National Flood Insurance Program, and general governance deficiencies. The DOJ focus was centered on violations of the SCRA and False Claims Act.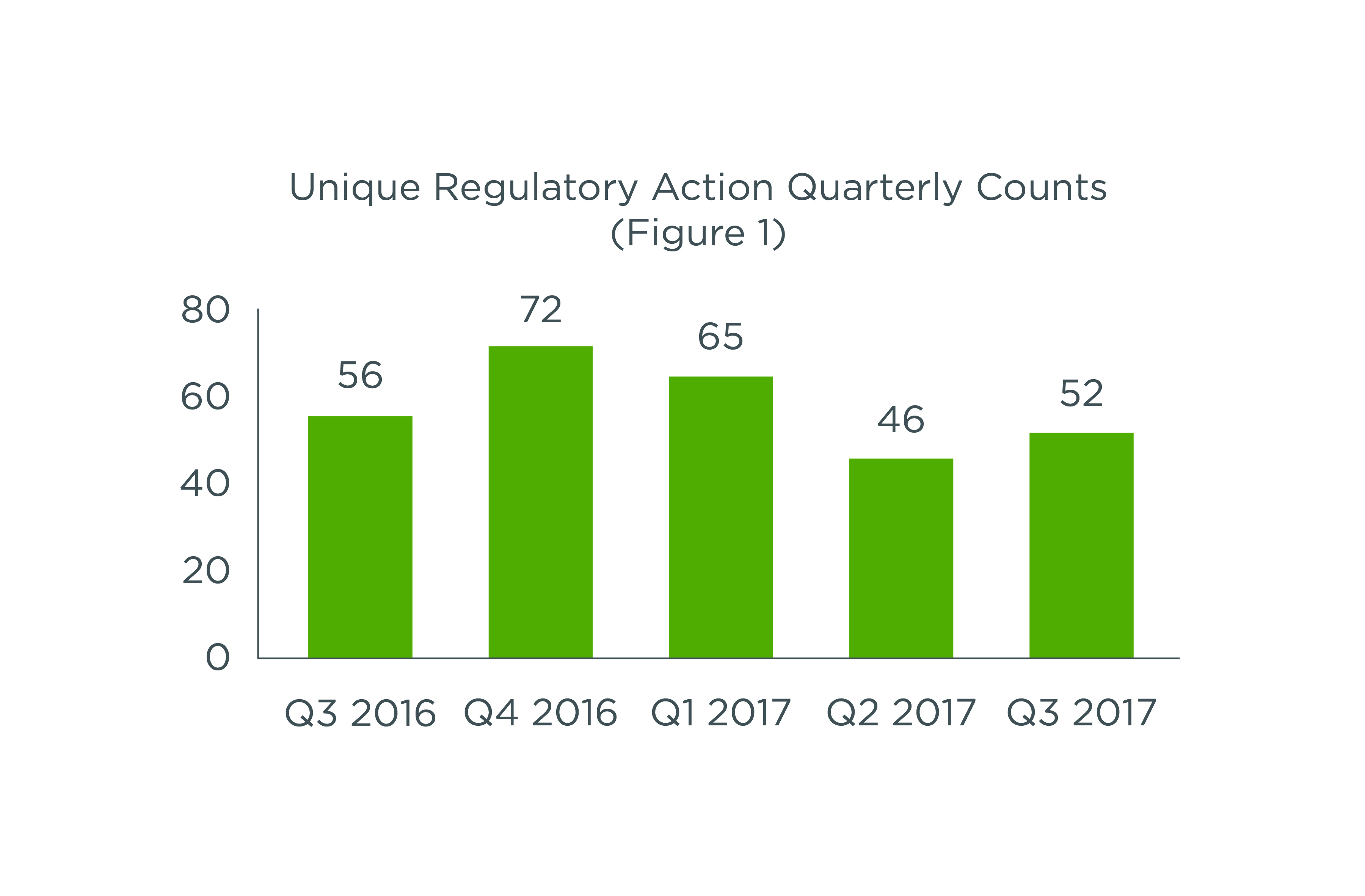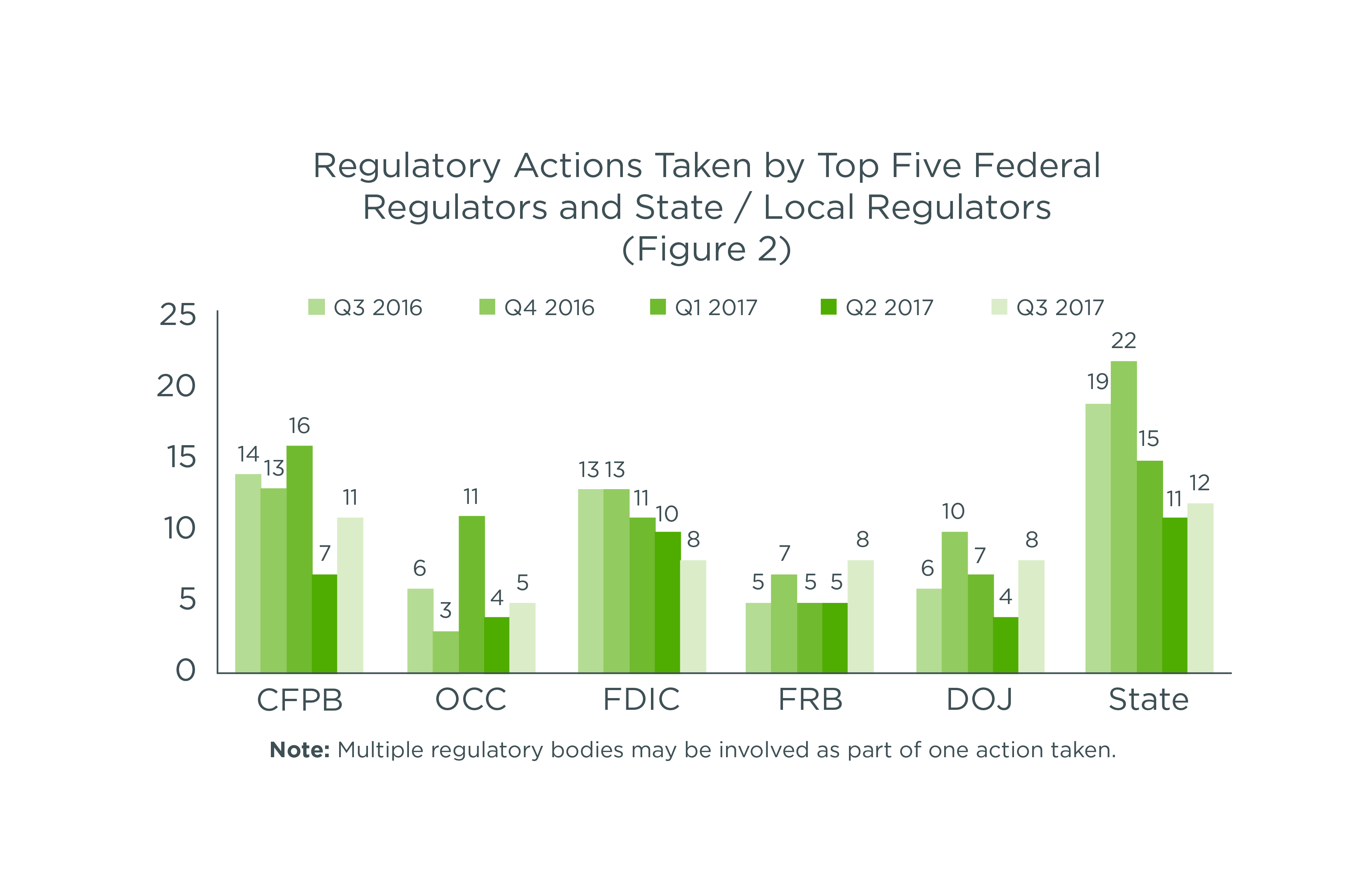 Special thanks to contributors Caitlin Cremin and Siwen Tang.