Q2 2018 SUMMARY
A total of 39 actions were levied in Q2 2018. The number of regulatory enforcement actions decreased 19% from Q1 2018 and was driven primarily by a decrease in activity from the FDIC and Fed. The five major federal regulators issued 56% of total enforcement actions this quarter, with six from the OCC, five from the DOJ, five from the FDIC, three from the CFPB, and three from the Fed. CFPB was active again after zero actions had been enforced in last quarter, and FDIC and Fed both had a big drop in number of actions in Q2 2018. State and local regulators were involved in a total of 11 actions and maintained the top spot for the fifth straight quarter.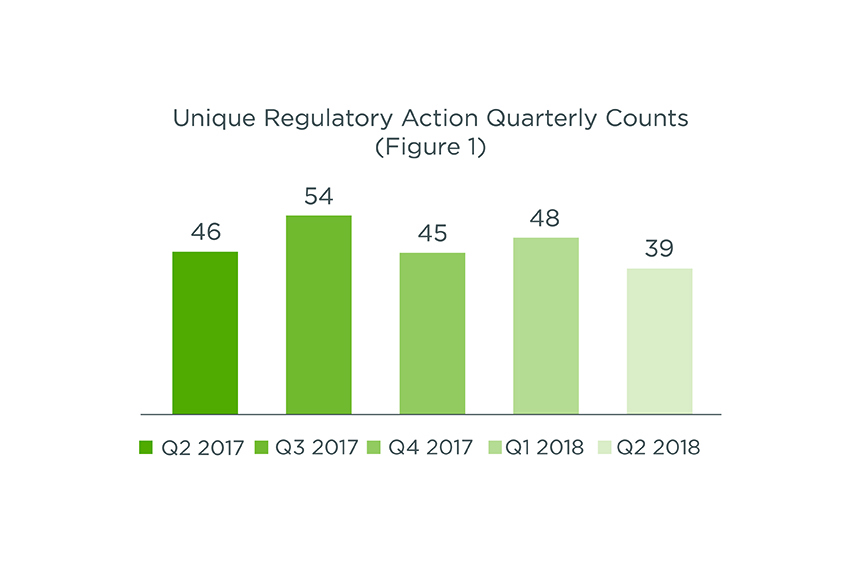 HIGHLIGHTS FROM Q2 2018:
Actions by all regulators continue to fall, with only 39 actions this period. This is the first quarter since Guidehouse Inc. began publishing the tracker where the number of actions fell below 40. The current quarter is a 15% decrease from Q2 2017, and a 19% decrease since last quarter. Recall that in Q1 2017 (which saw the transition from the Obama administration to the Trump administration), there were 65 total actions, so this quarter's activity reflects a 40% reduction from that experienced during the final partial Obama quarter.


Unlike Q1 2018, the Consumer Financial Protection Bureau (CFPB) was active again in Q2 2018, with three actions and a total of $1.34 billion in fines enforced. One of these items was a highly publicized Unfair, Deceptive, or Abusive Acts or Practices (UDAAP) action against a top-three bank, which resulted in a $1 billion civil money penalty.


The decrease in number of total actions was primarily caused by a lower number of Federal Deposit Insurance Corporation (FDIC) and Federal Reserve Bank (Fed) enforcement actions, both of which had their least active enforcement periods in the past five quarters. In Q2 2018, there were 22 actions levied by the five main federal regulators (CFPB, Office of the Comptroller of the Currency, FDIC, Fed, and Department of Justice), which is a 27% decrease compared to Q2 2017, and a 31% decrease since last quarter.


The Office of the Comptroller of Currency (OCC) had six actions in the quarter. This is the most actions from the OCC in a single period observed over the past five quarters and up 50% from the previous quarter. Two of its Q2 actions were involved with the UDAAP violations, and a total amount of $515 million civil monetary penalty was enforced in these two actions.


The main driver of actions was again state and local regulators, which were involved with 11 actions, or 28% of all actions.
Special thanks to contributors Caitlin Cremin and Siwen Tang.