The Defined Contribution (DC) retirement market remains one of the highest-growth markets in the financial services industry, with assets under management close to $9 trillion at the end of 2019, at 8% compound annual growth rate from 2018. That said, this market is not immune to the disruption and uncertainty caused by the COVID-19 pandemic, with Employers (Plan Sponsors) evaluating cost-cutting mechanisms and Participants who have lost jobs using retirement accounts to cover income shortfalls.
Prior to the pandemic, the industry witnessed immense pricing pressure from asset concentration in interest rate products and subsequent decreased margins from a continued low interest rate environment followed by lower proprietary fund adoption for new deals. This has resulted in Recordkeepers having to look beyond asset acquisition and into either M&A or providing products across other adjacent financial needs of their Participants.
The COVID-19 pandemic has placed enormous strain on Plan Sponsors and their Employees (Participants), with the U.S. unemployment rate ballooning to 14.7% in April. Congress has responded with the Coronavirus Aid, Relief and Economic Security (CARES) Act, which includes providing access to retirement funds. Altogether, we see that the Retirement industry and Participants are faced with several of these questions as they look towards recovery from this pandemic: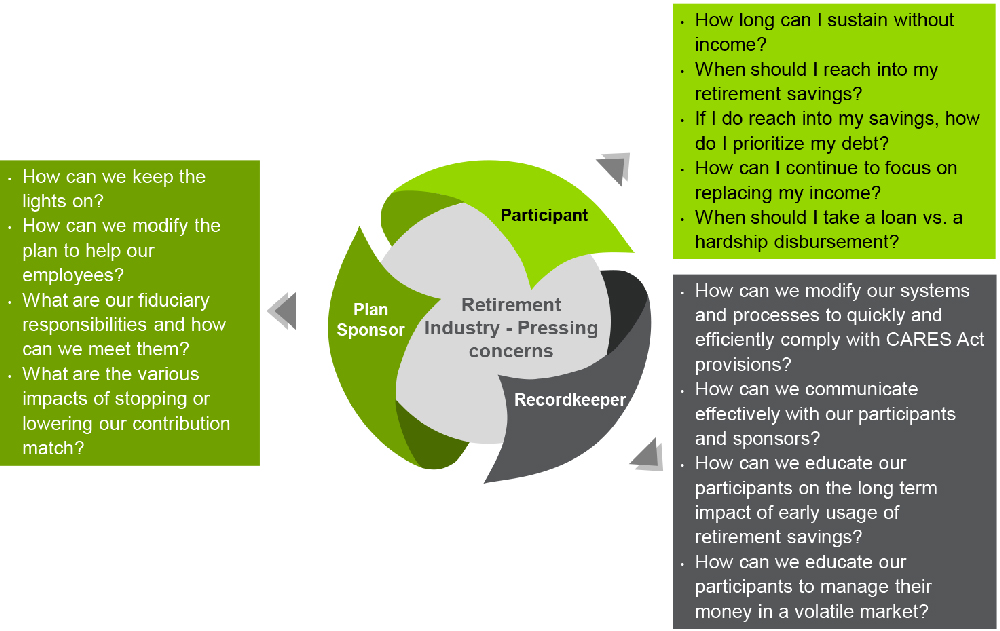 How Can Recordkeepers Respond to Evolving Participant Needs?
A recent pre-pandemic survey suggests 40% of the U.S. population cannot afford an emergency expense of $1,000 from their current savings. As job losses and reduced pay resulting from COVID-19 mount, desperate Participants may look to retirement savings to close the income gap. Many Recordkeepers have acted quickly to enhance processes and systems that facilitate financial access and provide fee waivers to ease financial impact. With the CARES Act enabling Plan Sponsors to distribute funds without penalty, increase maximum loan limits, and waive minimum distribution requirements, this also provides an opportunity to educate Participants about the impact of retirement asset leakage while providing alternatives for their short-term financial needs.
Recordkeepers that have invested in digital self-service technologies, automation, and process optimization can better serve customers, particularly when service requests are simple/transactional in nature. These companies can drive customer value by delivering tailored services and information to customers needing assistance. Building intuitive experiences that do not overwhelm participants will be a key driver to the impact and adoption of new capabilities.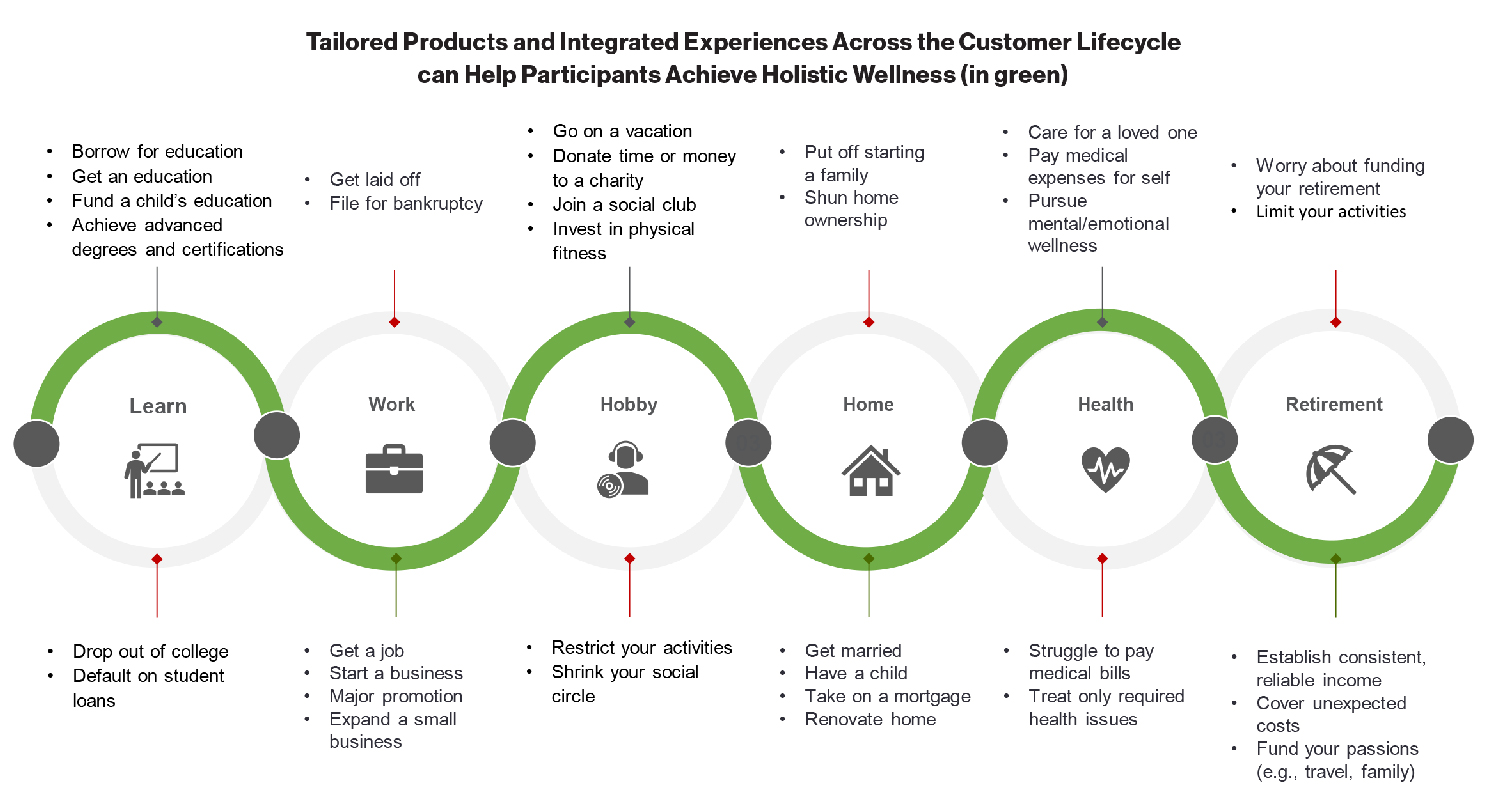 Holistic Wellness Addresses Underserved Needs and Opportunity to Drive Lifetime Customer Value
One in three Americans is experiencing high levels of psychological strain during this pandemic. To care for their Participants, Recordkeepers and Plan Sponsors should provide education on the long-term impact of early withdrawals in this volatile market, providing alternative strategies when possible. Investing in decision support tools and robust data infrastructure will help Recordkeepers utilize this opportunity to educate and drive holistic wellness for Retirement Plan Participants.
While many Recordkeepers recognize the need and opportunity for holistic wellness programs, few have successfully delivered, as they struggle to implement solutions, impeding their ability to develop a lifelong relationship with their Participants, including:
Partnering with best-in-breed product providers to deliver tailored and holistic customer experience.
Developing an interactive educational curriculum.
Migrating to digital participant and sponsor communication (mobile and e-mail) from traditional paper methods.
Creating a seamless, integrated, and customized platform-based user experience, fueled by big data.
Providing financial wellness tools as part of standard offering to increase product access
What are Key Digital Capabilities Recordkeepers can Invest in to Better Serve Participant Needs?
Digital Payments: Drive adoption of electronic payment methods to improve speed and security of disbursements.
Paperless Participant Communications: Develop a structured print strategy and program to reduce print footprint and costs.
Digital Self-Service: Build resiliency with strong digital self-service capabilities and evolve operating models positioning human contact as higher value consultative conversations.
Bespoke Education: Curate access and distribution of educational and sales material based on participant persona and preferences.
The pandemic has forced many Plan Sponsors to examine cost-cutting mechanisms to stay profitable. How can Recordkeepers respond to immediate sponsor needs? Download the document to learn the key success factors for an effective transformation. Our experts discuss the challenges and opportunities for Recordkeepers to differentiate through transformation and how Guidehouse can help leading financial institutions re-imagine their organizational structure.
This article was featured in BenefitsPro in an article entitled: Building a Defined Contribution Retirement Plan Transformation Strategy
Special thanks to contributing authors Zachary Evans, Brian Dougherty, and Brian Karp.