Guidehouse has analyzed the Consumer Financial Protection Bureau (CFPB) consumer complaints database since 2014 and developed a multifaceted approach to identify, measure, and visualize key trends and changes. During the pandemic, the CFPB consumer complaint volume reached historic highs. In 2020, the bureau received more than 440,000 consumer complaints, a 60% increase compared to 2019.

We analyzed the complaint data from pre- and post-pandemic time periods, and identified the following insights into the volume changes and root causes.
Credit reporting was the primary driver of the complaint volume increase last year. Out of all nine products, credit reporting complaints doubled in 2020 and accounted for over 60% of all complaints received by CFPB, as compared to 50% a year ago. The remaining complaints were spread across eight product types, with debt collection and credit cards together accounting for 20% of all complaints. Debt collection complaints increased by 16% and credit card complaints increased more than 30%. Separately, despite a smaller base (2% of all complaints), money transfer and virtual currency complaints increased over 60% year over year, which speaks to the market growth and novel challenges.
Complaint Volume Time Trend Breakdown of 2020 Complaint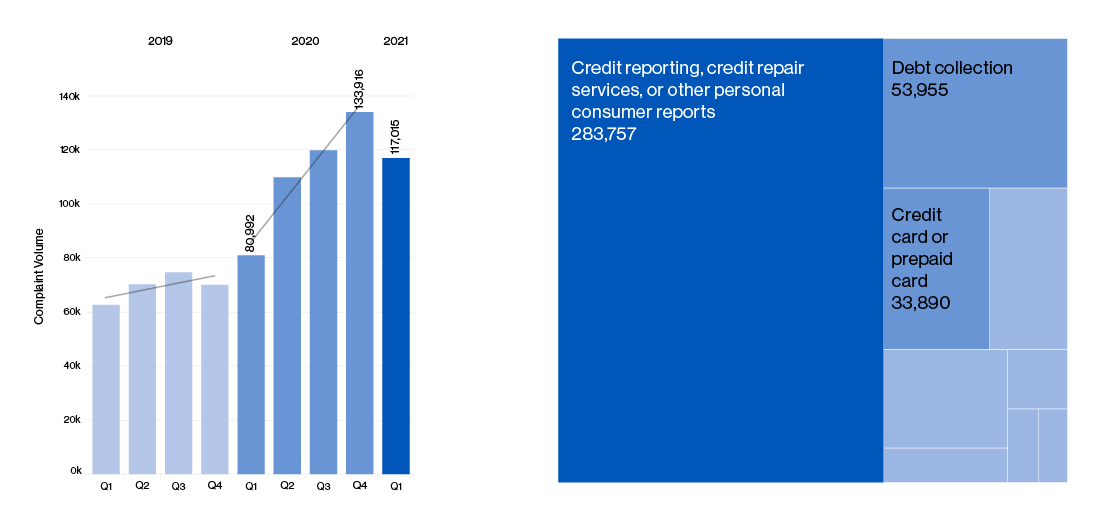 Credit reporting complaints reached historic highs and six out of 10 complaints mention incorrect information. Consumers complained the most about the incorrect information on consumer reports, the dispute investigation, and the use of consumer reports. The incorrect information issue alone accounted for over 60% of all credit reporting complaints, which indicated widespread concern and lack of confidence in the quality of the data reported. The complaint volume of this particular issue doubled in 2020 compared to 2019. With CARES Act enacted a year ago, furnishers should look back and examine their reporting practices.
Breakdown of Credit Reporting Complaints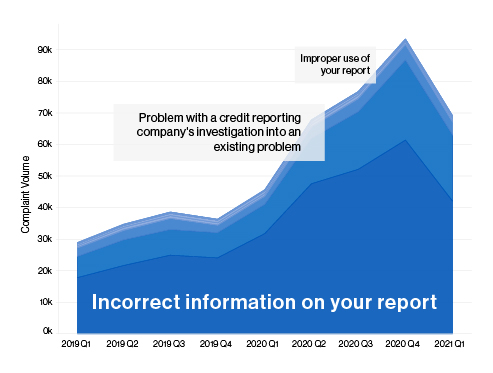 Recently, mortgage complaint volume has increased significantly. Over 7,300 mortgage complaints were received by CFPB in Q1 2021, 16% more than the previous quarter, and 28% higher than Q1 2020. The same pattern was reflected on two mortgage products: conventional home mortgage and VA mortgage. Mortgage borrowers primarily complained about three issues: 1) trouble during payment process; 2) applying for a mortgage or refinancing; and 3) struggling to pay mortgage. Applying for a mortgage or refinancing had not been a top issue previously. However, its complaint volume doubled in Q1 2021, compared with a year ago. This could be partially explained by the growing housing market and result in more regulatory scrutiny around the loan application and origination process.
Mortgage repayment difficulty is trending lower, but the end of forbearance and stimulus is expected to reverse this trend. The percentage of borrowers struggling to pay the mortgage in Q1 2021 is significantly lower than Q1 2020 and Q1 2019. Approximately 1,170 borrowers submitted complaints in Q1 2021 indicating they experienced difficulty with mortgage repayment. With over 7,300 mortgage complaints received, the percentage of borrowers struggling to repay was 16% in Q1 2021, as compared to 27% in Q1 2020, and 32% in Q1 2019. It is reasonable to expect a mild increase in the future when forbearance and stimulus ends.
As a result, lenders and servicers should prepare to support borrowers in making this transition and to mitigate operational and compliance risks.

We often perform data analytics on complaints for our clients to identify trends, benchmark to competitors, and uncover root causes of complaints. Please email us to schedule an assessment and/or learn more about our capabilities.
Special thanks to contributing author Vivian Gao.