In January 2019, California Governor Gavin Newsom signed an executive order to transition the Medi-Cal pharmacy services benefit to a fee-for-service (FFS) benefit (starting in 2021) directly paid for and administered by the state. The Governor's order to carve out the Medi-Cal pharmacy services benefit from managed care represents a primary approach to save on Medi-Cal prescription drug spending. Between 2018 and 2019, spending on pharmacy services reached $8 billion in California, with approximately 70% of pharmacy spending taking place under the managed care delivery model.1

The impact of this legislation can be significant to your organization and the approximately 320 hospitals, community health centers, and other entities participating in the 340B Drug Pricing Program with retail and contract pharmacy relationships. The January 2021 transition from managed care to FFS will significantly diminish the margin between what you pay for pharmacy dispensed drugs and what you charge Medi-Cal managed care plans for those drugs.2,3

Based on Guidehouse's experience with projecting revenue variations related to 340B policy changes and other pharmacy business strategies, following is the anticipated impact if no action is taken by your organization:

Decrease of ~50% in reimbursement or ~80% in margin on 340B eligible Medi-Cal managed care prescription drugs only (margin impact is specific to drug cost)
The decrease outlined above will result in an overall 5-7% margin decrease per pharmacy, depending on your Medi-Cal managed care population and drug mix. Note: includes all payers (e.g., Commercial, Medi-Cal, Medicare), not only Medi-Cal Managed Care. Final impact for your health system should be calculated for the Medi-Cal Managed Care population only.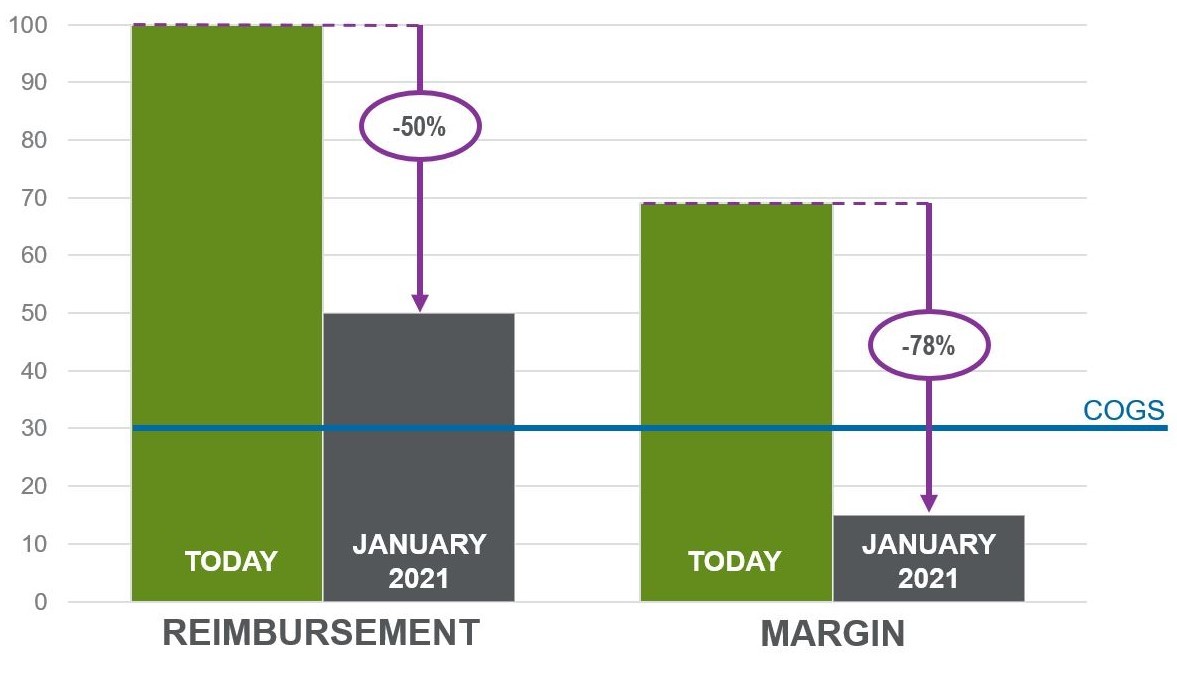 In the table below, we illustrate the anticipated annual contract pharmacy margin decrease at 6%, equating to an annual margin decrease of as much as $5.1 million for organizations with between 330 and 390 contract pharmacies. We presume a safety-net hospital earns $18,000 per month in net revenue per contract pharmacy relationship.

Mitigating this legislation's impact begins with determining your exposure and evaluating the value of the 340B program through your retail or contract pharmacy relationships.

With less than 18 months to implementation, there is much work to be done. We recommend a detailed assessment that includes evaluating your payer population, Medi-Cal Managed Care contracts, and the current net revenue per pharmacy based on reimbursement by payer and drug mix. You should understand which retail/contract pharmacies have the most significant exposure to losses due to a large Medi-Cal Managed Care payer population or a high volume of favorably reimbursed drugs. These findings will create an actionable road map for curbing losses and closing your revenue gap.

Levers to minimize losses may include:
Terminate 340B participation for pharmacies with greater losses
Renegotiate 340B split billing software and dispensing fees
Optimize 340B program by implementing new strategies
Additional pharmacy business strategies (e.g., add/expand outpatient infusion)
---
1. Gabriel Petek, "The 2019 – 2020 Analysis of the Carve Out of Medi-Cal Pharmacy Services From Managed Care," Legislative Analyst's Office, April 5, 2019, https://lao.ca.gov/Publications/Report/3997.
2. This executive order only impacts outpatient prescription drugs and not outpatient physician administered drugs in a hospital/clinic setting.
3. Reimbursement breakdown:
Medi-Cal managed care plans reimburse prescription drugs at a negotiated rate

FFS reimburses prescription drugs at actual acquisition cost plus a dispensing fee

A 340B drug acquisition cost is typically much lower than the negotiated rate