Academic health systems (AHS) are unique, complex, and highly matrixed organizations. They are responsible for multiple missions, including delivering extraordinary clinical care, innovation, and discovery while educating the next generation of providers. Fundamental to the AHS multi-mission promise is financial investment and support of all missions.
The major source of revenue for most AHS is the clinical care provided to patients. Funds flow from clinical revenues allows investment in the research engine to develop novel and cutting-edge solutions, recruit faculty, support clinical programs, and deliver superior educational material.
As a result, movement from subsidy to investment and development of the optimal model for funds flow support across missions is becoming an important leadership imperative for AHS CEOs, deans, and clinical leadership. But a fundamental question remains: What is the correct amount of investment of clinical funds to support academic missions?
Funds flow has historically been viewed as a "subsidization" of academic missions. We do not hold this view, believing instead that investment of clinical funds into academic missions is similar to investment in research and development, with the expectation of a return on that investment.
Funds flow models often consisted of multiple negotiated agreements between the hospital/health system, college of medicine/university, and faculty practice plan. These agreements were often negotiated independent of one another, were not strategically aligned across missions, were complex to administer, and lacked transparency across business units.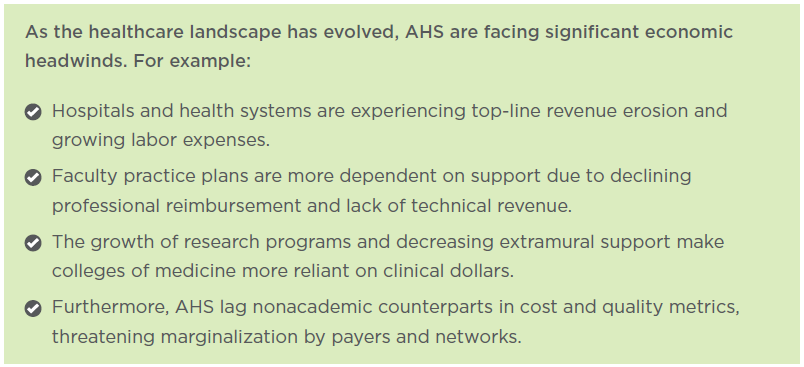 Factors Driving Academic Health Systems to Evaluate Funds Flow Models

It is this perfect storm that has many AHS evaluating their current funds flow models and looking for trusted partners to assist them in developing an optimal model.
Subsidy to Investment
In today's volatile healthcare environment, funds flow should be viewed as an investment in enterprise strategy and not a subsidy. Central to that belief are several core principles that help frame an optimal, next-generation funds flow model.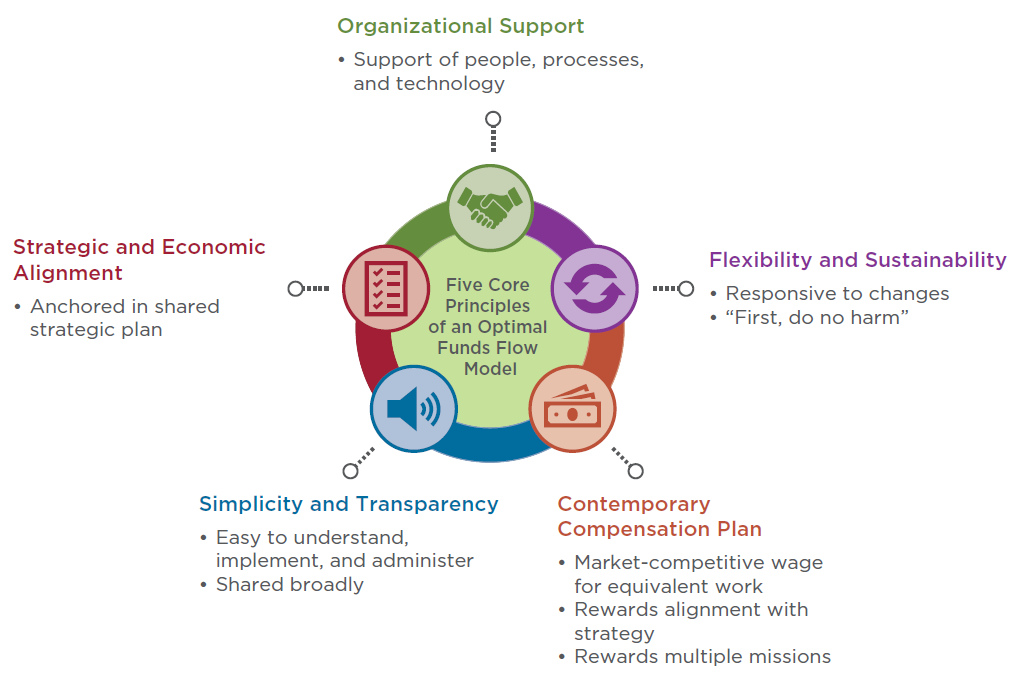 Organizational support: Any funds flow model must be founded on principles agreed upon by all stakeholders. A redesigned, contemporary funds flow model needs the support of people, processes, and technology to move through the necessary steps of evaluation, design, socialization, and implementation.
Strategic and economic alignment: The optimal model must be anchored around a shared economic and strategic plan that directs flow of support across missions based on agreed-upon enterprise goals. It is essential that the model is designed to withstand the stress of an ever-changing healthcare and academic landscape. Essential in any model implementation should be a "glide path" to full implementation to allow for acclimatization to the new model, and to mitigate unintended consequences as the model unfolds. This strategic and economic alignment should extend to AHS unit leadership with incentives that reward enterprise performance, in addition to individual unit performance.
Simplicity and transparency: Legacy academic mission support often results in multiple agreements that must be consolidated into a single model of support that is easily understood and administered, and transparent across all AHS units. This must be done with respect, recognition, and incorporation of historical key agreements that are critical to the function of academic units.
Contemporary faculty compensation design: Since faculty compensation accounts for a significant portion of academic funds flow, a faculty compensation plan is critical to an optimal funds flow model. The compensation plan must be contemporary and aligned with the strategic goals of the AHS. The plan should provide market-competitive compensation and reward not only clinical productivity but other important areas of performance, including value, patient and family experience, access, quality, safety, and contribution to academic missions. The components of these performance metrics and their weight in the compensation plan should be driven by each AHS' aligned strategic goals.
Flexibility and sustainability: The optimal model must allow future iterations to respond to changes in strategy and external factors, and always respect the fiscal sustainability of all stakeholders. Following the Latin phrase "primum non nocere," the optimal funds flow model should "first, do no harm."