By Ruxandra Andriescu, Chase Hiller, and Mona Byambadorj, Guidehouse
The COVID-19 pandemic, economic uncertainty, and social turmoil of 2020 is exacerbating the existing mental health crisis affecting the American workforce.
A major contributor to poor mental health is stress. The American Psychological Association identifies the four main sources of stress as health, money, work, and relationships. These four areas have only been intensified by the unprecedented struggles facing individuals, families, communities, and organizations during this time of global pandemic.
However, despite today's many challenges, hope can be found in a new way of understanding the role of adversity in human resiliency and growth.
Resilience should not be defined by the absence of struggle, but by the ability to struggle well.
Research indicates that adversity and struggle are necessary components for activating and strengthening resilience and well-being. Resilience requires mental, emotional, physical, and spiritual skills. While historical perspectives viewed resilience as an inherent character trait, we now know that it's a skill set that can be taught and developed.
Just as individuals are capable of cultivating resilience, so are organizations, as increased resiliency is correlated with self-efficacy, autonomy, problem-solving, optimism, creativity, flexibility, and stress management, among other benefits. Research has also shown that companies adopting thoughtful mental wellness policies and strategic initiatives to help employees "struggle well" can enhance employee productivity, retention, and morale.
It is critical to change the conversation around mental health and create a resilient place to work, especially during times of crises.
Based on experience working with employers across the globe and enabling well-being and personal mastery with its own employees, Guidehouse designed a toolkit with pathways that map directly to the four main sources of stress to bolster resiliency skills (Figure 1).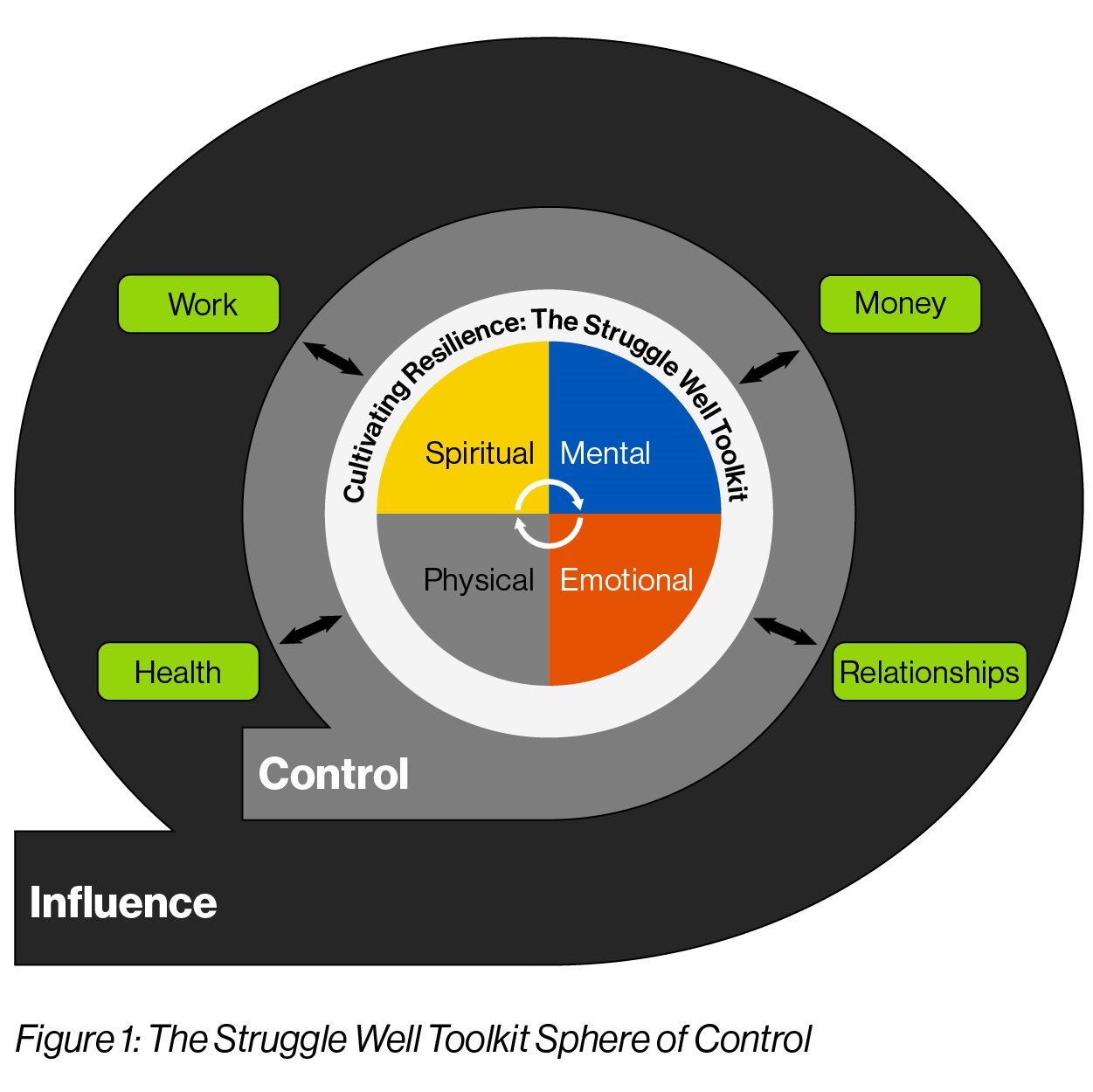 Perhaps now more than ever, companies should look to build a collective post-traumatic growth strategy.
Organizations that enable employees to cultivate resilience by "struggling well" are keeping an eye to the potential for post-traumatic growth—when trauma ignites a newfound appreciation, better relationships, a sense of possibilities, awareness of personal strength, and spiritual shifts that may include a deeper sense of meaning and purpose.
Health—Physical Resilience: How We Care

Addressing mental health-related issues in the workplace can be a common source of discomfort, often due to a lack of knowledge or familiarity with these issues. This gap is an opportunity that organizations can fill to meet the mental health needs of their employees.

An evidence-based offering called Mental Health First Aid (MHFA) should be available to all employees. Analogous to how first aid provides training to community members on how to deliver timely medical care to others, MHFA "helps you assist someone experiencing a mental health or substance use-related crisis."

As a result of MHFA, participants in one study showed improved ability to identify the risk of suicide, listen nonjudgmentally, and encourage appropriate professional and self-help. For example, a 3,000-person pharmaceutical company trained approximately 40 employees in MHFA and found that they were better able to recognize everyday stresses and intervene with suggestions for coping mechanisms and community resources, as appropriate. Thus, MHFA can both equip individual employees with critically important skills to support their colleagues and support an overall culture normalizing mental health.

Mental health, crucial during times of uncertainty, is closely intertwined with physical health.

Our bodies are the original resilience teachers, in that they respond to internal and external factors within our environment to maintain a constant equilibrium. An imbalance in one creates an imbalance in the other. In order to ensure the mental well-being of employees, organizations must also consider the importance of physical and emotional health, providing tools and opportunities for employees to maintain balance in all aspects of their health.


Money—Mental Resilience: How We Focus

In the COVID-19 reality, employers are facing tremendous financial pressures to maintain operations, while employees are worried about how to best plan for their immediate and long-term future. Before the pandemic, one study found that employees spend an average of 13 hours a month worrying about money-related issues while at work.

Nearly 80% of employees wish they received more assistance with financial wellness planning from their employer.

Employers have an opportunity to demonstrate proactive leadership when equipping employees with financial knowledge and wellness. One promising solution is partnering with a company like Ayco (a leader in the financial benefits space) to provide templates, webinars, and workshops on relevant issues such as student loan payback programs, mortgage payments, planning for retirement, unexpected healthcare costs, and more.
Understanding the needs of employees and providing options for financial health gives them the opportunity to safely take ownership and control over their current situation. Ensuring the solution is a good fit for the organization is critical to both reassure and empower employees' financial fitness at all stages of their careers.


Work—Spiritual Resilience: How We Grow

The pandemic has made it difficult for companies to keep employees engaged while becoming fully remote. In the face of adversity, connection can play a critical role in building resiliency and overcoming obstacles. Connection during times of adversity creates a bridge between a sense of belonging and finding purpose in a greater mission that can contribute to an improved sense of well-being.

Consider ways for employees to interact and become engaged while working remotely.

One novel way to connect employees remotely is to organize virtual field trips, which allows for safe, engaging, and affordable experiences.

Virtual reality headsets that use phone apps to immerse viewers in an alternate environment are one option. This can include a museum tour, exploring a major city, or an educational piece on a culture's customs and traditions. These experiences can improve camaraderie among teammates, increase productivity, and create a culturally sensitive workforce. They could also be geared toward organizational initiatives and priorities, such as diversity and inclusion.


Relationships—Emotional Resilience: How We Connect

Family relationships have seen increased amounts of stress in part due to finding a routine and balance between family and work. In a recent study by Oracle and Workplace Intelligence, 85% of employees stated that work-related stress and anxiety affects their home life. Working remotely has removed the physical and invisible barriers that are typically present in our professional and personal lives. For the estimated 53 million US caregivers, this means more responsibilities.
Create a corporate culture of support and empathy to assist employees as they continue to adjust to the new normal.
Employee Resource Groups (ERGs) can be established to provide an internal platform for social outreach. An ERG develops and deploys intranet communities or internal SharePoint sites for employees. This creates a safe space to connect with other individuals in similar situations to share tips, recommendations, and referrals.

Done correctly, ERGs can provide employees social connection, peer support, and education, while alleviating stress brought on by the direct interaction between their family, work environment, and responsibilities.

The direct and indirect consequences of the COVID-19 pandemic require organizational leaders to invest in building a resilient workforce and rethink mental health benefits.
Ensuring employee mental wellness should always be a top priority for employers, but the pandemic experience is providing much-needed fuel to drive this growth opportunity.
Employers can demonstrate a progressive outlook on factors that drive talent recruitment, retention, and even innovation. Companies that use this fuel have the potential to not only bounce back but bounce forward to come away stronger than before.

Now is the time for employers to seek innovative ways to improve their employee assistance programs with additional benefits geared toward addressing mental health, financial stability, employee engagement, and social relationships. Learn how Guidehouse helps organizations build workforce resiliency.