The COVID-19 pandemic has amplified state budget and financial challenges and created new ones as every state experiences economic disruption, including declining revenues and increased demand for public services.
Past economic recessions have demonstrated that when the economy goes down demand for public services goes up, and state revenues to pay for them fall. Current stay-at-home orders have limited consumer spending and travel, meaning sales taxes, motor fuels taxes, and general revenues from tourism and leisure industries are falling. Job losses and reduced economic activity mean declining personal and corporate income taxes.
States, unlike the federal government, must balance their budgets each fiscal year, so the pressure is on.
The National Association of State Budget Officers (NASBO) reports that 45 states will end their year on June 30 and another four states have year-end deadlines in September. As a result, governors and legislators are now working to close the budget gap for the current fiscal year while simultaneously developing plans for the new fiscal year that provide for the emerging challenges resulting from COVID-19.
Policymakers will be looking to maximize federal aid and shore up state revenue gaps.
Federal Aid
Federal stimulus funding will help states address expenses resulting from the pandemic. The four federal stimulus packages enacted to-date provide categorical funding to states for expenses related to education, public health, telehealth, nutrition and social supports such as day care subsidies and eldercare programs. In addition, states are receiving enhanced federal matching funds for Medicaid.
The most flexible funding is provided through the $150 billion State Relief Fund, enacted through the CARES Act, to cover expenses not paid for by other federal programs. State Relief Fund allocations, based on population proportions, are provided for all states and for localities with populations of 500,000 or greater. The Department of Treasury has issued state guidance and FAQs on the Fund.
In coming weeks, states will appropriate these funds to meet the most pressing COVID-related costs for: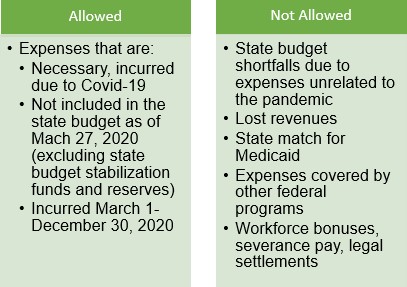 Medical expenses of public hospitals and clinics for testing, treatment, transportation and care
Public health expenses for enforcing public health orders, managing and distributing supplies, and public safety measures Payroll costs for employees dedicated to responding to the pandemic
Food delivery, distance learning, teleworking, maintaining safe prisons and jails, and caring for the homeless
Economic supports for businesses, local and tribal governments, and unemployment costs, and
Other reasonably necessary government functions
Notably, the State Relief Fund covers COVID-19 expenses, not lost revenues and unrelated budget shortfalls.

State Revenue Challenges

State general revenues – personal income tax, sales tax, corporate income tax, and other taxes and fees – are the primary source to finance state operations. The largest share of state general revenues typically supports education. In total, elementary and secondary education combined with Medicaid make up more than 55% of state general revenue spending, according to NASBO's 2019 State Expenditure Survey 2019. As the economy declines, expect increased demand for services, like the means-tested Medicaid program, and potentially increased education cost as unemployed workers return to school.

Most states will have or will revise revenue estimates in the coming weeks. The majority of forecasters anticipate significant revenue losses in the current fiscal year and extending well into FY 2021. The decision to delay the April 15 tax filing deadlines has put even greater pressure on most state budgets by deferring tax payments until July 15, well after most states' fiscal year-end. As a consequence, states will have less revenue to fund core state government programs.
The National Council of State Legislatures is tracking budgetary and economic consequences of the coronavirus pandemic, including FY 2020 updated state revenue projections.

State Actions

How will states address the service and financial challenges ahead? Conventional wisdom suggests states will evaluate traditional budget balancing strategies that include a combination of reducing spending and increasing revenues. These approaches will be balanced by the heavy toll the COVID-19 pandemic has taken on large and small businesses, health and human services needs and providers, overall employment, and demand. Smaller shares of the budget, sometimes neglected, will come to the forefront: public safety, public health, corrections, transportation, and housing, to name a few.
Most likely, the magnitude and timing of the crisis will force states into their rainy day reserves to help bridge the gap.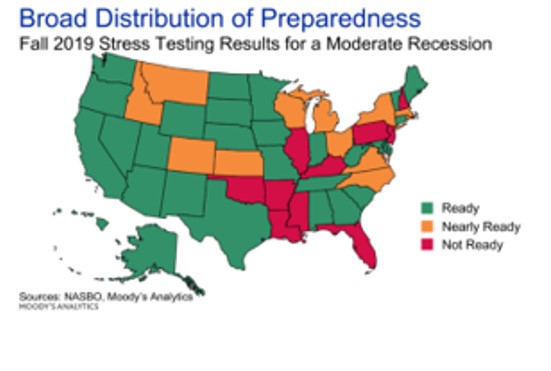 Moody's Analytics' report, found that 28 states have enough cash on hand to weather a moderate recession without reducing spending or raising taxes, 12 states have most of the cash needed, and 10 are significantly unprepared. As a result, many states have generally strong reserve levels to help with the current downturn, but the effects of the pandemic will put these balances to the test.

Disruption as a Tool: Pandemic Impacts Create an Opportunity to Re-Position Medicaid-Funded Long-Term Care

Pandemic impacts have been disproportionately experienced in long-term care settings, particularly, skilled nursing facilities (SNF) where the frailty of residents combined with congregate living setting and infection control challenges created a perfect storm. Recent reports suggest that while long-term care residents account for roughly 14% of national COVID-19 cases, their death rate is disproportionately high – nursing home residents constitute a staggering 38% of pandemic deaths.
At the same time – disruptions within broader healthcare settings, including extended hospital stays and patients who are delaying or avoiding treatment for emergent and chronic conditions, will drive unprecedented demand to leverage SNF beds for post-acute care vs. long-term residential care. A recent Health Affairs post suggested that as many as 24 million Americans will require post-acute care in the coming months – far exceeding existing supply.
States have long grappled with balancing the demand to maintain (and thereby fund) institutional long-term care (LTC) capacity, in some cases limiting the State's fiscal and programmatic ability to complete long-term care "rebalancing" – shifting LTC spend from institutional to home and community based delivery settings which are demonstrably lower in annual cost:

Centers for Medicare & Medicaid Services reports suggest that as of FY 2016, more than 20 states still devote 50% or more of their Medicaid long-term care spend to institutional care. Some of these states are the nation's most highly populated, including Florida, Pennsylvania, North Carolina, and Georgia.
Disruptions to long-term care and the volume of SNF fatalities coupled with post-acute demand create an opportunity for states to reposition their long-term care systems to be less reliant on institutional settings like SNFs. The long-term SNF population is decreasing due to deaths and does not necessarily need to be "re-filled" to its former capacity. The American public is fearful of nursing home settings due to the national media coverage of COVID-19 infection and death rates there, which may further drive down SNF demand.
Additionally, SNFs need to re-position to meet surging post-acute care demand reimbursed by a more diverse set of payors. Disruption creates a prime opportunity to leverage forces beyond a state's control – to reduce nursing home dependency and implement rebalancing strategies that are more sustainable for state budgets and reflect individual preferences.
Rebalancing strategies for states to consider include:
Re-designing and expanding home and community-based service programs designed to skilled nursing facilities to offer a meaningful alternative that better serve complex care populations in-home. "A home delivered meal and some personal care won't cut it."
Implementing Medicaid funded "step-down" settings like assisted living and personal care homes, and/or integration of "housing with services" using HUD-subsidized housing, to meet the needs of individuals who require housing to remain in the community.
Identifying ways to integrate Medicare and Medicaid for dually-eligible populations – both for skilled nursing eligible populations and for "upstream populations" of aging adults with chronic disease – who with preventative strategies can be managed at a lower cost and deterred from advancing into SNF-level care.
Given the impacts of COVID on the aging and disabled population, we believe states have a unique opportunity to use COVID relief funds to build and implement stronger long-term care programs that will be more resilient to future waves of this pandemic and to likewise position the state for long-term success.

Identifying Sources for Additional Revenue

During economic crises, states often look to cut budgets by reducing program benefits, enrollment, and staff. However, in our work with states across the country, we often see states leave dollars on the table that can be used to stabilize their budgets and offset revenue losses from other areas.
Medicaid

Family Planning Services: States often fail to comprehensively identify Medicaid family planning services, which are eligible to receive a 90% federal match. For our state clients we have doubled their amount of family planning dollars.
Medicaid Drug Rebates: More comprehensively identifying and capturing Medicaid outpatient pharmacy claims that are eligible for manufacturer rebates.
Medicaid Prison Health Claims: Identifying federal match opportunities for all administrative and program correctional health costs eligible for Medicaid.

State Employee Retiree Health Plan Disability: Identifying Medicare disabled entitlement for retirees and dependents under age 65. For population between 50 and 65, most states do not fully realize the potential average identification rate of 15-20% of members with Medicare Disability entitlement (independent of cash SSDI benefit).
Pharmacy Benefit Management: Most states contract directly or indirectly with companies to administer pharmacy benefits for Medicaid, State Employee Health Plan, and other state agencies and programs. Implementing a more proactive, comprehensive approach to managing the pharmacy benefit can result in savings of 3% to 5% of total pharmacy spend.
What's Ahead

Amid the pandemic, states are responding by providing critical supports and services. State legislatures are convening in regular or special sessions, and some states have already enacted supplemental appropriations to ensure they can continue operations. Behind the scenes, budget and finance officials are aligning to code, catalogue, and forecast costs and lost revenues, and array federal and state resources for greatest impact.
Now is the time to explore how to maximize federal relief and state investments to not only respond to the pandemic, but to restore, redesign, and revitalize.

States will be looking to:
Use federal funding to develop innovative and effective solutions to tackle the challenges presented by the COVID-19 pandemic.
Invest in public health infrastructure and partnerships, including enhancing population health data and statistics.
Evaluate public health and safety policies and capacity to enhance preparedness.
Manage MMIS systems to respond to policy and procedures changes in Medicaid enrollment and eligibility policies, rate adjustments, and pay policy arising from federal requirements (enhanced FMAP) and state waiver requests.
Evaluate long term care supports and community-based services program design to identify improvements to address the unique needs of vulnerable populations, and the provider community.
Evaluate the impact that new care delivery models, administrative requirements, and business processes necessitated by COVID-19 have had on healthcare access, quality, and cost (e.g., telehealth, non-face-to-face care assessments, telecommuting, etc.).
Invest in program integrity, organizational effectiveness, accountability, and cost/benefit reporting requirements.
Enhance budget and finance processes, particularly to model, forecast, and plan for service needs while managing the federal financial cliff (when time-limited stimulus ends).