Our governments have been at the forefront of the pandemic response since early 2020. The American Rescue Plan (ARP or Plan) will give state and local governments flexibility to respond to the COVID-19 pandemic in a number of ways – setting up programs to help their most vulnerable residents and small businesses, enhancing testing and vaccination efforts, recovering revenue lost as a result of the pandemic, and more. While the ARP provides COVID-19 related funding via a variety of channels, this paper focuses on specific funding for our state and local governments.
Background
The ARP includes funding for state and local relief, K-12 and Higher Education, housing and rental assistance, and transportation and infrastructure. The ARP is the latest in COVID-19 pandemic legislation coming out of Congress, including:
Consolidated Appropriations Act of 2021

Coronavirus Aid, Relief, and Economic Security Act or the ''CARES Act'' of 2020

Coronavirus Preparedness and Response Supplemental Appropriations Act of 2020

Families First Coronavirus Response Act of 2020

Paycheck Protection Program and Health Care Enhancement Act
The experience of the last year has given Congress a better idea of the impacts of COVID-19, and the ARP was drafted to specifically target ARP funds toward priority areas for response and recovery. In this paper, we underscore programs crucial for state and local governments and key considerations for using these federal funds. .
Highlights from the American Rescue Plan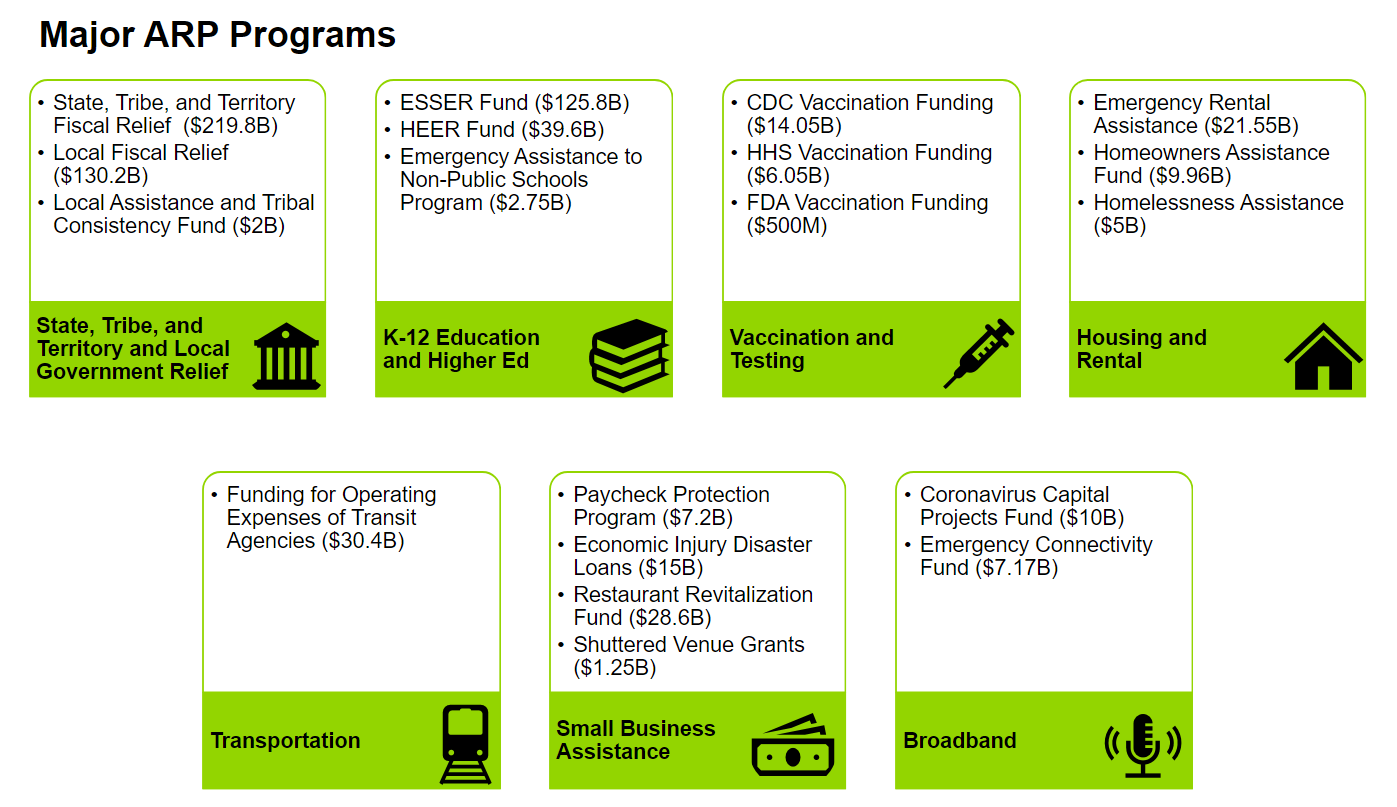 State and Local Government Programs
Coronavirus State and Local Fiscal Recovery Funds
The ARP includes $350 billion of funds for states, tribes and territories ($219.8 billion) and local government ($130.2 billion) to respond to and recover from the pandemic. This funding can be used by states, municipalities, smaller cities, and counties in similar ways to the CARES Act Coronavirus Relief Fund (CRF), including:
Responding to COVID–19 or its negative economic impacts, including assistance to households, small businesses, and nonprofits, or aid to impacted industries such as tourism, travel, and hospitality.
Providing premium pay to eligible essential workers of the state, territory, or tribal government or by providing grants to eligible employers that have eligible workers who perform essential work.
Applying towards government services to address the reduction in revenue of such State, territory, or Tribal government due to the COVID–19 public health emergency.
Investing in necessary utilities, including water, sewer, or broadband infrastructure.
Guidehouse Key Considerations for State and Local Fiscal Relief:
Unlike the Treasury Coronavirus Relief Fund (CRF), governments will be able to use the funding for revenue replacement although any revenue loss must be relative to revenues collected in the most recent full fiscal year prior to the emergency. Also, unlike with CRF, states and local governments have more time to strategically spend their funding and have the potential to build more programs that provide both short- and long-term benefits. Infrastructure investments are highlighted as an eligible expense and have been voiced as a top priority among Guidehouse State and Local clients—especially in the areas of affordable housing and broadband.
For more information on how Guidehouse is responding, please see our Our COVID-19 Resource Center.

Local Assistance and Tribal Consistency Fund
This program would give $750 million to eligible revenue sharing counties and $250 million to eligible Tribes for any government purpose other than lobbying, to be obligated in 2022 and 2023. This is also intended to help counties reliant on the Payment in Lieu of Taxes (PILT) and Secure Rural Schools (SRS) programs, among other revenue sharing programs, but based on their real economic conditions rather than historic payments.
Coronavirus Capital Projects Fund
In addition to State and Local Funds, the ARP includes $10 billion for states, territories, and tribes to develop "critical capital projects directly enabling work, education, and health monitoring, including remote options, in response to the public health emergency." While there is limited detail about eligible uses and requirements in the legislation, it is stated that the Secretary of Treasury will establish a process of applying for grants for this funding within 60 days of enactment of the ARP.
Pandemic Emergency Assistance Fund
$1 Billion has been allocated to state programs supporting eligible families. States may only use this on direct cash assistance for non-recurrent short-term benefits to low-income families with children. No more than 15% can be spent on administrative funds. Additionally, this funding cannot supplant existing funds.
Testing Efforts and Vaccine Distribution
The ARP will provide $14 billion for vaccine distribution efforts. These efforts include $7.5 billion for COVID-19 Vaccine Activities at the Centers for Disease Control and Prevention. This funding will allow for state and local governments "to carry out activities to plan, prepare for, promote, distribute, administer, monitor, and track COVID–19 vaccines." Additionally, $1 billion was allocated for the Vaccine Confidence Activities Fund for the Centers for Disease Control (CDC) to strengthen vaccine confidence and promoting vaccine awareness and education.
Guidehouse Key Considerations for Testing Efforts and Vaccine Distribution:
Congressional appropriations language may allow the CDC to define eligible uses more broadly; in that case, Guidehouse suggests that states work to maximize FEMA vaccine funding for all FEMA-eligible vaccine expenses, saving the CDC allocations for non-FEMA eligible uses.
For more information on how Guidehouse is responding, please see our Vaccine Considerations for State and Local Governments Insights.
This funding is in addition to the increased FEMA support to state, local, tribal, and territorial partners through additional federal funding announced in January, 2021. The Biden Administration's January directive allows FEMA to pay 100% federal funding for the costs of activities that have previously been determined eligible, from the beginning of the pandemic in January 2020 until September 30, 2021. This new policy means that all work eligible under FEMA's existing COVID-19 policies, including increasing medical capacity, non-congregate sheltering, and emergency feeding distribution will have 100% of demonstrated costs covered by federal funding.
Housing and Rental Assistance
Guidehouse Key Considerations for Housing and Rental Assistance:
In addition to providing more funding for rental assistance, the deadline for the ERA Program from the CAA was moved to September 30, 2022. This may allow states and governments to support more individuals in need. Rental programs can be difficult to administer; and, in light of this, general considerations include:
Eligibility
Application Intake Management
Case Prioritization
COVID-19 Impact Documentation
For more information on how Guidehouse is responding, please see our Emergency Rental Assistance Program Summary.
Additional Emergency Rental Assistance (ERA) Program
Through the ARP, there is additional funding of $2.5 billion for ERA Programs. In the Consolidated Appropriations Act of 2021 (the Act), Congress agreed on an additional COVID-19 relief package, a new Emergency Rental Assistance Program (ERAP) with funding of $25 billion.
Extension of the Foreclosure Moratorium and Mortgage Forbearance Deadline
For the second time, the Biden-Harris Administration extended the foreclosure moratorium and mortgage forbearance deadline. The Administration extended the enrollment window to request a mortgage payment forbearance and granted six months of additional forbearance for those who enroll on or before June 30.
Education and Childcare Support
For the third time, states and territories will be receiving Elementary and Secondary School Emergency Relief (ESSER) funding to distribute to local education authorities (LEAS) for activities that are necessary to maintain the operation of and continuity of education. At a total of $1.2 billion this is more than double the amount of ESSER funding distributed through the Act in January. All eligible activities under the previous round of ESSER are still allowable, however, LEAS are required to use at least 20% of their allocations to address learning loss. States must also reserve 5% of the total award granted to the state to develop comprehensive supports for learning loss.
Guidehouse Key Considerations for Education and Reopening Efforts:
Given the flexibility of ESSER funding, states should encourage local education authorities to use ESSER as much as possible to cover costs associated with maintaining operations and re-opening. It is also noteworthy that since ESSER is not subject to a supplant restriction, funds may take the place of state or local funds for allowable activities, provided that states maintain average state education funding from FY17, FY18 and FY19.
Institutes of Higher Education will be receiving another round of funding through the Higher Education Emergency Relief Fund (HEERF) and states will be receiving additional Child Care Development Block Grant (CCDBG) funding. The ARP also creates a new Childcare Stabilization program that will allocate $23.9 billion to states and territories, for states and territories to implement a grant program for childcare providers to receive funding for expenses associated with closing due to the emergency and/or the increased expenses associated with providing care during the emergency.
Guidehouse Insights on the COVID-19 Federal Funding Strategy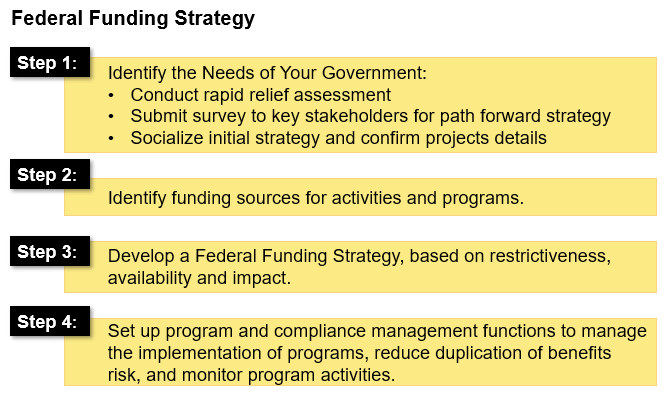 Governments have been provided with unprecedented levels of federal funding from several different agencies, making it necessary to develop a federal funding strategy to maximize your funding and provide your residents and businesses with the highest level of impact. Guidehouse has developed a framework for clients to follow.