On May 17, 2022, the cybersecurity authorities1 of the United States, Canada, the Netherlands, New Zealand, and the UK published a joint cybersecurity advisory titled, "Weak Security Controls and Practices Routinely Exploited for Initial Access." The advisory highlights the common techniques exploited by the malicious actors to gain initial access to the victim's network and the common weaknesses in the control environment. Additionally, the advisory outlines some of the best practices that can be adopted to strengthen the control environment. This cybersecurity alert provides an overview of the advisory and the key areas above.
Techniques Used by Malicious Actors
The advisory stated that the common techniques used by the adversaries to gain unauthorized access to a victim's internal environment include:
Exploit public-facing application: An adversary can gain access by exploiting weaknesses on internet-facing applications, e.g., a design flaw in the external-facing website.
External remote services: A bad actor can use compromised credentials to gain access using remote services such as a Virtual Private Network, Citrix2, etc.
Phishing: Phishing is a technique to obtain legitimate access credentials using various methods such as social engineering or including a malicious attachment in electronic communication.
Trusted relationship: A trusted third party or service provider can have legitimate access to the victim's system, which can be exploited by malicious actors to gain access to the internal network.
Common Weaknesses
The advisory noted that some of the most common weaknesses are:
Lack of enforcement of strong password and multifactor authentication (MFA) specifically for remote access.
Errors in the access control list enabling ineligible users to get privileged access.
Lack of patch management, allowing malicious actors to exploit known software vulnerabilities.
Use of vendor-supplied default configuration, creating opportunities for malicious actors to gain access.
Lack of controls around remote services.
Misconfiguration of cloud services.
Open network ports.
Inability to detect or block phishing attempt.
Lack of endpoint detection and response mechanism.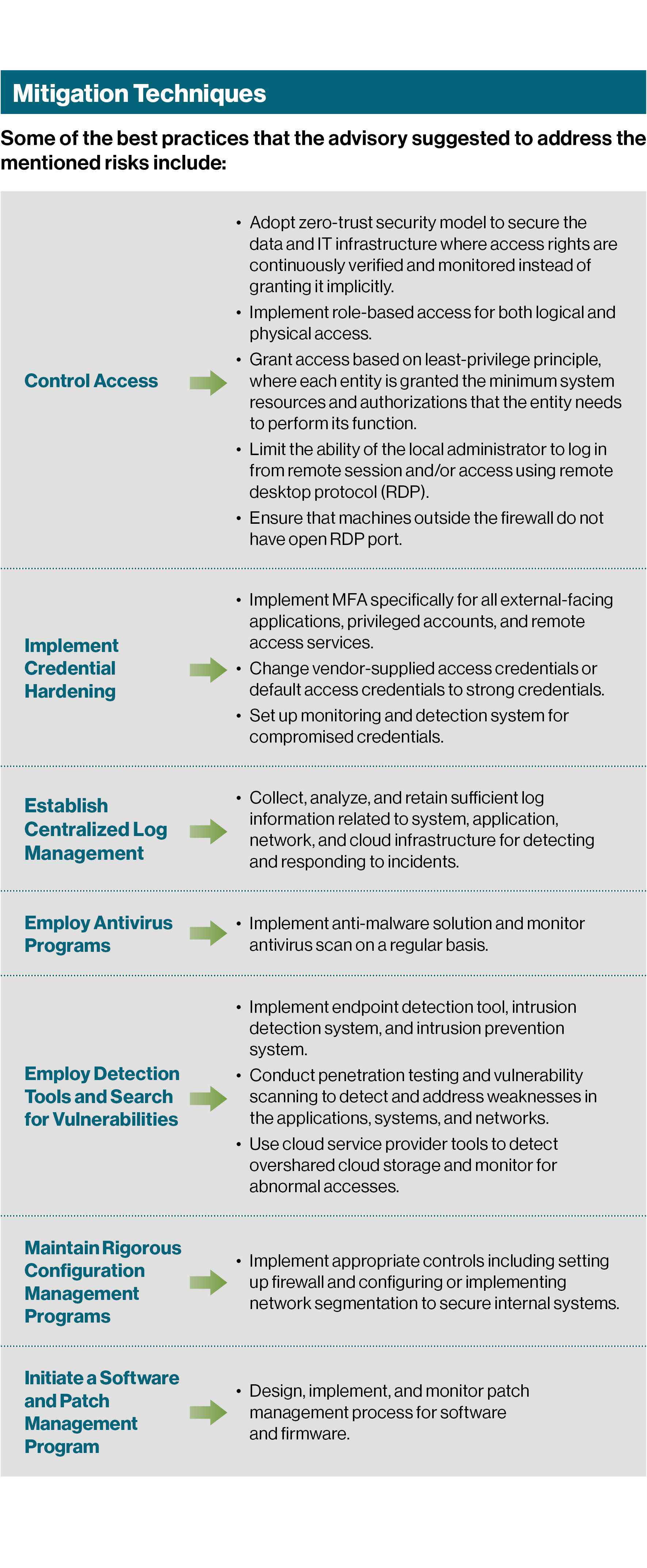 Guidehouse Service Offerings
Guidehouse has assisted numerous clients in assessing their cybersecurity and operationalizing compliance requirements using regulations, standards, and guidance issued by authorities and global data privacy regulations. We have supported our clients by:
Conducting assessments of the current state of an organization's cybersecurity posture and developing a roadmap to achieve compliance with cybersecurity regulations and standards.
Assisting with the implementation of a cybersecurity program that is technologically sound and sustainable, including designing and documenting policies, procedures, and control environment.
Conducting assessment to ensure design adequacy and operating effectiveness of the cybersecurity controls.
Designing and building cyber-resiliency program.
---
1 United States Cybersecurity and Infrastructure Security Agency, United States Federal Bureau of Investigation, United States National Security Agency, Canadian Centre for Cyber Security, New Zealand National Cyber Security Centre, New Zealand CERT NZ, Netherlands National Cyber Security Centre, United Kingdom National Cyber Security Centre.
2 Reference to specific commercial products, processes, or services by service mark, trademark, manufacturer, or otherwise does not constitute or imply endorsement and/or recommendation.