On February 13, 2022, for nearly 60 seconds, a colorful QR code bounced across a black screen on over 100 million streaming screens during a commercial break of the Super Bowl broadcast.

The QR code was an incredibly successful advertisement by Coinbase. So many viewers scanned the QR code, that the cryptocurrency exchange platform's mobile application momentarily crashed trying to keep up with the increased traffic.

Coinbase's advertisement during one of the country's most widely watched broadcasts is indicative of a push to bring cryptocurrency mainstream and drive adoption, and potentially the success in doing so. In fact, this year's Super Bowl was dubbed the "Crypto Bowl" by the Wall Street Journal in response to this year's team of cryptocurrency advertisers looking to purchase commercial slots. Even further, the National Football League (NFL) offered limited edition non-fungible tokens (NFT) to celebrate Super Bowl LVI.

This is perhaps not a surprise, given the adoption rates and transaction volumes over the past 12 months. In 2021, Bitcoin alone had an annual settlement volume that surpassed that of Visa's at $13.1 trillion.

While cryptocurrency exposure and adoption rise, politicians and regulators still debate regulatory concerns. Policymakers continue to study risk areas such as price volatility consumer protection, financial crime, or cybersecurity.

In the fifth edition of the Two Worlds Colliding Series, we explore regulatory activity, crypto adoption domestically and globally, security concerns, interesting synergy creation within the financial services industry, and the potential future of digital finance.
Political Discussions and Regulatory Action on Crypto Matters
While US politicians gather to continue to discuss cryptocurrency and digital assets, regulators have been active in crypto matters.
Illicit Activity Remains a Crypto Concern
Illicit activity stole more than $14 billion in cryptocurrency funds in 2021. Despite the $14 billion stolen being the all-time high value stolen on record, it was also the all-time low in share of all cryptocurrency activity.
Digital Assets Enable Strategic Synergies
As firms attempt to become more scalable and competitive in the digital asset space, strategic M&A and partnerships emerge.
Cryptocurrency Innovation and Creativity Brings Cryptocurrency into the Mainstream
While investment in cryptocurrency continues to grow, the innovation in cryptocurrency and digital assets are exposing US consumers to crypto-products and services through avenues outside "traditional" investing mechanisms as well.
International Activity Highlights Universal Cryptocurrency Concerns and Considerations
International cryptocurrency and digital asset activity highlight overarching global considerations and concerns, such as investor protection, environmental impact, and cybersecurity.

Emerging Cryptocurrency Products and Services
New product and service offerings intend to make cryptocurrency easily accessible and desirable.
Cryptocurrency Consumer Complaints
Guidehouse will be watching to see whether consumer complaints submitted to the Consumer Financial Protection Bureau against popular cryptocurrency companies will be reported at similar rates as 2021.
Recent consumer complaints are tagged to issues such as funds being unavailable when promised, confusing or missing disclosures, managing mobile wallets, and issues completing transactions.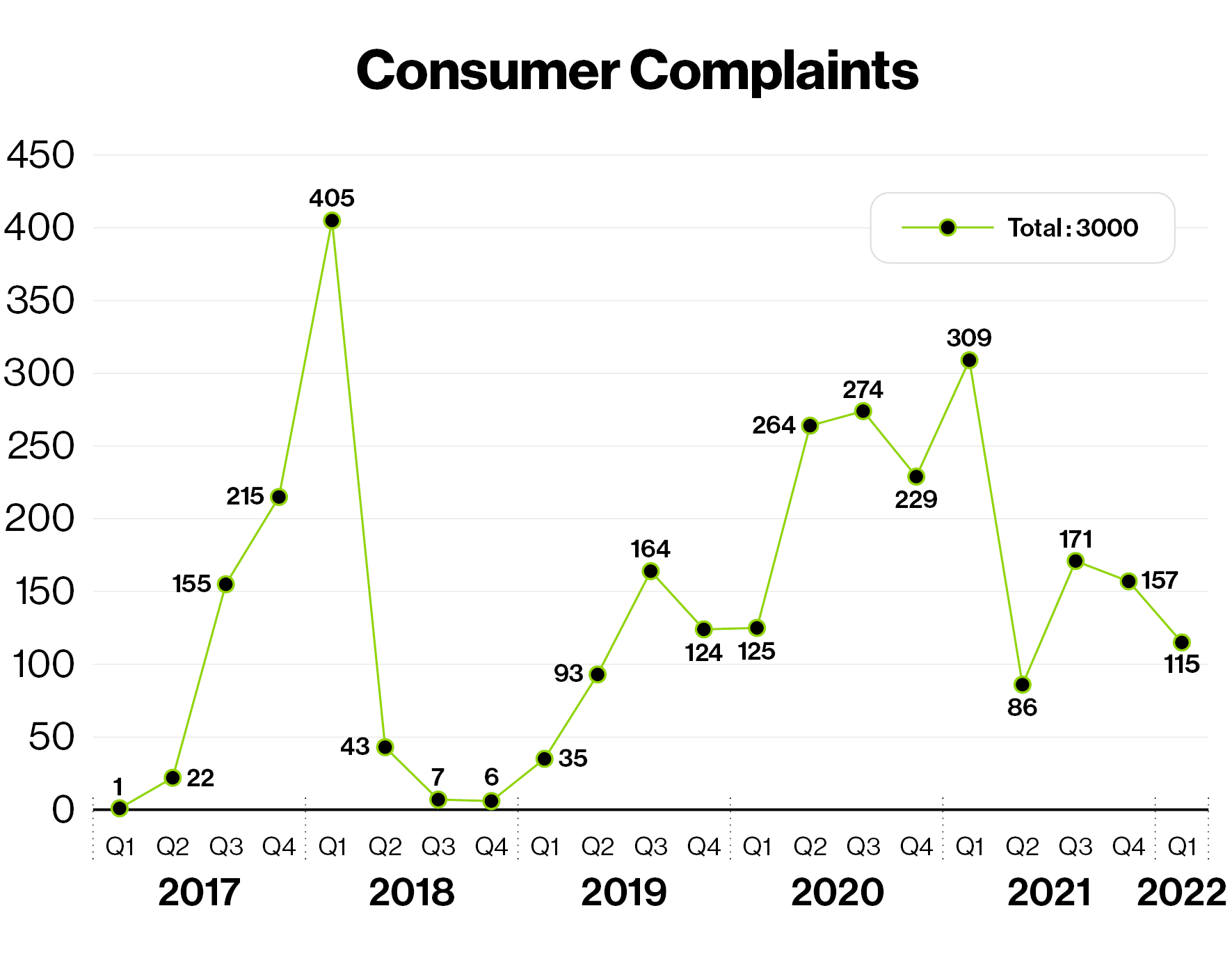 What the Luminaries Are Saying