On September 1, 2021, the Consumer Financial Protection Bureau (CFPB) issued their anticipated Notice of Proposed Rule Making (NPRM) under Section 1071 of the Dodd-Frank Wall Street Reform and Consumer Protection Act. The proposed rule impacts financial institutions of all types and sizes (e.g., traditional depository institutions, non-bank lenders, and fintechs). Many in the industry are referring to Section 1071 as the Home Mortgage Disclosure Act (HMDA) for small business lending; however, Section 1071 will bring more comprehensive implementation and compliance concerns due to the ruling's scope impacting a greater population of financial institutions and a greater variety of products and services. With the CFPB's current proposed rule, any financial institution that originated at least 25 covered credit transactions for small businesses in each of the past two calendar years will be impacted by Section 1071.
According to the CFPB, the goals of Section 1071 include enabling greater transparency in small business lending and identifying opportunities (and weaknesses) for ensuring equal credit opportunities for small, minority, and women-owned businesses. Financial institutions should expect that the CFPB will use Section 1071 reporting to prioritize financial institutions for further fair lending supervisory and examination reviews.
And it's not just the CFPB looking to review this type of data. State regulators are enacting similar requirements, such as New York proposing revisions to the Community Reinvestment Act to require data collection by banks on loan applications from minority- and women-owned businesses.
Given these implications, financial institutions should begin proactively preparing for Section 1071 implementation and compliance.
In this article, Guidehouse has highlighted the rule's expected implementation timeline, implementation challenges, and actions financial institutions should take now to prepare for the final rule's compliance deadline.
Expected Implementation Timeline
The proposed rule was published in the Federal Register on October 8, 2021, with the period for public comment closing on January 6, 2022. Based on discussions to date, we currently expect that the CFPB will publish the finalized rule in mid-2022 so that the CFPB can set the final rule's compliance effective date as of January 2024.
Financial institutions can begin certain data collection 12 months before the final rule's compliance date, meaning that we expect financial institutions may begin testing data collection practices by 2023 if the expected rule implementation timeline holds true. Below is an illustration of the current expected Section 1071 implementation timeline.

Expected Challenges
Section 1071 is a significant and lengthy regulation. When thinking about preparing for Section 1071, memories of HMDA come to mind. While reading the proposed rule, it becomes clear that even the CFPB held the comparison in mind while drafting the proposed rule, as it states, "[T]he Bureau's proposal for implementing Section 1071 necessarily exists against the backdrop of HMDA" and continues to compare Section 1071 requirements to HMDA requirements throughout the drafted regulation.
However, despite the similarities to HMDA, Section 1071 may prove to be even more complicated given that its scope extends beyond mortgage products and impacts various lending products and services.
Within the proposed rule, the CFPB has detailed their view on the upfront and ongoing costs of implementation and compliance, pointing to activities such as planning and preparation, updating computer systems, transcribing data, performing quality control, executing internal and external audits, preparing for examinations, and more. Although the CFPB has estimated significant costs for financial institutions, many in the industry believe their estimates remain on the lower side of the actual costs financial institutions will incur to implement and maintain compliance with the complex rule. Complying with the rule will come with a diverse set of potential roadblocks that require financial institutions to be smart and proactive to address. Guidehouse expects financial institutions may run into the key difficulties below when beginning to implement Section 1071:
Risk Management & Compliance:


Understanding nuanced differences between HMDA and Section 1071 requirements (for example, Section 1071's unique firewall provision or the procedural differences in visually confirming race, ethnicity, and gender).
Identifying the population of covered credit transactions and applications that will need to meet compliance.
Identifying and measuring risks associated with the CFPB's planned data publication.

Governance:


Documenting clear procedures and process flows.
Providing and conducting adequate training for employees.

Third-Party Oversight:


Managing data received from third-party loan originators to ensure data is accurate and compatible with data collection and reporting requirements.

Systems & Applications:


Identifying systems and applications that will be impacted by the ruling.
Identifying systems enhancements that will need to be made to comply with the ruling (e.g., the aforementioned firewall provision).

Data Management:


Implementing consistency in data collection and data storage processes across various products, services, and lines of business to enable data consolidation and appropriate data reporting.
Maintaining data quality and performing data cleaning on compiled data to ensure the data is compatible with the CFPB's submission portal and is accurate.
Identifying and resolving data collection and data reporting issues.
How Should Financial Institutions Start Preparing?
While the expected compliance date is more than two years away, financial institutions should begin preparing now, as Guidehouse expects the CFPB will quickly focus on enforcing the rule in effect. To better understand the magnitude of changes required to comply with Section 1071 requirements, financial institutions should begin taking the following actions to position their organizations for success: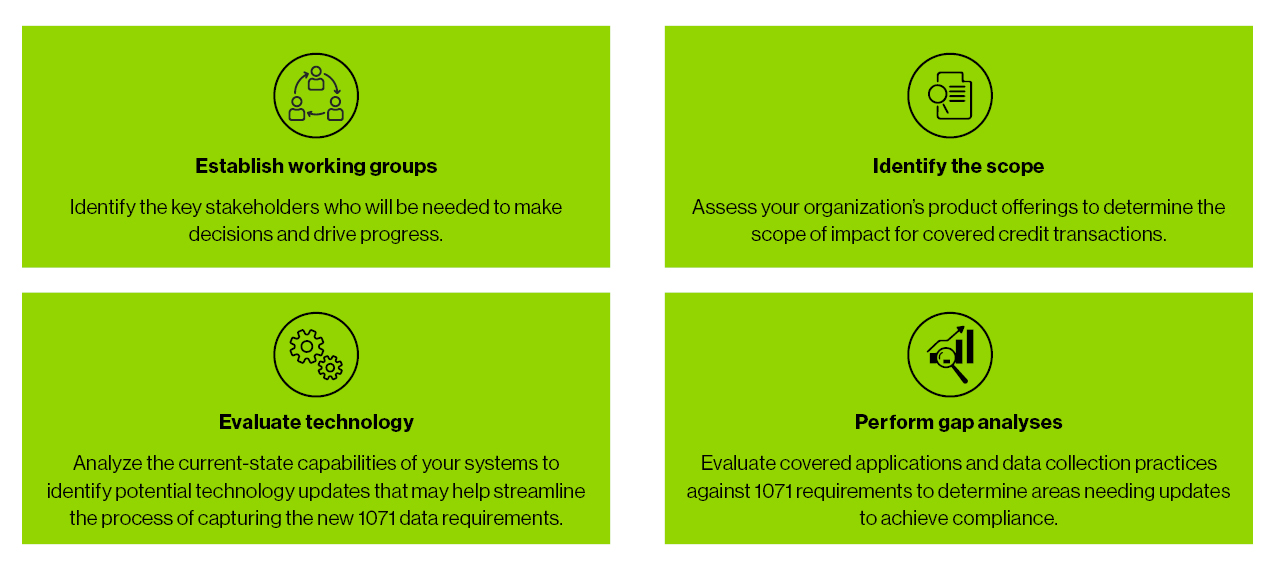 How Guidehouse Can Help
Implementing the Section 1071 requirements will consume significant time and resources for financial institutions. Guidehouse can help alleviate these constraints by supporting financial institutions through all aspects of Section 1071 implementation and compliance, including:
Providing program management support.
Establishing strong and accountable governance structures.
Conducting comprehensive training for applicable employees.

Drafting procedures and process flows, incorporating steps to provide decision audit trails.

Performing fair lending regression analyses on currently collected data.

Analyzing gaps in technology/systems, applications, data collection, and data management practices against Section 1071 requirements.

Prioritizing and managing updates to technology/systems, applications, data collection, and data management practices.

Performing data quality reviews on collected data.

Conducting data control reviews.
Special thanks to Courtney Cox and Shantel Silva for contributing to this article.