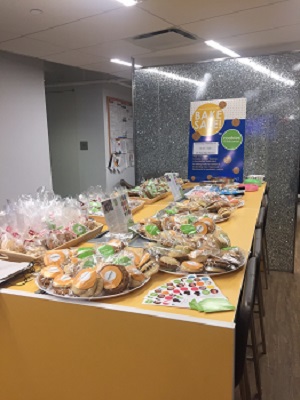 Members of Guidehouse's Young Professionals ERG in New York City and San Francisco led volunteer efforts that raised $11,686 for the Cookies for Kids' Cancer 501(c)3 organization. The ERG raised money through in-person and online donations from their Guidehouse colleagues and bake sales held in their buildings. Thank you to all that donated to the cause!
Cookies for Kids' Cancer provides annual research grants to the top-five leading pediatric cancer centers to advance the development of less toxic, more effective treatments for children battling cancer.
Those who donated were entered into raffles for Guidehouse-branded prizes, including a fleece blanket, tote bag, and duffle bag. The raffles were won by Deborah Ferrara, Naeem Bawla, and Robert McElwee.
The ERG also wanted to send an extra special thank you to Lindsey Kreisher, Erica Dresslar, Christopher Pompilii, Lauren Frattaroli, Amy Fitzgerald, Lindsay Furr, Melanie Idler, Meredith Albion, Kathryn Spellane, Christopher Paez, Samantha Bautista, Conor Bunyan, Morgan Fogel, and Katia Naamo for their efforts volunteering and baking during the event.