The COVID-19 pandemic continues to cast concerns on Medicaid enrollment, delivery, and costs. This has ramped up the need for state leaders to create new Medicaid strategies that reshape their programs, address new challenges, and leverage lessons learned.
The demand for behavioral health services has increased at record levels, and job loss and extended isolation will continue to have a long-term impact on Medicaid populations. As states emerge out of the pandemic, "business as usual" will look different for many Medicaid programs.

Everything from enrollment and eligibility redeterminations to in-person care delivery, care coordination, and home and community-based services is on the table.

Why state leaders are rethinking Medicaid

Although the Biden administration continues to extend the public health emergency, the Centers for Medicare & Medicaid Services (CMS) has issued guidance to states on planning for resumption of "normal" state operations, and the administration is expected to offer additional guidance.

State leaders should take this opportunity to proactively plan for the transition. Re-examining existing business practices and considering making permanent the solutions tested during the pandemic may offer improvements in quality, costs, and access to care.

Creating resilient and responsive programs for the long term
Improvements in effectively managing social determinants of health, population health, and community integration have never been more necessary. States need a thoughtful and cohesive strategy to efficiently meet the needs of their populations.
The first step is for states to evaluate the benefit of maintaining certain temporary regulations (e.g., telehealth) and coverage options as part of a broader post-COVID-19 strategy. Missing the window to engage in this thoughtful analysis, will be a missed opportunity to make permanent flexibilities and innovations that were critical tools during the pandemic, such as telehealth and the broader use of mid-level practitioners to provide care.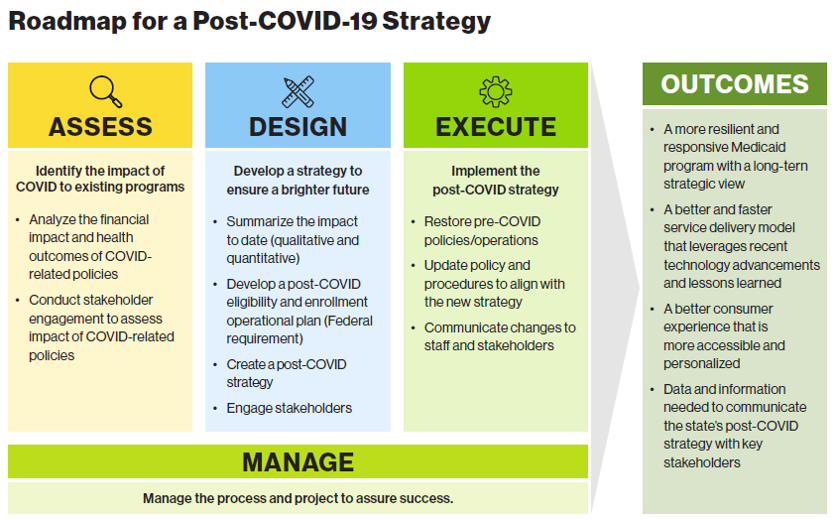 A long-term post-COVID-19 strategy and roadmap is essential to effectively manage and understand the impact of the pandemic on existing programs, plan for a brighter future, and successfully implement and communicate new policies and procedures with key stakeholders.
Questions for state leaders to address by key area
Eligibility & Enrollment
Provider Rates & Taxes
What are the implications of the decreased federal medical assistance percentage after the end of the public health emergency?

How will future rate adjustments impact Medicaid's delivery network and state budget?

What are the lasting effects of COVID-19 on the demand for health care and provider rates?
Benefits
How did the quality of care, utilization of services, and costs change under COVID-19? What is the anticipated growth as services open?

How should the state revise its programs to meet the expected level of service utilization, especially for behavioral health?

What value add and/or in-lieu of services may be required going forward to address economic impacts of the pandemic that diminish health outcomes?
Telehealth
How can the state expand the use of telehealth to other healthcare settings (e.g., behavioral health services in nursing homes), promote equity, and be delivered by different types of providers?

To what extent were members able to have consistent access to services through telehealth?
Delivery System and Social Determinants of Health (SDoH)
How does the state need to reframe its SDoH strategy to:

Adjust MCO contracts to require stronger coordination on SDoH and public health services,

Monitor and manage MCO spending on SDoH, and

Use return on investment analyses to demonstrate impacts on quality and health?

How will the state set MCO capitation rates and risk corridors to account for critical incident events, such as a pandemic, in the future?

How can Medicaid better leverage alternative payment models and pay for performance requirements?
Care Coordination
How effective were MCOs' telephonic supports for members with chronic care needs?

What additional population health strategies are necessary for unmet care needs related to chronic conditions (e.g., heart disease, cancer screening, orthopedic)?
Long-Term Services and Supports (LTSS)
What is the future state of LTSS rebalancing efforts and use of skilled nursing facilities based on pandemic impacts?

What were the outcomes of 1915(c) Appendix K provisions specific to:

Enrollment

Service utilization

Telemedical delivery of case management and HCBS

Provider reimbursement and network adequacy

Critical incidents and clinical quality

How will the state conduct required stakeholder engagement, especially if permanent modifications will be made to 1915(c) waivers?
Ultimately, applying the most recent technology advancements and lessons learned during the pandemic will ensure a Medicaid service delivery model that is faster with a more personalized and accessible consumer experience.
We can help. Learn more about our state government services.