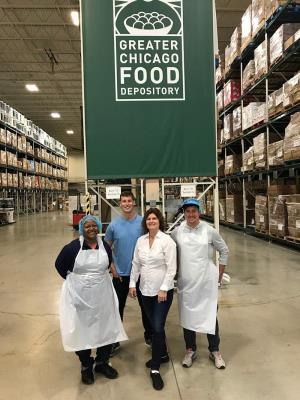 The Greater Chicago Food Depository is Chicago's food bank. They provide food for hungry people while striving to end hunger in our community. Every day, they distribute an average of 200,000 pounds of food to people in need across Chicago and Cook County. They distribute food through a network of 700 partner agencies and programs, including mobile distributions and responses for children, older adults and veterans.
The agencies and programs include food pantries, soup kitchens, and shelters for children, older adults and veterans. This network distributes food where it is needed most throughout Cook County.
A lot of the food at the food depository warehouse comes in bulk quantities. On July 12, a group if four Guidehouse volunteers joined approximately 30 people from other companies to help the depository break the bulk food down into more manageable sizes. The Guidehouse group broke down large pallets of sweet potatoes and divided them into smaller batches using mesh bags. Everyone had a different part to play in helping the GCFD's mission.