1,423 patients served, and more than 3,000 prescriptions filled in five days across four rural clinic sites.
Those are just a few of the key figures from the combined efforts of 46 dedicated volunteers, including 15 Guidehouse team members, following the completion of the healthcare segment's latest International Service Initiative (ISI).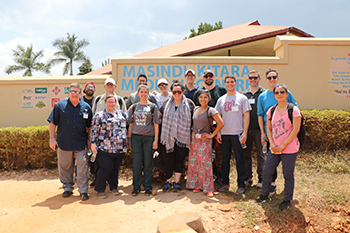 On March 8, 15 members from across Guidehouse's healthcare segment traveled over 7,000 miles from their locations across the U.S. to Masindi, Uganda for a 10-day international service initiative. The purpose of the trip was to deliver healthcare services to chronically underserved residents in rural Uganda.

The Guidehouse volunteers partnered with OneWorld Health, a 501(c)(3) non-profit organization, who is committed to providing sustainable healthcare services in under-developed and developing communities abroad. Through fundraising on the Inspire platform from colleagues, friends, and families, the volunteers raised more than $31,000 to make the trip a reality.

During their time in Uganda, Guidehouse team members traveled to rural locations, set up outreach clinics, and performed clinical and support functions for five days of clinical care. Care was delivered within mobile clinics set up in churches, tents, and schools, and provided the residents of rural Masindi vital access to physicians, nurses, pharmacists, therapists, lab tests, diagnostic ultrasound, and reading glasses.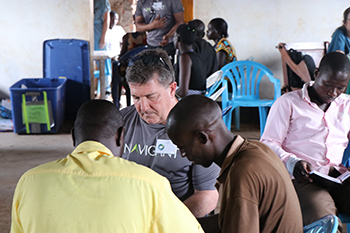 Jacob Hollins, an associate director in our revenue cycle management practice, found the experience rewarding thanks in part to his interactions with the Ugandan residents.

"Looking back now, some of my fondest memories are from recurring personal interactions," said Jacob. "For example, when I was tasked with attempting to communicate in a new language in order to document temperature, height, and weight. The warmth and personable nature of the Ugandan people in those individual interactions is something that I will never forget. I am very appreciative of the support Guidehouse has provided to allow me this opportunity to help and serve a community in need."
All volunteers were part of the patient's point of care, which provided our Guidehouse colleagues with direct contact to patients, translators, and people in the community.

"The ISI provided a unique chance to form friendships with Guidehouse colleagues I never would have otherwise met," said Grant Nailer. "I was able to utilize my skills as a nurse after having been away from the bedside for six years and to be immersed in a culture and country halfway around the world was unforgettable."

This is the second ISI trip in the past 12 months. Read about the previous to trip to Honduras and stay tuned for the next ISI trip planned for September 2019!