Enhancing Operations and Mitigating Fraud with Data and Intelligence
Financial institutions are increasingly in need of sophisticated tools to better serve customers, meet regulatory obligations, optimize and streamline operations, prevent fraud, and unlock new business opportunities.
VitalAudit assists companies with these challenging issues.
Combining a comprehensive decedent database, customized algorithms and analytics, and artificial intelligence, VitalAudit helps organizations mitigate improper payments and fraud by quickly and accurately identifying deceased customers.
FIS and Guidehouse's joint approach is unique, fusing trusted industry data and analytics with a consultative approach to deliver the industry-leading decedent identification solution.

Unparalleled in the Market
VitalAudit, powered by Guidehouse, helps financial institutions adhere to regulations, comply with mandates, and mitigate fraud, waste, and abuse by quickly identifying deceased customers. Our solution generates industry-leading results by pairing the most robust decedent database in the market, which captures over 95% of CDC reported deaths, with our proprietary matching engine that leverages sophisticated matching techniques to optimize the accuracy of matches reported.
VitalAudit has been compared directly to other vendors – including the largest data aggregators – in many cases accurately identifying over 50% more decedents.
Helping Financial Institutions Meet Obligations to Customers with:
Fraud Prevention
VitalAudit provides the ability to confirm an individual's information against a comprehensive decedent database comprised of vetted federal, state, and other sources to identify potentially fraudulent activity.
Expertise and Optimization
VitalAudit continuously evolves and improves – from capturing additional decedent data to incorporating new algorithms that improve data quality. VitalAudit is the most robust decedent identification solution in the market, seamlessly integrated into your existing platform.
---
Think it couldn't happen to you?
The pandemic highlighted a significant need for robust processes to target fraud, waste and abuse – specifically decedent processes.
Even the government struggled in this area, sending over $1.4 Billion in stimulus to deceased individuals during the rollout of the COVID-19 response plan.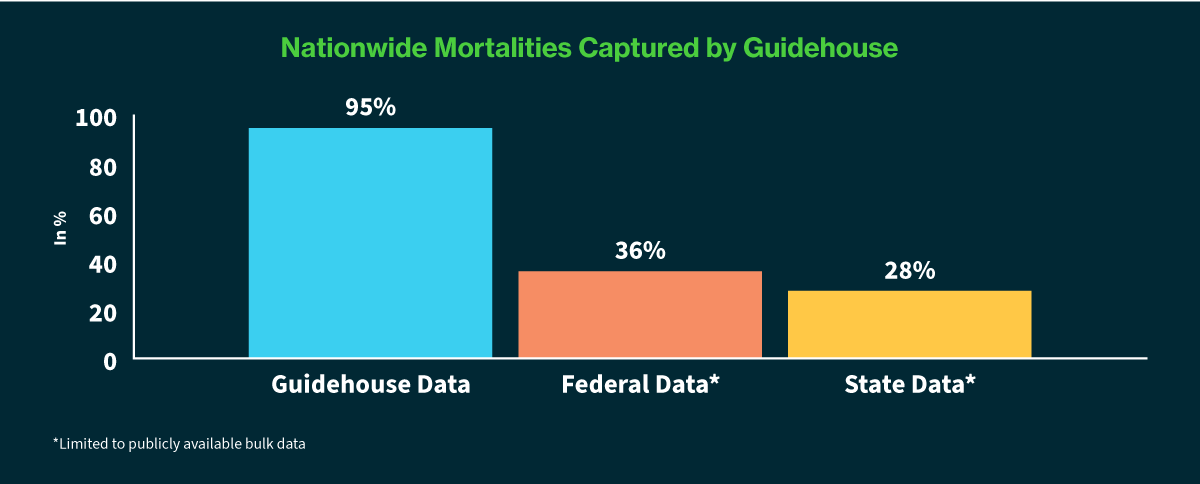 Learn more about our Unclaimed Property Solution. Contact us at ucp@guidehouse.com
Latest From VitalAudit: Decedent Identification Services